Last week's quick takes were a little slim. One of my most faithful readers commented that they seemed more like 6 than 7. So, let's try to make these a particularly decadent set of takes!
~1. When one peach cake isn't enough~
It's peach season, and the peaches that made their way to my kitchen counter seemed not quite ripe enough for a peach cake. But sometimes you just really want peach cake—and you realize you have time to make one.
I tried to drum up interest in peach cake within my quaranteam, but none of them wanted peach cake. So, I texted my sister Treasa to see whether she would object if a peach cake happened to appear on her porch. Then I made two smaller peach cakes.
They're not as tasty as one large, luscious peach cake, but it hit the spot for me. You can do July and August without a homemade Baltimore peach cake, but I wouldn't recommend it.
If you want to give it a try, here's the peach cake recipe I make.
~2. Goodbye, carafe~
I took a little time off from work on Wednesday, and the boys and I had a TV-watching marathon in the living room. As we were sitting there, we heard a crash from the kitchen.
Our coffeemaker carafe that was drying in the dish rack next to the sink had fallen into the sink and shattered.
I cleaned up the shards of glass, and then I went online to order a new carafe. It was then that I realized a carafe costs almost as much as a coffeemaker. How is it that the container costs almost as much as the container with the actual magical machine that brews the coffee?
~3. Yes, we have tomato paste~
Way back this spring, I asked the boys to organize our pantry, and they did a magnificent job. Since then, I have not kept it perfectly organized, and they have been disappointed in me. So, this week they pulled everything out, got rid of all expired food (I paid them a dime per expired item, so I knew they would check everything carefully), and then placed everything else back on the shelves.
I love being able to find what I need in the pantry, and I am enjoying that our sons now have an encyclopedic knowledge of what we have on hand.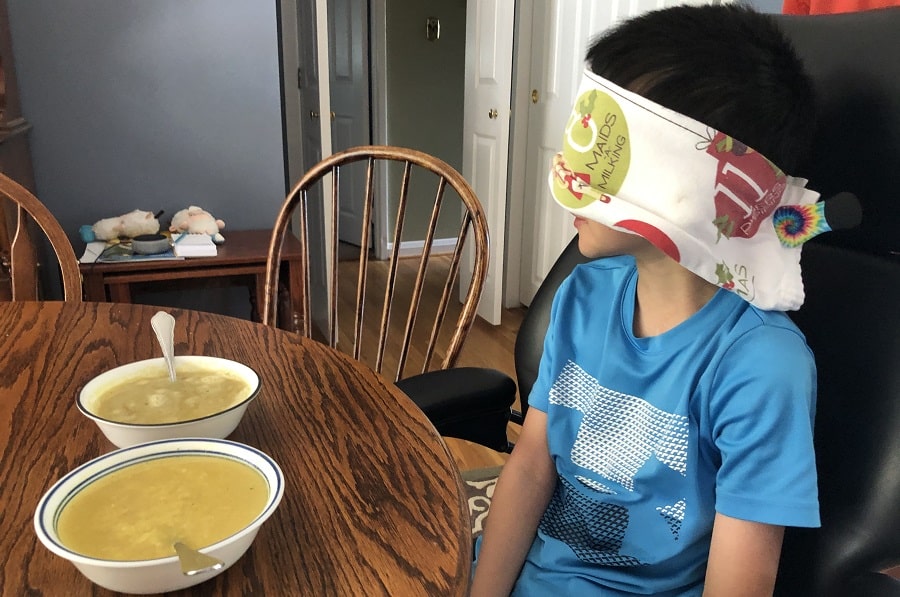 ~4. Time for a taste test~
Now that we know which soups we have, we had a soup taste test—complete with blindfold—to see which Lipton soup was tastier. Not surprisingly, Extra Noodle came out well ahead of Chicken Noodle. Not every science experiment yields earthshattering results.
~5. When the couch is your office~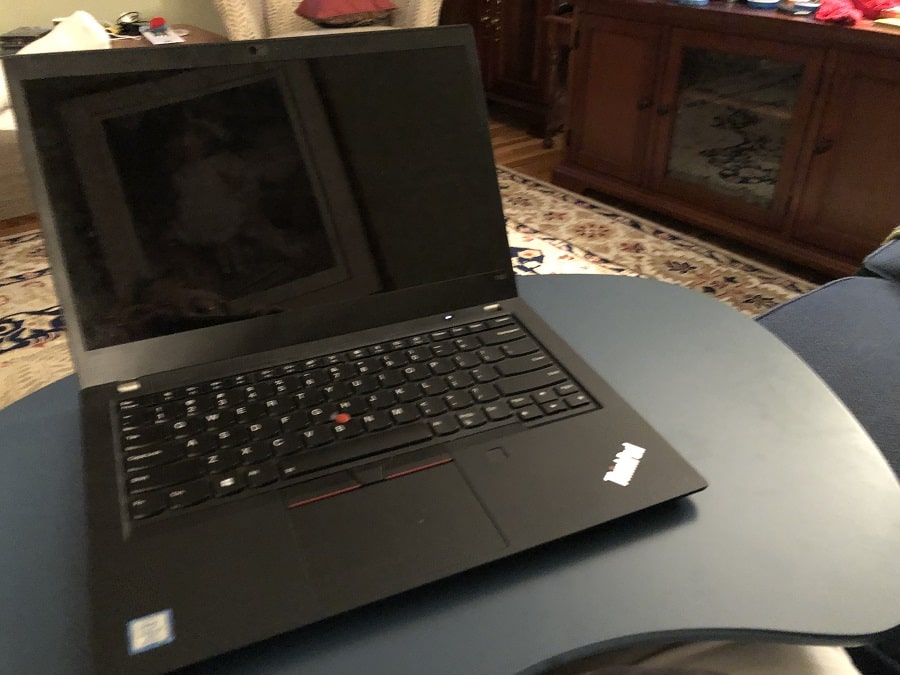 Five months into working from home, I was inspired to order myself a lap desk. I often sit in the living room in the evening and write, and I usually use a pillow under my laptop. But it finally occurred to me that this is a longer-term situation than it might have seemed in March. I wonder whether the boys might even like to use a lap desk now and then while doing their schoolwork. So, here we go.
I feel rather official and professional. I'm not sure it will make a difference in my actual work, but I'm excited by the idea.
~6. Oh, deer~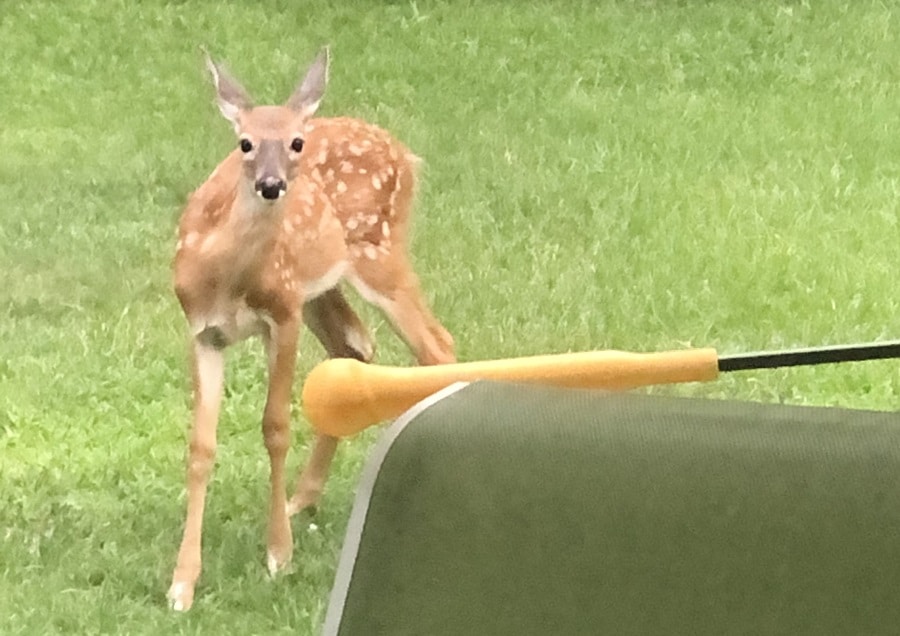 We were getting ready to eat dinner last night when two baby deer appeared in the backyard. We watched them nibbling on our trees and greens and explore a bit. We knew their mother couldn't be far away, and she appeared. They were walking together when the young deer tried to nurse. The mother leapt over them and away.
We talked about how deer nurse their babies and how the mom must be weaning her children and helping them grow up. We may not be covering much math these days, but I feel our accidental biology homeschooling curriculum is strong.
~7. A summer highlight~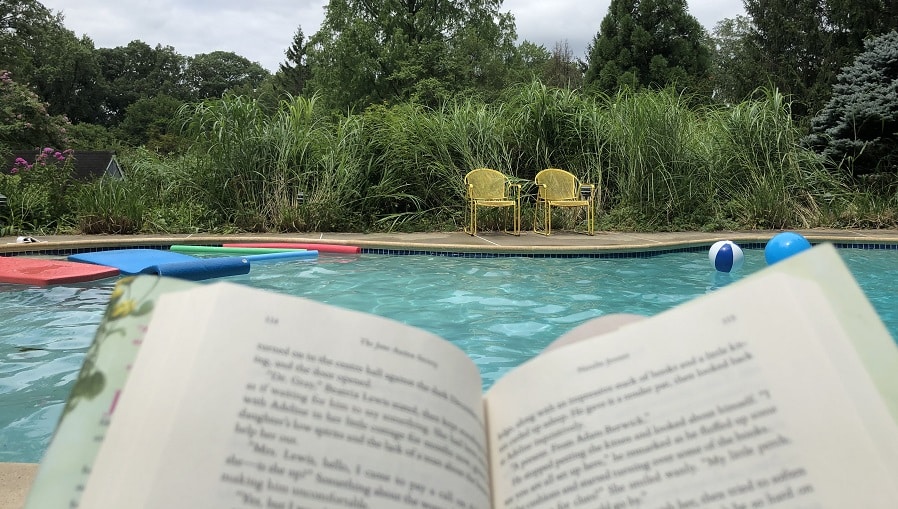 Last week friends of ours went away for the week and offered to let us use their pool while they were out of town. We went twice and had the best time. It was like a mini-vacation. I brought a book, and the boys and John swam and relaxed in the water.
I have been thinking that it will end up being one of the real highlights of our summer, this unexpected and delightful sliver of summer pool fun in this pandemic time.
~Bonus Take~
Do you grill year-round? I've really been enjoying that John is grilling on these summer evenings, especially on the nights when I'm working late and he gets hungry and starts dinner himself. But I'm hoping we can keep grilling as the weather gets cooler.
As the evenings get shorter, I am realizing autumn will be just around the corner. I love summer, even a summer as unusual as this one, and I will be sorry to see this season end.
Read more quick takes on Kelly's blog, This Ain't the Lyceum, and have a wonderful weekend! Happy Feast of the Assumption of our Blessed Mother!
Copyright © 2020 Catholic Review Media

Print