Baltimore Archbishop William E. Lori said he was "greatly dismayed" by the Sept. 14 decision of the 9th Circuit Court of Appeals siding with President Donald Trump's plan to end a particular immigration protection status that would have allowed people from six countries that have suffered disasters to remain in the United States.
The court said the president was within his rights to revoke what's called Temporary Protected Status, popularly known as TPS, from Salvadoran immigrants. TPS grants a work permit and a reprieve from deportation to certain people whose countries have experienced natural disasters, armed conflicts or exceptional situations, to remain temporarily in the United States.
The ruling also is expected to affect TPS holders from Haiti, Honduras, Nicaragua, Sudan and Nepal.
"These vulnerable members of our society are already suffering more than others from the effects of the pandemic on their physical, mental and economic welfare," Archbishop Lori said in a Sept. 18 statement, noting that more than 200,000 individuals are living legally in the United States under the program. "Rather than this unjust treatment, we owe them a debt of gratitude as they have continued to risk their health as essential workers in hospitals, food service and production and other industries."
Archbishop Lori said it is "particularly distressing to consider the impact of this decision on their children, who could face separation from their parents if they are forced to return to their native country and the harsh conditions they fled."
The archbishop noted that in Maryland alone, an estimated 19,800 Salvadorans who are TPS holders are parents to 17,100 U.S.-born children. Another 1,900 Hondurans living in the state are parents to 1,300 U.S.-born children.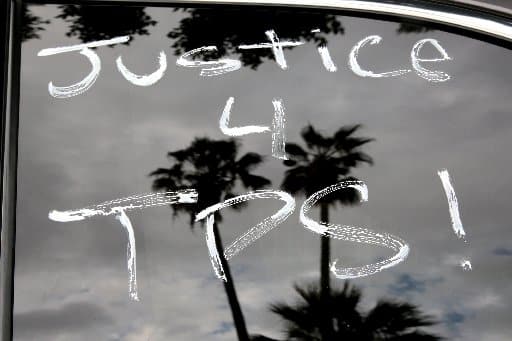 "The plight of these children must be a concern for all of us," Archbishop Lori said.
"The Catholic Church, both in our country and in Central America, continues to minister to the needs of these families, and we are committed to offering them our support and compassion," Archbishop Lori said. "Congress must act to give them the legal protection to which they are entitled. Along with the U.S. Conference of Bishops, I urgently appeal to the U.S. Senate to take up the American Dream and Promise Act, which the House passed last year, and to ensure that the devastating consequences of this decision will be prevented."
Ashley Feasley, director of policy for the U.S. Conference of Catholic Bishops' Migration and Refugee Services, told Catholic News Service that although the president ended the status, there remains a six-month wind-down period.'
"It doesn't affect people's status this year," she said. "They still would be allowed to stay here and get a driver's license and work authorizations they have now."
But that could stop early next year.
The wind-down period for the TPS holders is different for different countries but all is expected to take place in 2021 if the plans goes forward, Catholic News Service reported. But that timing brings some to speculate that the U.S. presidential election and its result could affect what ultimately happens.
The situation is complex, Feasley said. There's also the issue of TPS holders who have families, including U.S.-born children, other pending legislation, possible involvement by the Supreme Court and there's also a possibility, though not likely, Congress could act to provide a path to citizenship for TPS recipients.
"The 9th Circuit's decision continues a heartbreaking path of uncertainty and fear for hundreds of thousands of TPS recipients needlessly put into motion by the Trump administration," said a joint statement from Archbishop Jose H. Gomez of Los Angeles, president of the U.S. Conference of Catholic Bishops; Washington Auxiliary Bishop Mario E. Dorsonville, chairman of the USCCB's Committee on Migration; and Sean Callahan, president and CEO of Baltimore-based Catholic Relief Services.
"TPS countries such as El Salvador and Haiti cannot adequately handle the return of TPS recipients and their families. The spread of COVID-19 has only made conditions worse," they said, adding the decision "will fragment American families."
They urged the nation "not turn its back on TPS recipients and their families."
"They too are children of God. We stand in solidarity with TPS recipients, who are here and have been living and working in the United States legally, and we will continue to do so with them in their countries of origin," the three said in the statement, released Sept. 15.
Archbishop Gomez, Bishop Dorsonville and Callahan again called on the U.S. Senate to take up the American Dream and Promise Act, which the House passed last year.
"Without action by Congress," they said, "recipients' lives will be upended. Congress must act to ensure that such catastrophic human consequences do not occur."
The bill would provide TPS holders, Deferred Action for Childhood Arrivals recipients and those who have Deferred Enforced Departure status with protection from deportation and an opportunity to obtain permanent legal status in the United States if they meet certain requirements.
Rhina Guidos of Catholic News Service contributed to this report. Read Archbishop Lori's full statement here.
Copyright © 2020 Catholic Review Media

Print