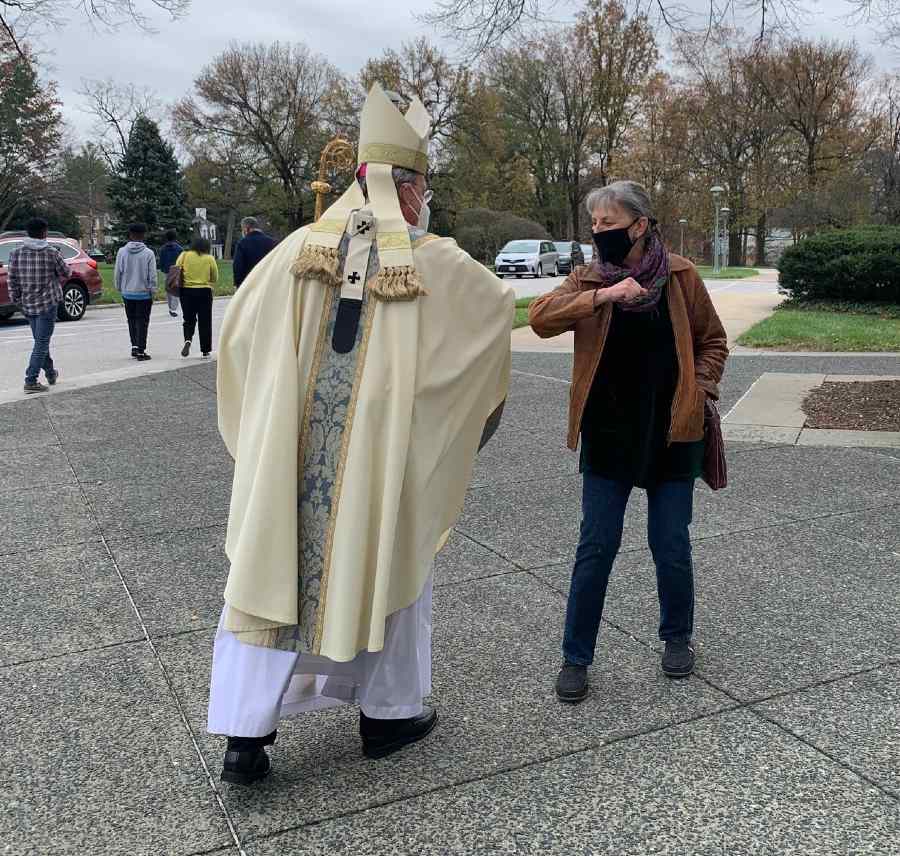 Archbishop William E. Lori took the Solemnity of Our Lord Jesus Christ, King of the Universe, to remember those who have died from COVID-19, which includes nearly 260,000 in the United States, and several thousand in the Archdiocese of Baltimore.
Celebrating 11 a.m. Mass at the Cathedral of Mary Our Queen in Homeland Nov. 22, the archbishop used the day's reading and the feast day itself to contrast dire current events with the promise of salvation.
"This pandemic is more than an inconvenience; it is deadly," Archbishop Lori said in his homily. "Worldwide, the death toll stands at about 1.4 million. Thankfully, many more recovered from the virus as compared with those who died from it – yet, in this day and age, the death toll is startlingly high and very unsettling.
"By now, each of us personally knows someone who either died from the virus or was badly stricken by it. Yet, in this week when we will celebrate Thanksgiving, (one) quite unlike any other in recent memory, we should not descend into pessimism or, God forbid, despair. Even as we have experienced painfully the limits of science and human ingenuity, so too, on this solemnity, let us experience afresh the saving power of Christ our King, Christ the King of the Universe."
The archbishop addressed not just the faithful at the cathedral, where ropes limit occupancy to every fourth pew – staggered by aisles – and a scaled-down choir of four also practiced social distancing, but those throughout the archdiocese, thanks to the Mass being livestreamed on social media and archbalt.org, and televised on MyTV.
Afterward, he greeted the faithful with "elbow bumps" instead of handshakes.
The coronavirus pandemic's toll in the archdiocese can be seen from the 21224 ZIP code, which includes Sacred Heart of Jesus-Sagrado Corazón de Jesús Parish in East Baltimore's Highlandtown, to Cumberland, which is served by the pastorate of Our Lady of the Mountains.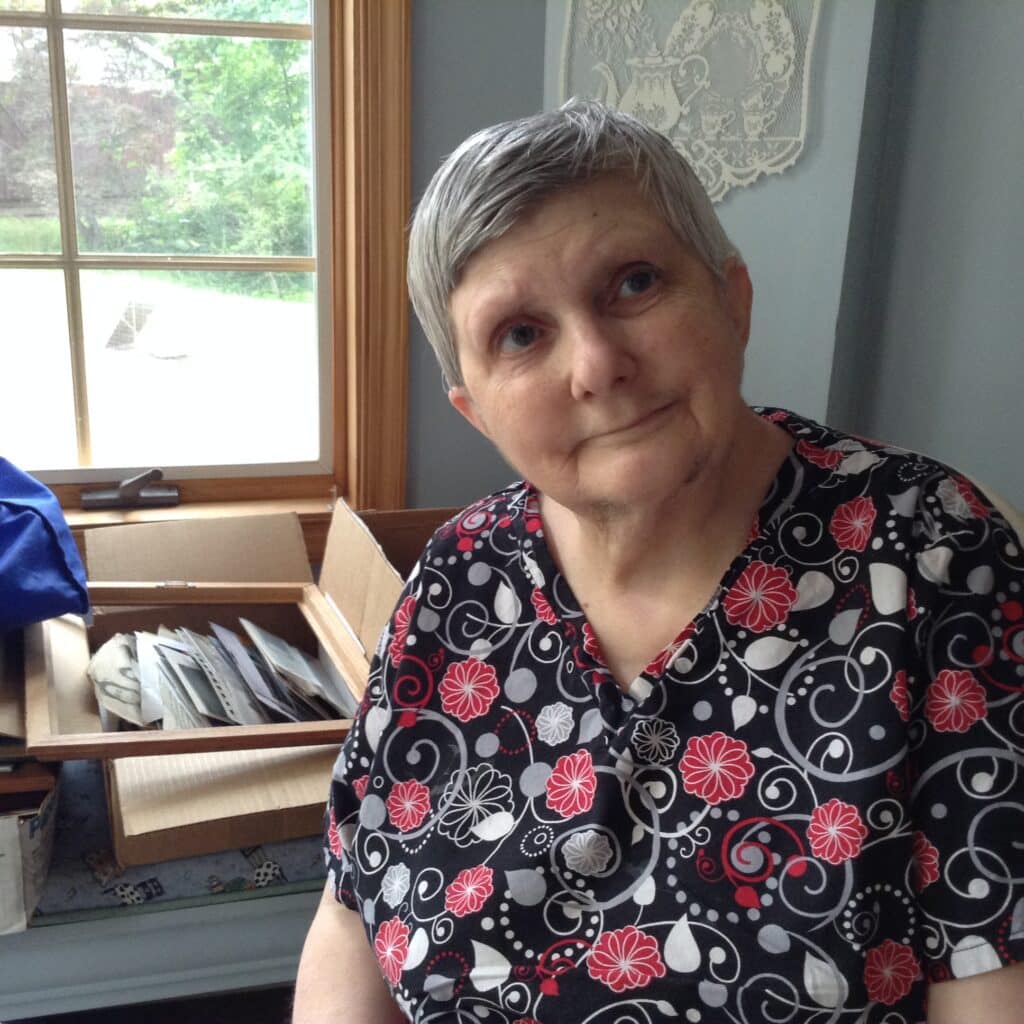 The archdiocese maintains an online memorial page to victims of COVID-19. St. Katharine Drexel in Frederick mourned Louise McAleavy, the disabled adult daughter of an active parishioner, who died May 7 at age 51, and Juanita Stoner, a grandmother of 16 and great-grandmother of 10, who was 80 when she died April 13.
The website, which uses information submitted to the archdiocese, also honors Christine Domkus of Our Lady of Victory in Arbutus, who was 71 when she died May 3; and Al Payne of St. Bernardine in Baltimore, an Army veteran who died April 5 at age 72.
Watch a recorded livestream of the Mass below. Stories continues beneath.
The liturgy concluding the church year included the 23rd Psalm – "The Lord is my shepherd" – and the Gospel of Matthew reference to "the least of these," which was proclaimed by Deacon Frederick "Fritz" Bauerschmidt.
The second reading was 1 Cor 15:20-26, 28, which begins "Christ has been raised from the dead."
"Jesus accomplished his victory over sin and death in a most unlikely manner," Archbishop Lori said. "As God's Son, he entered human history in an obscure corner of the Roman Empire, and he did this so that he could establish himself in solidarity with the human race, indeed with each one of us.
"And instead of conquering sin and death with marching armies and gleaming armor, Christ entered the City of Jerusalem on a donkey. Days later, he was tried for treason and condemned to death. As he made his way to the summit of Mount Calvary, he carried his own cross, that instrument of death which became the means of our salvation."
Citing "those who belong to Christ" who shall be brought to life again, the archbishop noted "that includes our friends and loved ones who, during the course of this year, succumbed to the coronavirus and the many other maladies that still afflict the human family. Counted in that number is my own dear father who went home to God last February."
Francis Lori was 98 when he died Feb. 24 in Indiana.
The archbishop pointed to "Fratelli Tutti," Pope Francis's recent encyclical on solidarity, and its pertinence in trying times.
"Life goes on and inevitably we hope for the dawning of a brighter day, even in this vale of tears," Archbishop Lori said. "How, then, shall we proceed? What direction shall we follow? Pope Francis gives us the answer to that question … and it's this:
"Just as God's Son became one of us to establish his solidarity with us, so too in Christ we must be brothers and sisters to one another, leaving no neighbor behind but rather loving those most in need as though we were pouring out our love for Christ our Savior. When we love and respect the poor and defenseless as if they were Christ, then the victory of love Christ came to accomplish lives in us."
It was Service Sunday at the cathedral parish, where canned goods could be dropped off in the vestibule until 4:30 p.m. for a Thanksgiving food drive. Monsignor Richard W. Woy, rector of the cathedral, concelebrated the Mass.
Email Paul McMullen at pmcmullen@CatholicReview.org
More coronavirus coverage
Copyright © 2020 Catholic Review Media

Print