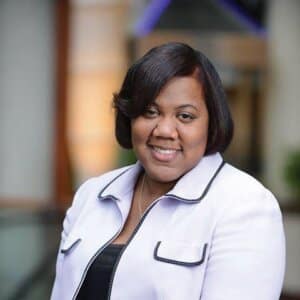 Sherita Thomas and her husband were watching news reports during this tempestuous time when one of her daughters saw a TV headline and asked, "Are we safe?"
After Thomas and her husband spoke with her about justice and racism, the daughter asked her, "What are you going to do?"
One of the things that Thomas will do is take on the role of interim director for the Office of Black Catholic Ministries for the Archdiocese of Baltimore. She will retain her job as global associate engagement manager at T. Rowe Price, where her experience includes key roles with the T. Rowe Price Foundation, Diversity and Inclusion, and Global Client and Investment departments.
Thomas said her children were one of the reasons she accepted the appointment to the Office of Black Catholics from Archbishop William E. Lori.
"I realized that I could and should do more," she told the Catholic Review via email. "From the time I was a youth, I worked behind the scenes to create a community where people of color could feel they rightfully belonged.
"I worked with the Office of Black Catholics during my teen years and later volunteered as a young adult. Given my daughter's response, I knew at such a critical time as this it was time for me to step up and use my gifts in service of the church," she said.
Thomas grew up in St. Edward Parish, now worships at New All Saints in Liberty Heights and recently served as president of the Home School Association at St. Agnes School in Catonsville.
Thomas will work with a team of consultants to initiate an arch­diocesan-wide series of dialogues on racism and assist in examining and improving efforts to increase diversity and inclusiveness at every level of the archdiocese.
Archbishop Lori has written two pastoral reflections on the topic: "The Enduring Power of Dr. Martin Luther King Jr.'s Principles of Nonviolence," released in 2018 to mark the 50th anniversary of the civil rights leader's assassination; and "The Journey to Racial Justice: Repentance, Healing and Action," which called for listening, consultation and action. Released in 2019, two months after the U.S. bishops released a pastoral letter against racism, "Open Wide Our Hearts: The Enduring Call to Love," "A Journey to Racial Justice" included concrete actions the archdiocese needed to take.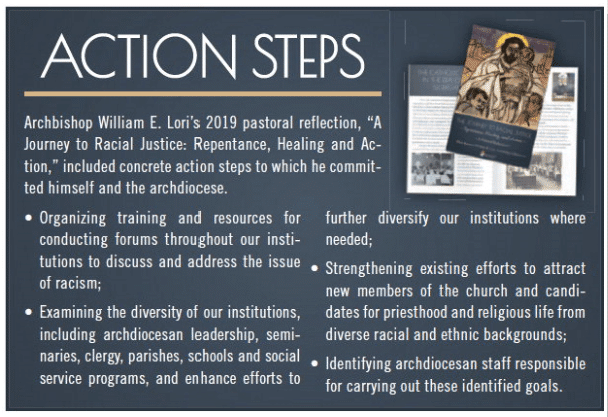 "The aim in writing a pastoral letter is not to say the last word on any particular subject," the archbishop told the Catholic Review. "I think that these efforts, these pastoral letters do help to raise consciousness. But I also think events like the tragic death of George Floyd bring the issue back home to us, front and center."
Thomas said statements and pastorals from popes and bishops have acknowledged the sin of racism, including the U.S. bishops' 1979 pastoral letter, "Brothers and Sisters to Us," that said, "Racism is a sin: a sin that divides the human family, blots out the image of God among specific members of that family, and violates the fundamental human dignity of those called to be children of the same Father."
The work of the Office of Black Catholics, the Racism Work Group and consultants must "ensure that we do more – that we do all we can to guarantee change and justice for all people," Thomas said.
The work group will set up formal and informal settings for listening and input from a broad section of people in the archdiocese. The work is necessary but won't be easy.
"We expect to hear stories about the hurt and harm people have endured over the years – stories about the impact of bias and racism, and even stories about shortcomings of our church," Thomas said. "Above all, this process will require patience, prayer and careful discernment."
The bishops who make up the governing board of the Maryland Catholic Conference – representing the archdioceses of Baltimore and Washington and the Diocese of Wilmington, Del., on public policy matters – released a statement June 15 that recalls "our own church's past sins and failings and admit to them freely."
"With regret and humility, we must recognize that as Catholic leaders and as an institution we have, at times, not followed the Gospel to which we profess and have been too slow in correcting our shortcomings," the statement said. "For this reason, it is incumbent upon us to place ourselves at the forefront of efforts to remove the inequalities and discrimination that are still present in Maryland and our nation today."
All the bishops of Baltimore signed the MCC statement, which noted, "prayer and dialogue, alone, are not enough. We must act to bring about true change."
Thomas noted that after Floyd's death at the hands of Minneapolis policemen, people around the world are asking what they can do to effect real change. "The first thing we can all do is to actively encourage this inquiry and help create moments to explore and dialogue about our differences and commonalities," she said.
Both Thomas and Archbishop Lori said the protests after the deaths of Floyd and others have created a moment that seems poised for change. The archbishop said that such events bring racism to the front burner and help people focus on it in the immediate crisis.
"When that fades, instead of going to more serene and mature reflection aimed at making changes that bring us together in a new way in our diversity, we often instead put the issue on the backburner and let it simmer," he said. "That's not what we should let happen this time. This time should be different. I hope and pray to God it will be."
Thomas noted that voices around the globe – including people and institutions that have formerly been silent – are calling for the eradication of racism.
"I have been deeply touched by the outpouring of so many people who want to work for change – Catholics, non-Catholics, interfaith communities, people who have left the church – all wanting to do more and push for equality and justice," she said. "This is a special moment of solidarity that many have longed for, and I am so pleased to assist the archdiocese take a lead on this."
Email Christopher Gunty at editor@CatholicReview.org

Print