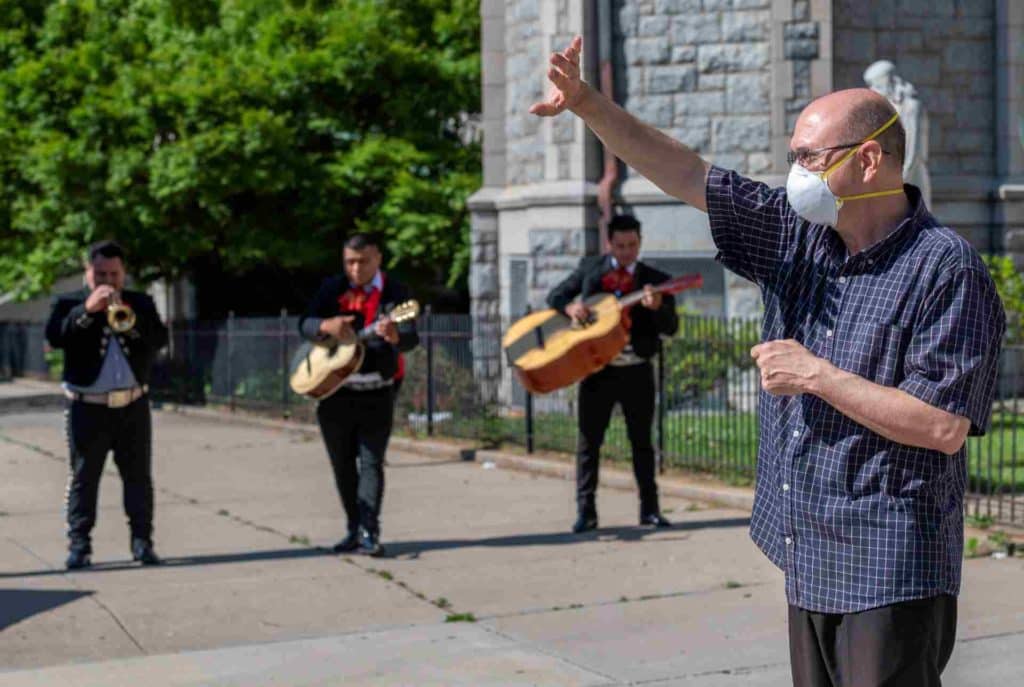 Come August, he'll have gained the title "His Excellency," but for the parishioners of Sacred Heart of Jesus-Sagrado Corazón de Jesús in Highlandtown and its mission church of St. Patrick in Fells Point, he'll remain and always be "Padre Bruce."
Pope Francis appointed Redemptorist Father Bruce A. Lewandowski June 10 to become Baltimore's newest auxiliary bishop. But at the request of Archbishop William E. Lori, Bishop-designate Lewandowski will not be leaving his beloved parish – the heart of the Hispanic Catholic community in Baltimore – behind.
Parishioners and other supporters surprised Bishop-designate Lewandowski with a June 13 caravan parade at Sacred Heart of Jesus-Sagrado Corazón de Jesús, cheering the much-loved leader and waving homemade signs as they drove by in decorated cars.
"When I first read (of his appointment), I was excited, but I was also sad at the same time because I thought he was moving on," said Oscar Velasquez, a parishioner of St. Patrick and member of the local Knights of Columbus chapter. "He's done a lot of great work for the community, spiritually and socially. I thought he's going to be dearly missed and whoever the next pastor is going to have big shoes to fill. But once I heard he was staying, that was just super amazing."
Velasquez said Bishop-designate Lewandowski has been an invaluable asset to the Hispanic community in Baltimore. He praised Bishop-designate Lewandowski's impeccable Spanish and said his pastor was well versed in the traditions of the varied members who hail from many different Latin American countries – including Honduras, El Salvador, Mexico and Ecuador – each with its own spiritual and cultural practices.
Above all, Velasquez said Bishop-designate Lewandowski is a tireless supporter of the community.
"He gives out his personal cell phone number, not just the parish office number," Velasquez said. "So he is somebody who is extremely reachable. He's somebody that you can definitely count on."
Sagrado Corazón de Jesús' office manager Maritza Morales said she was relieved that Bishop-designate Lewandowski would stay on at the parish because she said his flock needs him now more than ever during the coronavirus pandemic.
Latinos and African Americans in Maryland have been disproportionately affected by COVID-19, the disease caused by the coronavirus. According to the Maryland Health Department, the parish's ZIP code – 21224 – has more than 1,000 current confirmed cases of COVID-19, the highest in the state.
Bishop-designate Lewandowski helped set up the first free COVID-19 testing center in the city of Baltimore on the grounds of Sagrado Corazón de Jesús and has been urging expanding testing to other Baltimore churches.
"After having this pandemic explode during this the beginning of the year, we had his great support. He looked for all the avenues that he could find to get connected with the community and make the community more aware that he's with us. And for us, he's not only a priest, he's a friend that we could count on." Morales said.
Lia Salinas, director of Hispanic ministry from the Archdiocese of Baltimore said Bishop-designate Lewandowski's appointment is "a blessing."
"Pope Francis has given us a man of God, a man who loves to be with his parishioners," she said. "I love that he's a man who loves to fight for social justice. So I just feel really, really blessed."
Sister Consuelo Morales, a Missionary of Perpetual Help at Our Lady of Fatima in Baltimore, said Bishop-designate Lewandowski's Redemptorist background will be a great gift.
"There is a special mysticism and a special charism," she said. "There's a special spirituality that Father Bruce brings because of his religious order."
Bishop-designate Lewandowski said he was overwhelmed by the outpouring of support in the last few days. He was especially touched by the surprise parade in his honor.
"It's a very emotional moment," he said right after the parade. "They caught me off guard. My heart's full of love for all the people here and this love that they're showing me."
Santos Rene Quintanilla, a parishioner of Sacred Heart of Jesus-Sagrado Corazón de Jesús, was encouraged to see dozens of people turn out for the impromptu celebration.
"There is a great, wonderful feeling to see all the streets full of cars on such short notice," he said.
Bishop-designate Lewandowski said that upon hearing that he would become a bishop, he was prepared to leave the parish. He called the decision for him to remain an answer to his prayers.
"A change in leadership here at a time of crisis like this would be very difficult," he said. "We made a very strong commitment to comforting people during COVID, especially with the sick people. We have been trying to maintain this closeness to the people as best we can without being close."
Bishop-designate Lewandowski found out June 11 that one of his parishioners who collapsed while waiting in line last week at the COVID-19 testing site had died hours earlier. He said now is preparing to support the man's wife and two teenage children during this difficult time.
"I'm not indispensable. I understand that about myself. But I just think given the nature of the crisis that we're living through right now, I'm glad we're staying the course. We worked hard together," he said of his parish.
In his new role, Bishop-designate Lewandowski will serve as delegate for Hispanic ministry for the entire archdiocese – something he's been doing on an interim basis for the past few months.
Velasquez said he knows that the parish will now have to "share" Father Bruce with the rest of the archdiocese, but he's excited for Bishop-designate Lewandowski to have an even bigger vision.
"The Hispanic community in Baltimore is growing, especially the Catholic community. And now we have somebody who understands the needs of our community," Velasquez said.
Bishop-designate Lewandowski is the first to admit that the greater workload will be daunting. But Velasquez said his pastor is no stranger to hard work.
"I don't know how he does it. It's like he's everywhere," Velasquez said.
Kevin J. Parks contributed to this story.
Email Tim Swift at tswift@CatholicReview.org
To view more photos or purchase prints, visit our Smugmug gallery here
Copyright ©2020 Catholic Review Media.

Print