~Mirror, mirror, off the wall~
I've been hoping to get a handheld mirror for the days when our deck becomes a barber shop for our family. I usually use my cell phone camera to show people how their haircut is coming together, but a mirror seems to be a better option. A mirror would be especially helpful when I'm cutting mine and need to see the back.
My parents delivered a cake and some wonderful gifts, including a mirror that belonged to my grandmother, engraved with an F for her maiden—and my middle—name, Fay. My mother has had it on her dresser for years, and I can't believe it's mine now.
Suddenly, my backyard barber shop is getting fancy.
~Happy bird-day to me~
At the start of the year, I had decided that turning 44 in 2020 sounded extremely lucky. And it was an exceptional birthday. At the end of the evening, right before bedtime, our sons disappeared into our extra bedroom.
When they emerged, right before we all went to bed, they had a card they had made just for me, with drawings of our birds on the front and a poem inside.
They aren't fans of the birthday poems I usually write in homemade cards, so I know they did that just for me. It was so beautiful and thoughtful—the icing on top of the icing on top of the icing of a magnificent day.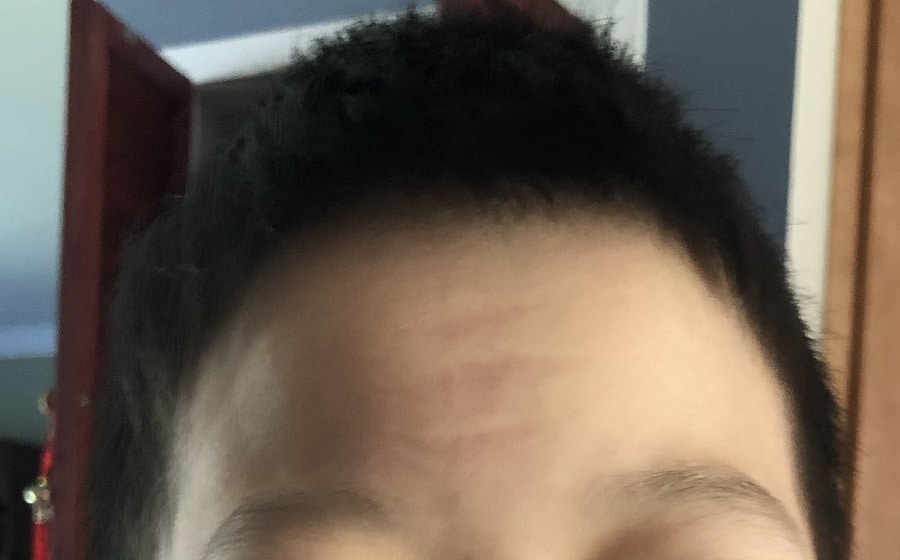 ~Aging quickly~
Our younger son likes to sit and feed our pet finches treats out of his hand. It's adorable. The other day I looked at him and wondered why he had creases in his forehead. Then I realized that when he is feeding the birds, he presses his forehead against the bars on the cage.
He looks like he's aged decades just in the time he spends with the birds.
~Me or We or Ew…~
Some items come with the best packaging. Our new TV brought along what look like two large letters—either Ms, Es, or Ws, depending on who is trying to spell what with them.
I'm sure we will enjoy the TV longer than the foam letters, but the unexpected surprises inside a box are always fun.
~Keep Calm and Carry a Bag~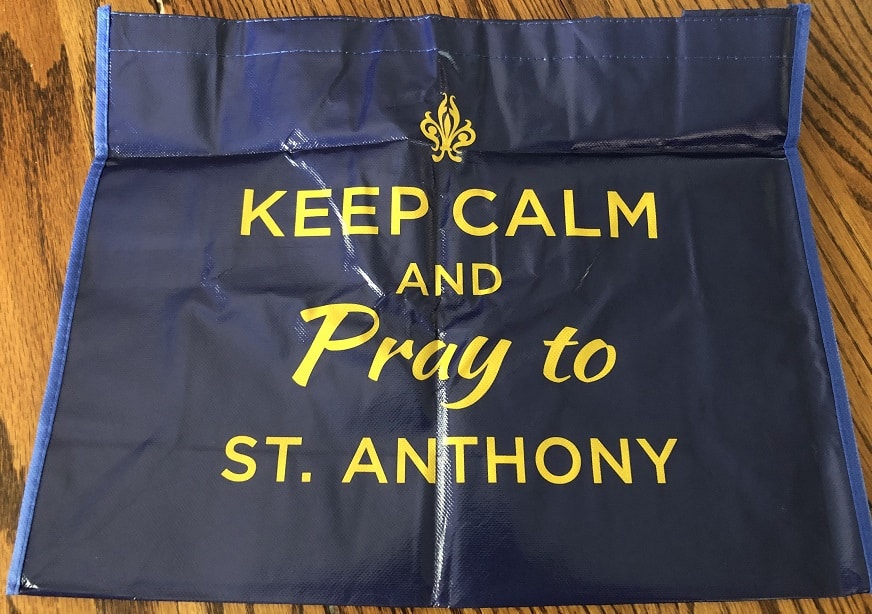 We love St. Anthony's Shrine in Ellicott City, though we haven't visited it in months. But we support them from time to time because it's an important place for our family and we love the Franciscans. The other day they sent us a bag that says on one side, "Lost something?" and then on the other, "Keep calm and pray to St. Anthony."
It's just terrific.
~Reading and writing and 'rithmetic~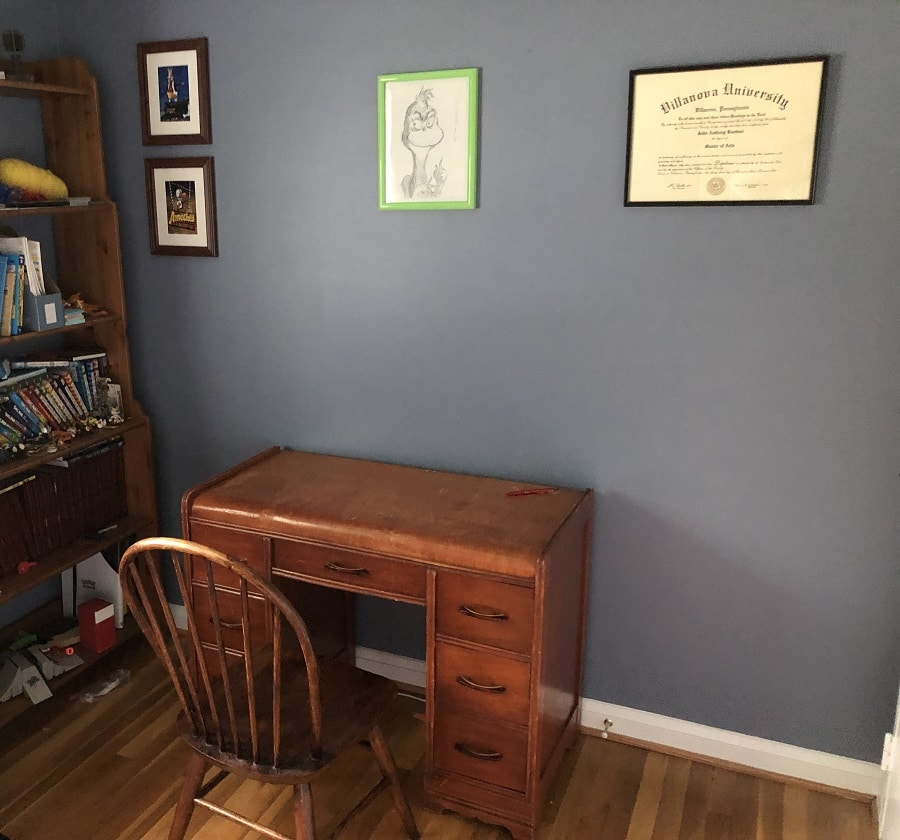 As we look ahead to a fall of online learning for our children, we are trying to create a learning space. Somehow that never happened this past spring, and people worked wherever they wanted and were comfortable. We'll probably still have some of that. But I like the idea of a quieter, more focused place, especially for online instruction.
I started looking at desks online, but desks are expensive. So, I called my parents to see what they had in their house, and my father texted me photos of their spare desks—including one that is mine. I had forgotten about it, and I think it's just right for the space. Now we just need to figure out whether the boys can share or we should add another.
The school supply list certainly looks different this year.
~Set the world on fire~
Yesterday was the Feast of St. Ignatius. As I've learned more about his life, I've realized that his life didn't go the way he expected it would. He had to change his plans a few times along the way—when he was injured, when he found his way to God, when he had to change the focus of the work of his new order, the Society of Jesus.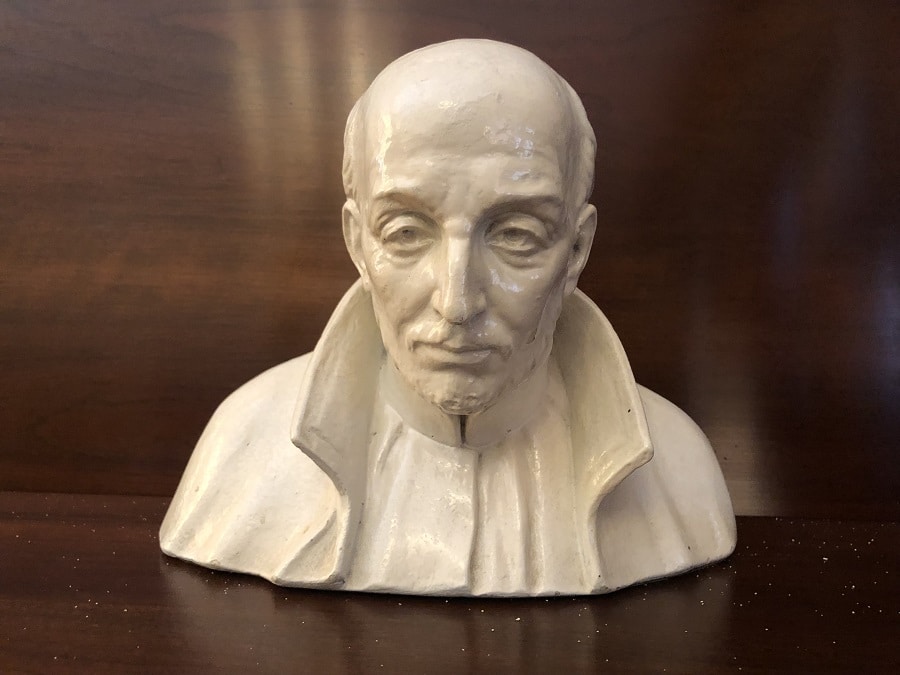 I love the prayer of St. Ignatius, and I really feel it speaks to me in a different way during this pandemic time when so much seems to have been taken, but we are also being invited to refocus on our faith and family and what matters most: Take Lord, and receive all my liberty, my memory, my understanding, and my entire will, all that I have and possess. Thou hast given all to me. To Thee, O lord, I return it. All is Thine, dispose of it wholly according to Thy will. Give me Thy love and thy grace, for this is sufficient for me. Amen.
A friend and colleague sent me a video of the members of the Ignatian Schola performing Dan Schutte's "These Alone Are Enough," which incorporates the sentiments of the prayer. It's breathtaking.
Read more quick takes at Kelly's blog, This Ain't the Lyceum, and have a wonderful weekend!

Print