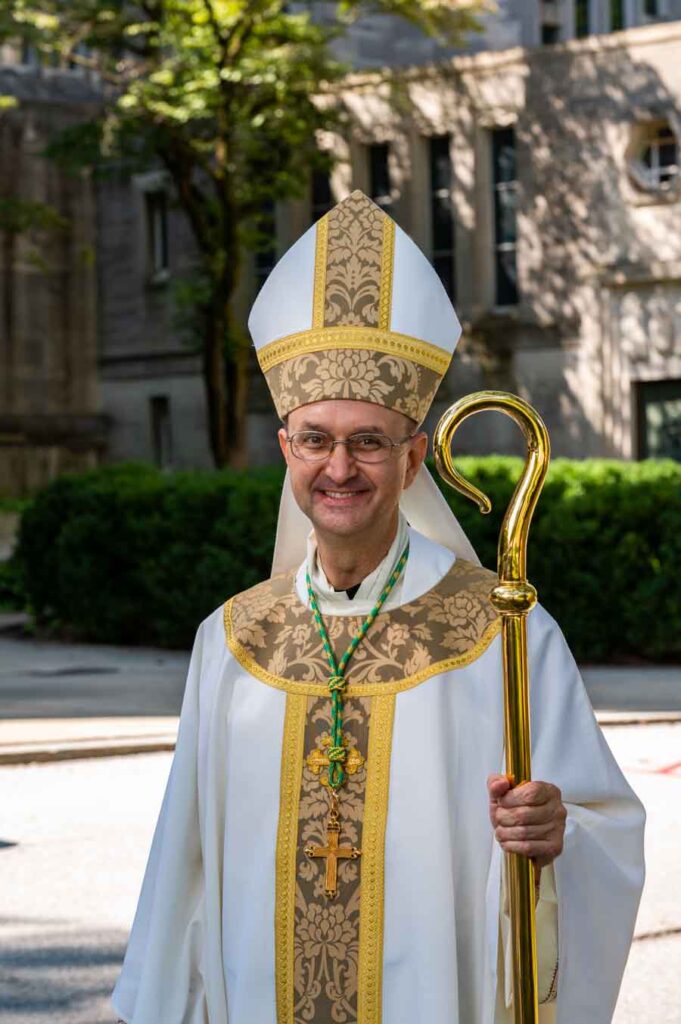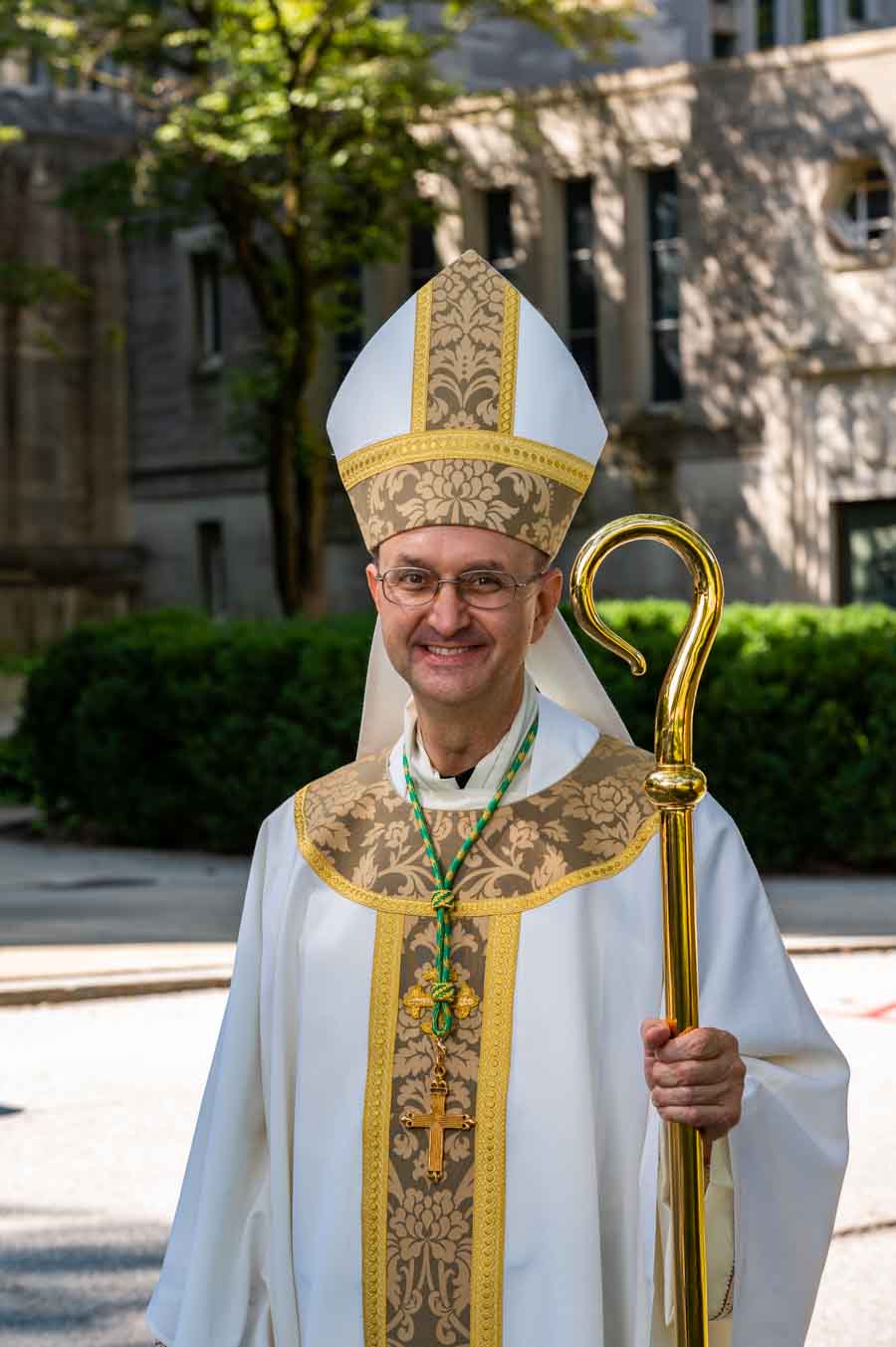 Bishop-designate Bruce A. Lewandowski, C.Ss.R., doesn't normally wear jewelry. A simple kind of guy, he doesn't even like T-shirts with writing on them or wear a watch.
He's going to have to get used to wearing a ring and a pectoral cross, two of the insignia for a bishop.
Part of his reason for not wearing a watch is that it provides opportunities for conversation when he asks someone what time it is.
"It's a way of connecting to people, but, with the ring and with the pectoral cross, which are clear signs of the office and commitment, it's something different," the new bishop said.
The pectoral cross is worn across the chest, close to the heart.
Bishop-designate Lewandowski received a pectoral cross from Archbishop William E. Lori shortly after the announcement of his appointment as titular bishop of Croae and auxiliary bishop of Baltimore. At that time, he made a profession of faith and an oath of fidelity to Pope Francis and his successors.
After that event, which took place in the undercroft of the Basilica of the National Shrine of the Assumption of the Blessed Virgin Mary, he joined the archbishop and the other Baltimore auxiliaries, Bishops Denis J. Madden and Adam J. Parker for a social chat in the basilica rectory.
At the end of that, the archbishop presented him with the cross, a replica of the one worn by Pope St. John Paul II, a simple cross with a fleur-de-lis on the end of each crossbeam.
Bishop-designate Lewandowski said the cross is beautiful and that he was surprised by the gesture.
"It's a remembrance, too. … It's attached to that moment, which is nice – the relationship with the Holy Father and the universal church, with the profession of faith," he said.
His family also presented him with a simple, rugged pectoral cross.
Bishops also wear a ring on their right hand. Usually, the ring has what is sometimes referred to as a "wisdom stone," usually amethyst, to symbolize piety, humility, sincerity and spiritual wisdom.
Bishop-designate Lewandowski opted not to have a stone on his ring, which is a gift from his mother. The ring is silver and brass, with a crucifix, including the corpus of Christ. It connects to his episcopal motto, "Because by your Holy Cross."
He related the story that when St. Katharine Drexel built her order's motherhouse in Pennsylvania, she was criticized because the interior was wood, not marble. "And she said, 'Marble is for bankers, but our Lord Jesus, the carpenter, is very content with wood.'"
In a similar way, Bishop-designate Lewandowski said, especially because of his motto, "I don't think there's anything more precious than the cross. And if there's any jewel that I would want in a ring, that would be it, because the cross is so central to all of our lives," he said.
He said the ring symbolizes his espousal to the church. As the archbishop presents the ring at the ordination, he will say, "Receive this ring, the seal of fidelity: adorned with undefiled faith, preserve unblemished the bride of God, the holy Church."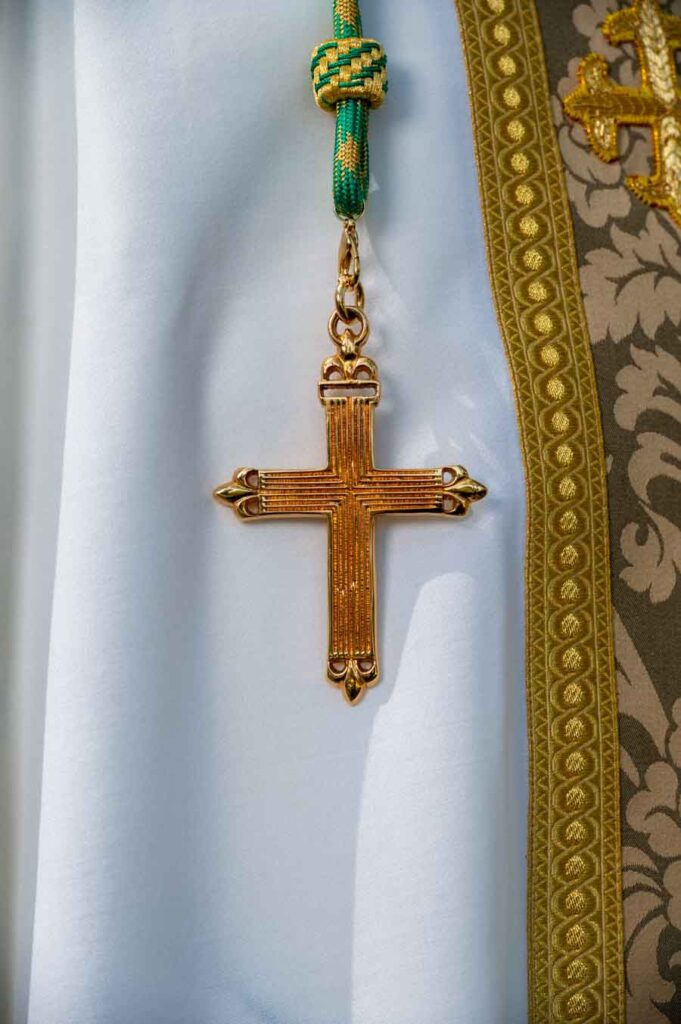 Bishop-designate Lewandowski said becoming a bishop is a commitment where there is no turning back. He said that when the apostolic nuncio – Pope Francis' representative, Archbishop Christophe Pierre – called to tell him he had been nominated as auxiliary bishop of Baltimore, "What I actually heard him say is, 'Will you give your life forever to the people of the Archdiocese of Baltimore?' … And I think that's symbolized in a powerful way in a ring that says, I am committed to you, as in a marriage."
A bishop carries a crosier, a pastoral staff that symbolizes his role as a shepherd to his flock. Bishop-designate Lewandowski will have two of these, as many bishops do.
The first is a simple, gold pastoral staff, a gift from the Redemptorists' Baltimore Province, which stretches along the east coast from Massachusetts to Florida, and of which he is a member.
"When I use it, I will always remember my Redemptorist confreres and I have a debt of gratitude to them for the rest of my life," he said.
The second, a gift from his family, was created by Paul Francis Monge, a carpenter from Westland, Mich., a friend of his sister, Felician Sister Mary Francis Lewandowski, who organized it.
"It also is simple and very meaningful because it comes from 'the country' where I grew up," in Lima, Ohio, and is a connection to home and the simplicity of country and farm life, he said.
"It's a piece of bent wood, very simple, and it comes apart in three sections and looks very much like a shepherd's crook, like the staff of a shepherd," the bishop said. "When you look at it, you could think of Jesus, the Good Shepherd, you know?"
He may use both on ordination day – receiving the one from the Redemptorists in the actual ordination rite, and then using the wooden one when he goes for the blessing of the people at the end of Mass.
Bishops also receive a miter when they are ordained, a headdress to be worn in liturgical ceremonies.
Each bishop also has a personal coat of arms. Bishop-designate Lewandowski's sister, Felician Sister Mary Francis Lewandowski, who handles graphic arts and communications for her religious order, designed his coat, sticking to simple themes to reflect the bishop's history and spirituality.
Email Christopher Gunty at editor@catholicreview.org
Read more about Bishop Lewandowski
Copyright © 2020 Catholic Review Media

Print