Hello Day at The Catholic High School of Baltimore celebrates the freshmen, transfer students and teachers of the East Baltimore school.
It's one of Dr. Barbara Nazelrod's favorite events. The day of welcome, when new girls are paired with "big sisters" and cheerleaders cheer for the newbies, is a tradition that shows what kind of place the 80-year-old school is.
"There's a strong sense of sisterhood and community," said Nazelrod, who this year marks her 20th year as president, making her the longest-serving school head in the archdiocese.
After 28 years in Baltimore County Public Schools, she was asked to lead the school in 2001 – and turned it down. Then she had what she called her "St. Paul experience."
"I felt a sense of mourning that I said no," the 1968 Catholic High graduate said.
So she changed her mind and got to work on three goals: improving the school building, reaching out to alumnae and strengthening academics.
She's overseen improvements to make the campus more welcoming, built up the alumnae base and added a variety of new programs from STEM – becoming the first Catholic school in the archdiocese to add a focus on science, technology, engineering and math – to expanded arts offerings such as dance and marching band and the Archangel Program for students who need extra help.
To honor her leadership, the gallery was renamed in her honor Sept. 10.
"We wanted to honor Dr. Nazelrod's consistent leadership and dedication to her alma mater by naming the gallery in her honor," said Megan Morales, coordinator of marketing and communications. Gwendolyn R. Grant, director of institutional advancement, and her staff came up with the idea.
"She has chosen to use her God-­given talents at Catholic High to ensure that her students have a Christ-­centered and academically-challenging environment in which to develop their own gifts," noted Dr. Donna Hargens, superintendent of Catholic schools.
Nazelrod says she isn't done yet.
"I still have a lot of ideas and fortunately a great staff that goes along with them," she said. "I just really believe in what I'm doing. I'm part of the mission here."
It's a place she's loved since she was a student.
"Everything I saw was perfect," she recalled. "I loved every minute. I loved the values. I loved the education."
At Catholic High, everything is taught through a Franciscan lens, she said, noting that "you can't be in our school five minutes and not know this is a Franciscan school."
Sponsored by the Sisters of St. Francis of Philadelphia, Catholic High has just under 300 girls from 67 ZIP codes.
Dr. Nazelrod's devotion to the school and the Franciscan spirit have impressed Franciscan Sister Ann Dutrow, Catholic High's director of mission. She recalled a recent staff retreat at First Fruits Farm, a Christian farm devoted to alleviating hunger in the mid-Atlantic area, when Dr. Nazelrod got down on her hands and knees with everybody else and dug potatoes.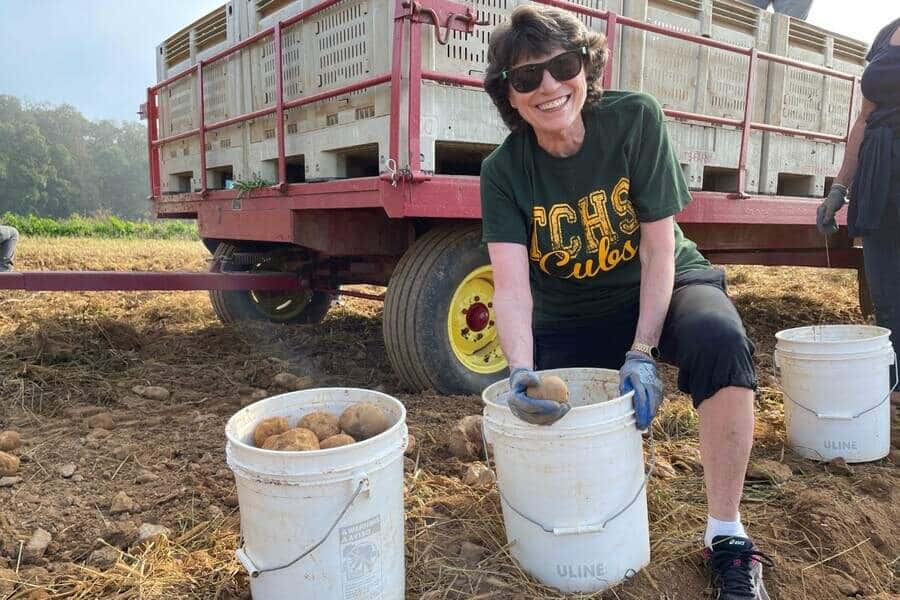 "That team spirit is a big part of the school and she models it well," Sister Ann said.
Building relationships in the school and with the surrounding community has also marked Dr. Nazelrod's tenure, according to Sister Ann. She's joined in community meetings, invited neighborhood groups to meet at the school and welcomed alumnae of closed Catholic high schools. "A hallmark of Franciscanism is nurturing relationships with one another," Sister Ann said
Patricia Bonner McElroy, Catholic High's board chairwoman and member of the class of 1978, praised Nazelrod's efforts to keep the school fiscally strong.
"She's always willing to learn because she's always committed to the school," she said.
McElroy noted Nazelrod's involvement in the Belair-Edison neighborhood, her excellent faculty and staff, and her commitment to academics – for all girls.
"She was innovative in academics and didn't forget about the kids who struggle," she said. McElroy's own daughter, Molly, a 2013 graduate, participated in the Archangel Program and is now studying for her master's degree in social work.
"Dr. Nazelrod has changed the lives of many girls," Molly McElroy said. "She believes in them."
Copyright © 2021 Catholic Review Media

Print