TOWSON – Amid considerably greater anticipation than normal, Catholic schools in the Archdiocese of Baltimore opened for the 2020-21 school year Aug. 31.
Elementary and some high school students returned to classrooms for the first time in 171 days, as the coronavirus pandemic had shuttered schools and led to remote learning from home. With social distancing, masks and other precautions in place, teachers welcomed children in person for the first time since March 14.
There was also more anxiety than normal, which Archbishop William E. Lori acknowledged before he visited some classrooms at Immaculate Heart of Mary School in Baynesville, where he was asked about ongoing concerns about COVID-19.
"First and foremost, our concern is their health and safety," he said. "We've done everything that we can. … We also recognize how good it is for our young people, socially and emotionally, to be able to be back in school and to be able to interact with their classmates and their teachers.
"We are vigilant. I think we've worked really hard to do everything humanly possible to do this well and wisely."
All Catholic schools in the archdiocese that are open for in-person instruction will also offer remote learning options for students and families.
Jesse Lee Mixson and his wife, Loria, sat in the front seat of the first vehicle in line at the IHM School entrance for the upper grades. She explained their thought process before their son, Jesse, a fifth-grader, jumped out of the back seat and began his new year of school.
His mother is a teacher in the Baltimore City Public Schools system, and said there was "no way I can do my job and watch him." Her perspective includes attending a parish school in Manhattan, which she considers the springboard to an honors program at a high school in The Bronx, a scholarship to Syracuse University, a master's degree from Temple University, and teaching in Catholic schools in New York and Philadelphia.
"I want my son to have the same experience," she said. "I know they have the best interests of the children and families at heart, but as a mother, you worry."
Her son was greeted by the principal, Sister Susan Louise Eder, of the Sisters of St. Francis de Sales, and then stopped at a screening station staffed by Marianne Kozlowski, assistant principal.
"This has taken a lot of teamwork," Sister Susan Louise said of the coordination required to reopen IHM School.
Her first year at the school included the pandemic, and before that, the unexpected death in November 2019 of Father Michael Carrion, the pastor.
His successor, Father Jeffrey Dauses, broke the ice at the entrance for the lower grades with an anecdote about being in the second grade at the former parish school at Shrine of the Little Flower in Belair-Edison, and the day his mother switched the tuna meant for lunch with cat food.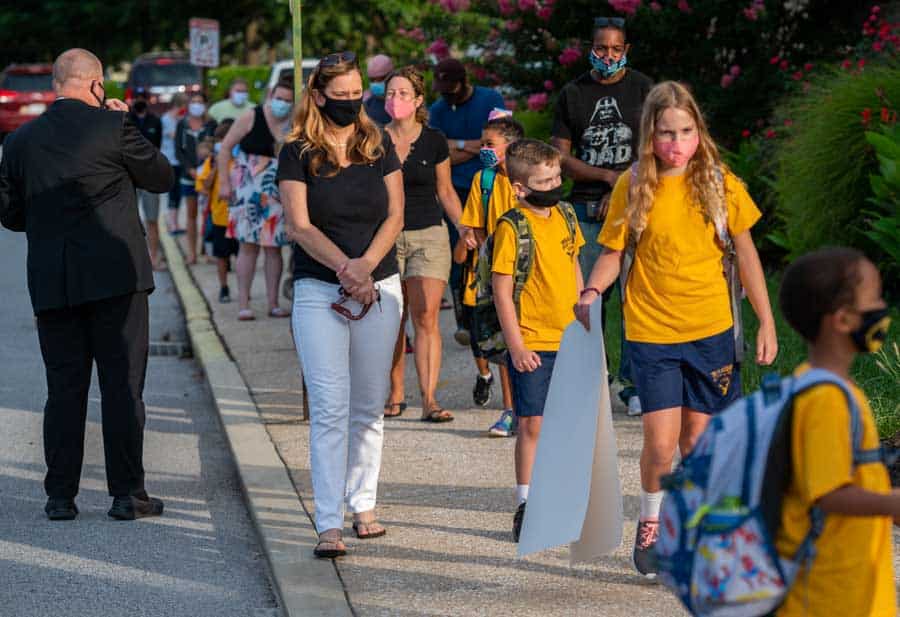 Archbishop Lori visited classrooms where desks were flanked by round containers made of plastic, where students will leave outerwear and lunch boxes in lieu of storing them in cloakrooms where they might bump into a classmate. Red plastic cups were taped over the spigots at water fountains, and classrooms were outfitted with AMX/Acendo Vibe camera/sound bar units, which will enhance synchronous learning for students learning at home.
Archbishop Lori also visited Immaculate Conception School in Towson, and then Holy Angels, on the west side of Baltimore.
At IHM School, 207 of its 285 students will learn on campus. At Holy Angels Catholic School, that ratio was flipped, as 66 of its 191 students will learn on campus. Kathleen Fillipelli, the Holy Angels principal, noted that it distributed 60 classroom desks and 35 computers to those learning at home.
Holy Angels was founded a decade ago, after the closing of several parish schools in West Baltimore. It was its final opening day, as next August its students will head to Mother Mary Lange Catholic School, the first new Catholic school in Baltimore City in approximately 60 years.
In Rochelle Blagmond's pre-kindergarten class for 3- and 4-year-olds, children, two to a round table where they were separated by clear dividers, shaped Play-Doh.
COVID-19's disproportionate impact on the Black and Hispanic communities was also evidenced crosstown, at Archbishop Borders School in Highlandtown, which has a dual-language curriculum. It will begin the year with virtual instruction only.
Several high schools in the Baltimore area will do the same, among them The John Carroll School, Loyola Blakefield, Maryvale Preparatory School, Mercy High School, Mount St. Joseph High School and Notre Dame Preparatory School.
When students do return to Mount St. Joseph, it will be under a hybrid model, with some days on campus and others at home, similar to the model in place at Archbishop Curley High School, Archbishop Spalding High School, Calvert Hall College High School, The Catholic High School of Baltimore, Mount de Sales Academy and St. Maria Goretti High School.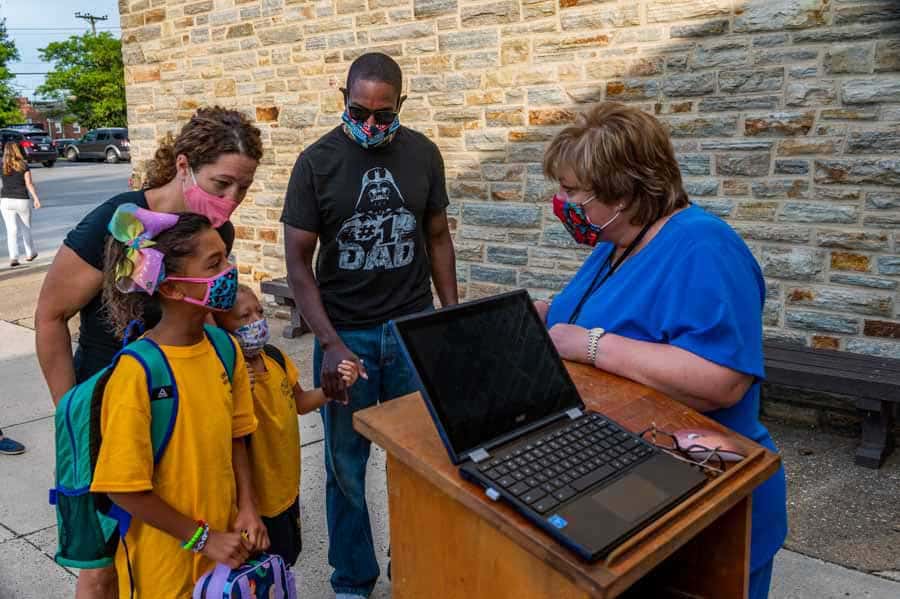 At Calvert Hall, for instance, 25 percent of the students will be on campus each day. At Spalding, students will be on campus two days a week.
Some schools opening virtually will still have students on campus for special events. Mercy High held orientation for sophomores on campus Aug. 31, with constant reminders about social distancing.
"We've got high school girls who haven't seen each other in months," said MaryClare Cernick, chairwoman of the computer science department. "Whenever they get an announcement to move, it includes a reminder to remain socially distant and follow the (directional) arrows. They're doing great."
Our Lady of Mount Carmel School in Essex opened its elementary and high schools. At the latter, approximately 60 percent of the approximately 170 students opted for in-person learning.
Last year, more than 24,000 students attended Catholic schools – operated by the archdiocese or independently – within the Archdiocese of Baltimore.
Copyright © 2020 Catholic Review Media

Print