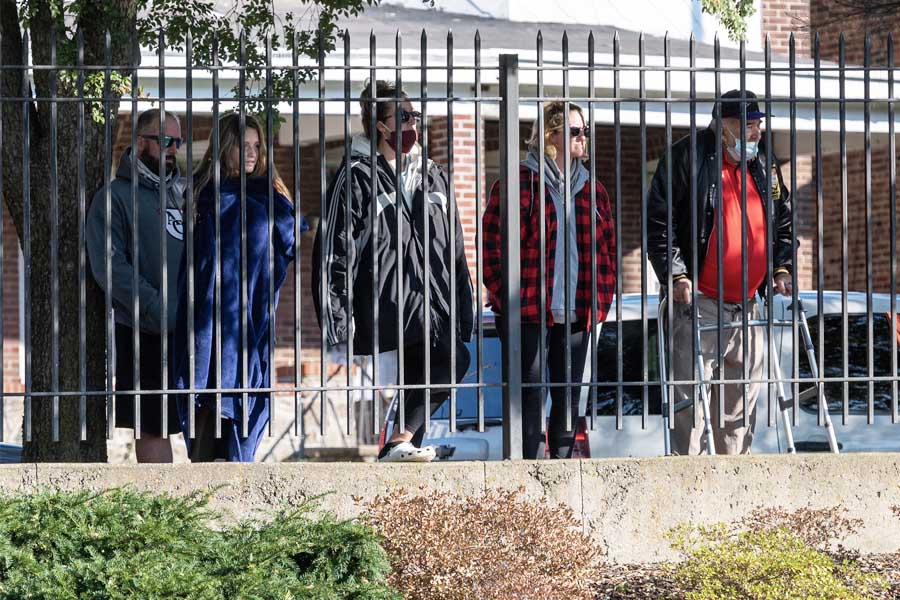 While the traditional Thanksgiving Day football game between Calvert Hall College High School and Loyola Blakefield was the highest-profile prep event affected by the coronavirus pandemic, few teams were as hit hard by the formal cancellation of fall athletics as the soccer team from Mount St. Joseph High School.
The Gaels had locked up the No. 1 seed in the four-team Baltimore Catholic League tournament, an innovation of six high schools spread across four jurisdictions. That tournament, along with all other remaining fall sports, was officially canceled Nov. 23.
The move was made by the Archdiocese of Baltimore, in response to an alarming rise in COVID-19 and local executive orders limiting outdoor gatherings. In Baltimore County, that had already led Calvert Hall and Loyola Blakefield to cancel the Turkey Bowl, pushing the 101st edition of their rivalry to 2021.
A Nov. 23 communication from the archdiocese to Catholic high schools, first reported by the Annapolis Capital, read: "In accordance with local jurisdictions that have recently issued orders prohibiting athletics due to the continuing surge of COVID-19 cases across the State of Maryland, the Archdiocese of Baltimore is cancelling the remainder of the Catholic high schools' fall sports season effective Wednesday, Nov. 25.
"We recognize that this decision is a disappointment to our student athletes and school communities. We are committed to proper safety measures, and responsibly adapting to emerging circumstances. We will continue to be vigilant in keeping the well-being of our students, faculty and staff, and spectators as our top priority."
The news did not come as a surprise, as the archdiocese had already announced that, after the Thanksgiving break, it would pivot to virtual learning Nov. 30-Dec. 2, as a "risk-mitigation strategy."
Few teams, meanwhile, were as impressive during a truncated fall season as Mount St. Joseph soccer, which, over a span of three weeks, went a perfect 8-0 and outscored the opposition, 34-7. Coach Mike St. Martin's team included 19 seniors.
"For them, I'm crushed, but at least they got to have a season," the Gaels' veteran coach said. "They made the most of every game. They went into every game like it was their last. I don't think we ever trailed."
By contrast, the Mount St. Joseph football team played just once, beating St. Vincent Pallotti High of Laurel in double-overtime Nov. 21. Those Gaels had been scheduled to play at Archbishop Spalding High Thanksgiving Day
The Mount St. Joseph senior soccer class includes Jackson Simons, who will attend the U.S. Naval Academy; Tyquan Stroud, who is headed to Temple; and Miles Lam, off to American University. The Gaels' junior class includes Brian St. Martin, the coach's son, who will follow his brother, Brett, to NCAA power Maryland.
Their initial 10-game schedule against Catholic peers was formed after the Maryland Interscholastic Athletic Association and the Interscholastic Athletic Association of Maryland, which govern boys' and girls' sports, respectively, opted in mid-August not to sponsor fall sports championships.
The heads of schools in those two leagues will convene Dec. 11, to make similar decisions about the winter sports season.
"Over the coming weeks," the Nov. 23 communication from the archdiocese read, "we will monitor the COVID-19 cases and the guidance from the local jurisdictions relative to a decision regarding our high school winter sports season."
In boys' basketball, the Baltimore Catholic League, which recently had two players taken in the first round of the NBA draft, would mark its 50th season.
Copyright © 2020 Catholic Review Media

Print