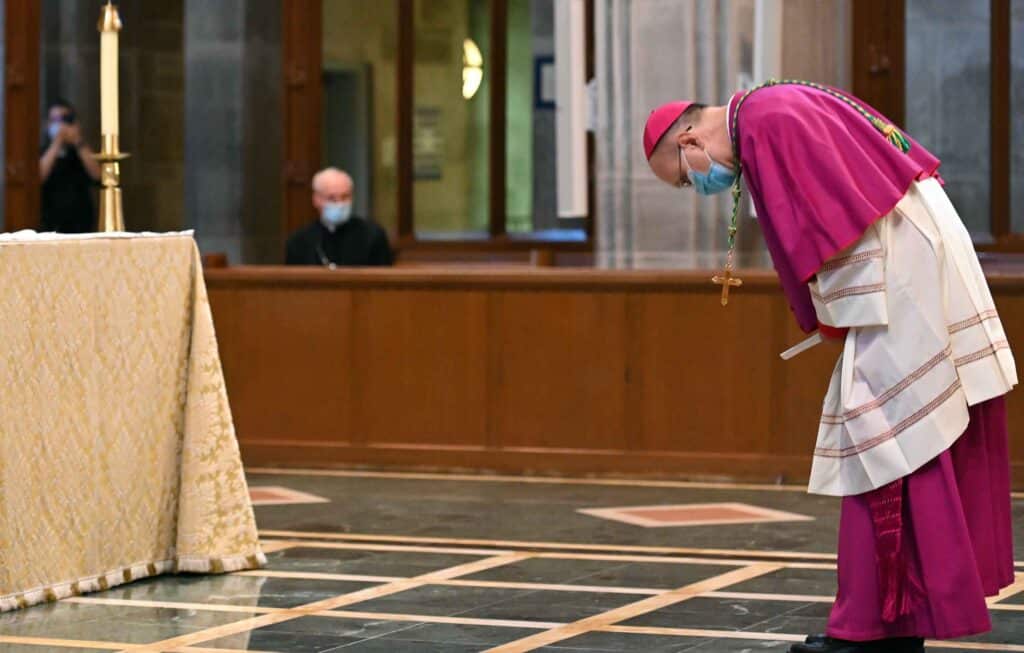 Archbishop William E. Lori celebrated a vespers service on the eve of the ordination of Bishop Bruce A. Lewansdowski, C.Ss.R., Aug. 17 at the Cathedral of Mary Our Queen.
Due to attendance restrictions caused by the coronavirus pandemic, the cathedral was sparsely occupied, with mostly priests, deacons and religious sisters and brothers making up the congregation of about 110 people.
In his homily, Bishop-designate Lewandowski began by saying that anyone who knows him understands how unbelievable his appointment as a bishop is.
He and his Redemptorist confreres sometimes discuss the difference between them as religious order priests versus diocesan priests.
"The truth is this," he joked, "it takes me about five minutes or less to put on my Redemptorist habit. It takes me about 30 minutes to put on all this," he said, referring to the purple vestment and other regalia he was wearing for the service.
He turned serious as he highlighted the differences between selfishness and sacrifice.
To illustrate, he related a story that happened during his service at Our Lady of the Assumption Parish in St. Lucia, West Indies, when a mother came to see him at the rectory with her two young daughters. The parish staff kept a jar of candy on the desk to offer to visitors, though the priest said he had been the beneficiary of a lot of the candy.
As the two girls stared at the jar, he realized there was – tragically – only one piece. He finally gave the piece to the mother, hoping she would know what to do.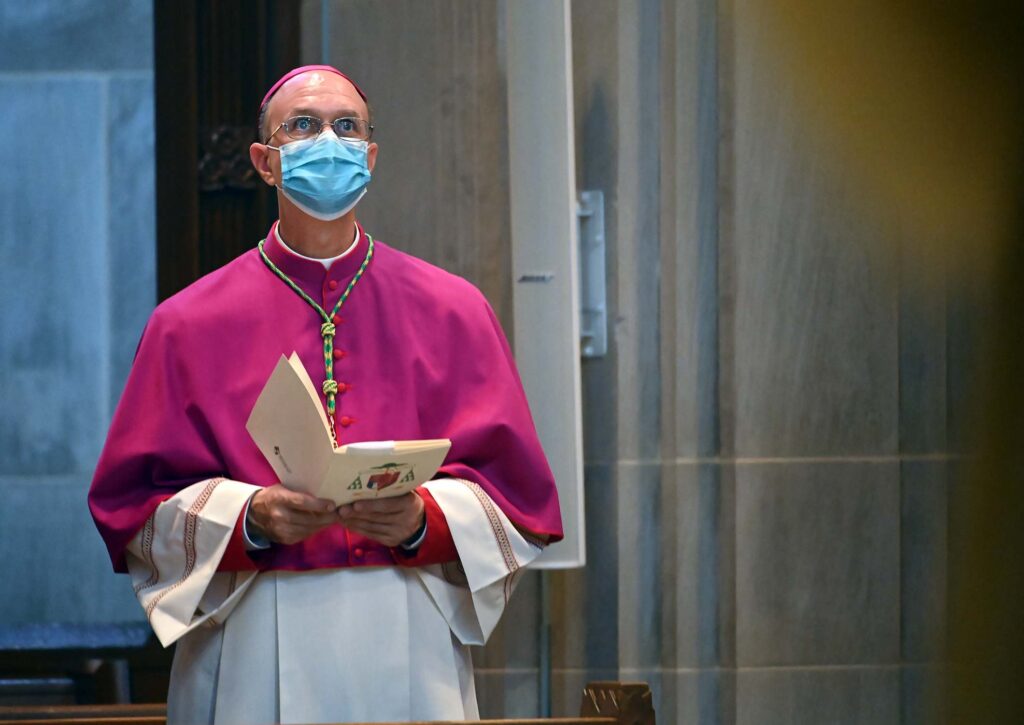 She unwrapped it and handed it to the older girl, who bit the candy in half and shared the other part with her sister.
"Impossible, I thought. I would never do that for my brother," the bishop-designate said. "I'd wave it in front of him and then put the candy in my mouth and stick out my tongue with the candy on it and say to him, 'I got candy and you didn't get any.'"
He said he realized at that moment that the opposite of selfishness is sacrifice. The older girl took less so her sister could have something.
"That's exactly what happens on the cross. On the cross, Jesus is broken and shared for the life of the world," Bishop-designate Lewandowski said. "He goes with less so that we can have more, so much more!"
He added that Christ "carries the burden of our sins so that we can be sinless. He is despised so that we can be loved unconditionally and endlessly. He dies on the cross so that eternal life will be ours. He becomes powerless to make us sharers in the Kingdom of God.
"He is thrown down, maligned, beaten so that we can be praised and lifted up high and seated on thrones. He is nailed to the cross … so we can be freed from our crosses," the bishop-designate said. "He was content with less – so much less of everything – so that everything will be open to us."
Bishop-designate Lewandowski said he spent his retreat in preparation for ordination as a bishop in the cathedral. "I think it was God's plan, because no retreat house would have me – you know, COVID," he said.
Click play to watch the vespers service and homily in the video that follows; Story continues below.
The days spent there gave him a chance to explore, and he first searched for St. Alphonsus Liguori, founder of the Redemptorist order, of which he is a member. He found the saint in several places – on the front door, near the eucharistic chapel and in the Lady Chapel, dedicated to Mary – "all the places where a good Redemptorist should be," he said, welcoming people, close to Mary and close to Jesus in the Eucharist.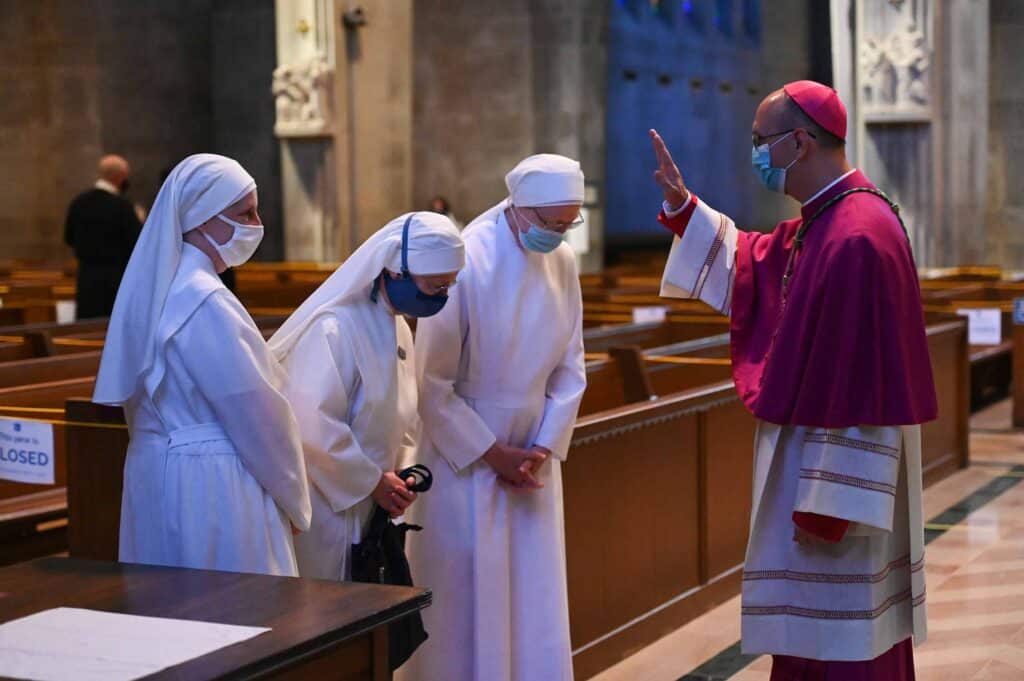 Bishop-designate Lewandowski noted that there is a self-guided tour of the cathedral, but one item not mentioned on the tour is a cross above the archbishop's chair – the cathedra – that can only be seen if you are sitting across from it in the sanctuary. It contains Christ's words on the cross: "Into your hands, Father, I commend my spirit."
He noted how close the cross and the words of surrender are to the bishop's chair. "The words of Jesus, who from the cross says, 'I love you so much, and I would do anything and everything for you. All I have is yours and I pour out my very life for you,'" the bishop-designate said.
"Jesus on the cross is broken and shared for you – broken and shared for our salvation. He goes with less so we can have so much more of everything," he said.
"Sisters and brothers, isn't that what our mission and ministry means? … Ministry and mission is to go with less, so that others can have more."
Bishop-designate Lewandowski said, "At that point when you feel like you have given all and you feel like you don't have any more to give – and I feel like some of you have been there before – you've given everything for God's people and the church. … It's then that we realize when we have given away everything, we have no more to share. When we feel empty, that space, that void, that emptiness is where Christ enters in and we realize how full we are – how filled up we are with his love."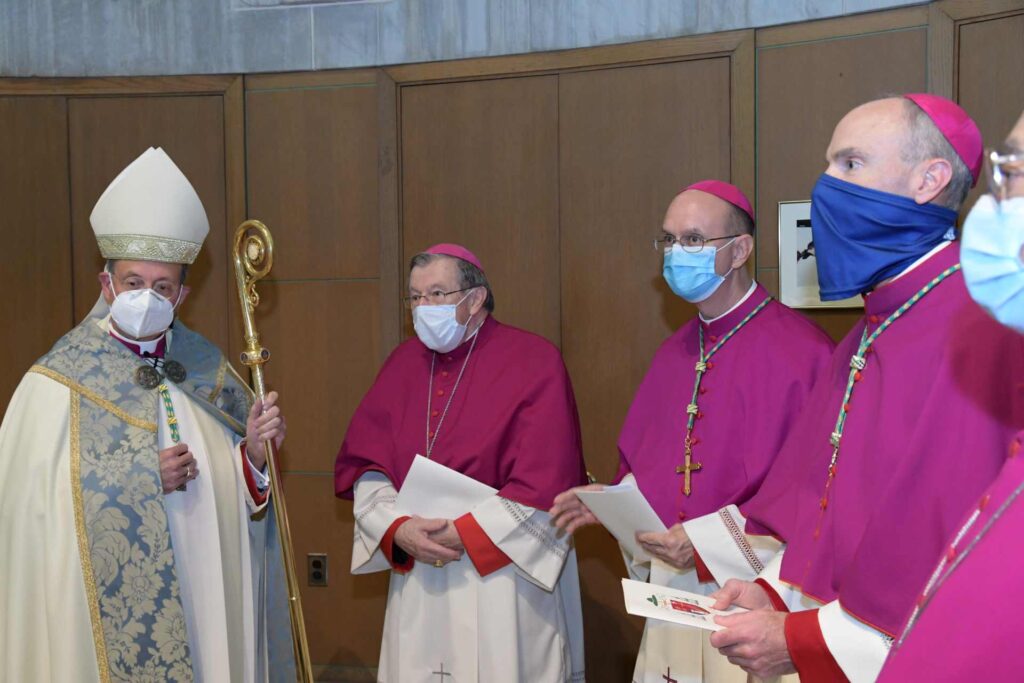 He told the congregation in the cathedral and watching via livestream that when the apostolic nuncio, Archbishop Christophe Pierre – Pope Francis' representative in the United States – called him June 1 and told him he was nominated to be an auxiliary bishop of Baltimore, he heard what he believed he was really being asked.
"What I heard him say was, 'Bruce, will you spend the rest of your life in the Archdiocese of Baltimore?' … I heard him say, 'Will you spend the rest of your life and give all you are and have for the people of the archdiocese?'"
Choking up and pausing, he continued, "I heard him say, 'Will you live and die for the people of Baltimore?'"
After collecting himself, he said his response is the same as he has made when he first professed as a member of the Redemptorists, when he was ordained to the diaconate and priesthood and when he took each new pastoral assignment since then.
"And only God knows what will happen now, but I say it to you: Yes! Yes. All I am and all I have is yours," he said, visibly emotional. "I give my life to you – because the opposite of selfishness is sacrifice."
The bishop-designate concluded with a commitment: "Into your hands, Father; and into your hands Archbishop Lori; and into your hands, Bishop (Adam J.) Parker and Bishop (Denis J.) Madden; and into your hands my brothers and sisters of the Latino community and the immigrant community and the Black Catholic community, … into your hands in so many places and parishes. Into your hands."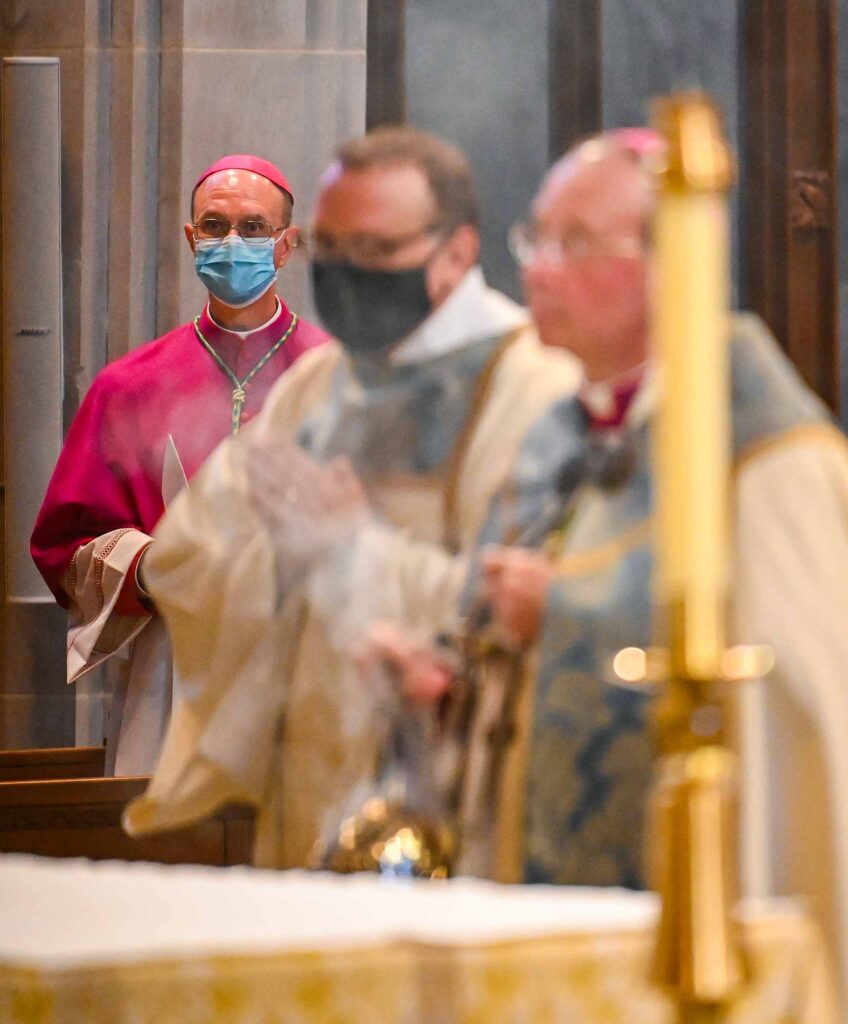 At the end of the vespers service, Archbishop Lori thanked Bishop-designate Lewandowski for his "beautiful and heartfelt" reflection.
"We are all praying with you and for as you prepare in these final moments for your ordination as a bishop," he said.
The archbishop added, "I know that we will continue this vigil of prayer until tomorrow when, through the kindness of our Lord and God and the favor of the Apostolic See, the See of Baltimore – the first in the United States – will be blessed with our newest auxiliary bishop."
Bishop-designate Lewandowski will be ordained to the episcopate Aug. 18, 2 p.m., in a Mass at the cathedral; due to attendance restrictions, only invited guests may attend.
The Mass will be livestreamed on various platforms in English and Spanish:
Read more about Bishop-designate Lewandowski
Email Christopher Gunty at editor@CatholicReview.org
Copyright © 2020 Catholic Review Media

Print