Note: Archbishop William E. Lori will ordain five men to the priesthood June 18 at 10 a.m. at the Cathedral of Mary Our Queen in Homeland. The following is a profile of one of those future priests. Click here to read profiles of the other new priests.
Deacon David C.F. Ray, who will be ordained a priest of the Archdiocese of Baltimore June 18, does not have a "road to Damascus story" to describe his vocation to the priesthood.
A member of St. Michael Parish in Annandale, Va., for much of his childhood, Deacon Ray was confirmed as a seventh grader. He acknowledged that while most children "are not at that point strong enough" in their faith to knowingly and seriously make such a significant commitment, he was, "without a doubt."
"I knew Catholicism was the fullness of truth, and that it was an absolute blessing to have it," said Deacon Ray, now 58.
He was initially brought into the faith by his mother, born in Peru, which was, in his words, "an all-Catholic universe" for her.
"She was a churchgoer, and you could never have shaken her faith from her," Deacon Ray said, though he added that his education at St. Michael, where he attended the parish school, was also key in providing the foundation for his faith.
"One of the reasons I sing my grade school's praises was because I was catechized so, so well there," he said. "What a kid needs to know, they did it so well."
One particular lesson was emphasized again and again by Monsignor Thomas P. Scannell, the founding pastor of St. Michael Parish in the Diocese of Arlington, Va.
"What has always gotten me through the most difficult challenges of life has been the very simple knowledge that I am a child of God, and God loves me," Deacon Ray said. "If the rest of the world ceases to love me, God still will."
He noted that the now-deceased Monsignor Scannell, who had attended college on a football scholarship and served as an Army chaplain in England during World War II, would "hammer that into our heads."
Deacon Ray also drew inspiration from his fifth-grade teacher, Sister Edith Dolores of the Sisters, Servants of the Immaculate Heart of Mary.
"She was just an incredibly holy woman," he said. "Her piety just showed through."
Sister Edith, also now deceased, told stories about growing up in a Catholic world in Philadelphia.
"Just to hear the passion she had for her faith – you could tell it was so sincere," Deacon Ray said. "It was very, very inspiring."
As an adult, Deacon Ray had a longtime career in the nonprofit space, contributing his talents to event planning, coordinating and researching functions. He gives a matter-of-fact explanation about the relative lateness of his vocation.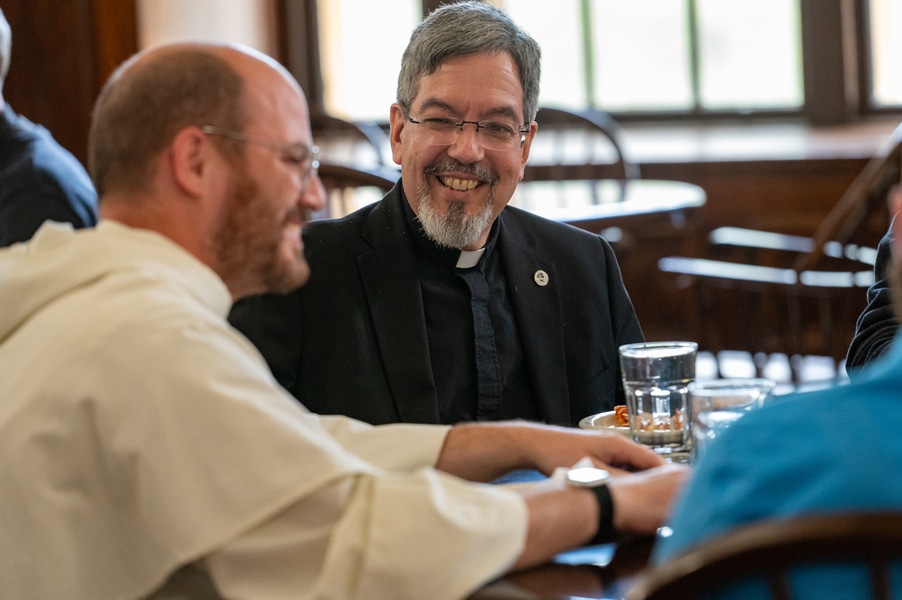 "It kind of took me that long to respond to something that had been there for a long, long time," he said, adding that, at times, he "sort of wanted to think it wasn't there."
However, there was a question he couldn't ignore: "What if it is there, and I never pursued it?"
When he finally did, he found it "the most rewarding, the most enriching, and the most important" pursuit of his life.
Deacon Ray noted his age and experience have some advantages.
"When I entered the seminary at 51, it wasn't a lark," he said. "I recognized at that point that I had to be all in. It's different when you don't have that experience, and you don't know what you're walking away from."
Deacon Ray attended seminary at St. Mary's Seminary and University in Roland Park.
His pastoral assignments have taken him to various parishes in the Baltimore Archdiocese, including St. Joseph in Cockeysville, his latest.
One of his most memorable pastoral experiences to date was leading a faith discussion group at Immaculate Conception in Towson, pitched as a "come on out and bring your questions"-type forum.
"What I discovered," Deacon Ray said, "is that converts – just because they have converted doesn't mean they have resolved all their difficulties, or all the things that gave them pause (about Catholicism)."
He emphasized that while the presence of such "things" by no means indicates any desire to "unconvert," he wants to "know these things, identify them and help," as he moves forward in his ministry.
He also looks forward to putting his Spanish fluency to use in ministering to Hispanics.
Copyright © 2022 Catholic Review Media

Print