The logistics for the Aug. 18 episcopal ordination of Bishop Bruce A. Lewandowski, C.Ss.R., involved multiple cars filled with members of the Ohio native's family.
Felician Sister Mary Francis Lewandowski, one of his sisters, left her home in Detroit bright and early Aug. 16, and made two stops in Ohio, to pick up their Aunt Kathy in Sylvania, and then their mother, Frances Whitney, in Marblehead.
Her 14-hour day may have been the longest involved in getting to Baltimore, but not in terms of mileage.
Yojan Garcia, a native of Mexico who works for the Archdiocese of Chicago, drove 700 miles by himself to support the priest whose ministry to the Hispanic community is taking on a national tenor.
Garcia recently organized a virtual event for the Insituto Nacional Pastoral Migratoria (ministry to immigrants), a Chicago-based outreach. It had participants from approximately 15 archdioceses and dioceses around the nation, and concluded with a blessing from then-Father Lewandowski.
"We have baptized him as the bishop of the people," Garcia said from a pew at the Cathedral of Mary Our Queen in Homeland prior to the episcopal ordination. "He is one of us, one of our brothers in faith."
Immaculate Heart of Mary Sister Kathleen Schipani had an easier drive from the Archdiocese of Philadelphia, where she directs the Office for Persons with Disabilities and the Deaf Apostolate. She joined her Baltimore counterpart, Christopher Duck, in offering sign language interpretation during the livestream of the ordination.
"We've known each other for 20 years," Sister Kathleen said of Bishop Lewandowski, who served in Philadelphia from 2005 to 2015. "He was the pastor of a multicultural parish (Visitation). I hold him up as an example of a priest being with his people. He would call me, about meeting a deaf person on the street, and the help that person needed.
"He has a heart for dealing with people who are struggling."
Before the ordination she traded anecdotes with Sister Mary Francis, the bishop's sister, whose design skills extended to creating his coat of arms. It was on the custom COVID-19 masks worn by family and some clergy.
Social distancing and restrictions limited invitation-only attendance to about 200 people, among them Rachel Brooks, lead organizer with BUILD (Baltimoreans United in Leadership Development), which has worked with the new bishop on a number of initiatives.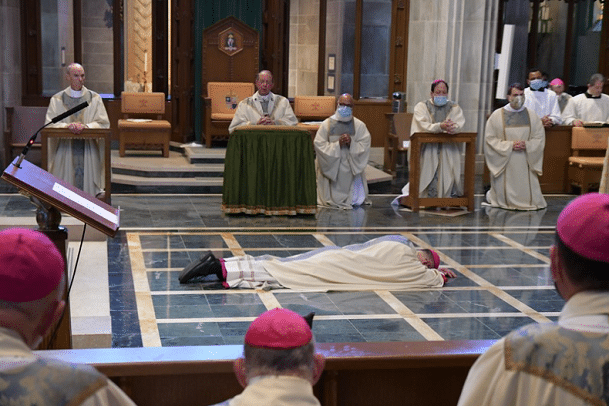 "Bishop Lewandowski has been on the front lines of COVID-19," she said, "making sure that testing is brought to our community, that food gets brought to this community, that resources that the undocumented community is always left out of are there.
"This city is better because he is in the role that he has."
His ministry in Baltimore is based at Sacred Heart of Jesus/Sagrado Corazón de Jesús in Highlandtown and St. Patrick in Fells Point. When St. Michael in Fells Point closed, it absorbed parishioners such as Melissa Pelaez, who sings in the choir and teaches religious education at Sacred Heart.
"It's been wonderful to work with Father Bruce," she said. "He's a heartwarming man with a great, noble heart. It's the best thing, working with him. It's the way that he cares about people."
Pelaez joined a community that included Omar and Yoli Pineda, natives of El Salvador and members of the parish's Nuestra Señora Reina de la Paz (Our Lady, Queen of Peace) Committee.
"He (Bishop Lewandowski) is our spiritual guide," said Omar Pineda, who helps him with the livestreaming of Masses. "He is a church leader who truly involves himself in the community. His message today for us was so moving, it left us in tears. He is a man of the community, he is by our side."
"It's such a blessing to be able to be present at this ordination and we were so grateful to get an invitation," said his wife, Yoli. "He's very close to our hearts. We've sought him out in so many different moments, and he's always supported us."
The faithful included lay leaders from the Archdiocese of Baltimore, among them Manuel Aliaga, pastoral associate to the eastern vicar.
"Today gave us the chance to celebrate the amazing man that is Padre Bruce," Aliaga said. "This is a true celebration, for him, his family and for all of us."
Daniel Zawodny contributed to this article.
Read more about Bishop Lewandowski
Copyright © 2020 Catholic Review Media

Print