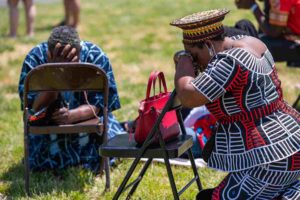 FULLERTON – As the first reading on the Feast of the Pentecost, from the Acts of the Apostles, got to a "strong, driving wind," some gathered May 31 for 12:30 p.m. Mass at St. Joseph Parish nodded in recognition.
The church in northeast Baltimore County was among those in the Archdiocese of Baltimore celebrating public liturgies for the first time since mid-March, when the coronavirus pandemic shut down Maryland and large swaths of the nation.
St. Joseph did so outside, on a wind-swept youth soccer field, with the faithful bringing their own lawn chairs or blankets to sit on. Approximately 500 attended 10:30 a.m. Mass, and another 250 came out for the 12:30 p.m. celebration.
Men wore hats to protect themselves from the sun, among them Father Jesse Bolger, pastor, who preached underneath a Baltimore Orioles cap. Despite  countless other modifications, such as the Eucharist only in the solid form and social distancing, the faithful appeared grateful to be together for the first time in nearly three months.
Like tens of thousands throughout the archdiocese, Ginny Phillips had remained  home and watched livestreams of Mass, which were limited to 10 clergy and liturgical ministers. What did she most miss about attending Mass in person?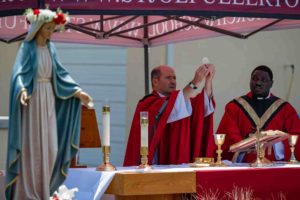 "I've been going to 4:30 (Saturday afternoons) here forever," said Phillips, who attended St. Joseph School in the 1960s. "I've missed the contemporary group; they're terrific, the music and hymns."
A member of the hospitality ministry at St. Joseph, she wore a "Faith Over Fear" mask to 12:30 p.m Mass and helped staff a tent where water bottles were available. Her teammates at that tent included Thelma Sam.
"Watching a livestream every Sunday is not the same," Sam said, of virtual worship. "Sitting by yourself at home is not the same as seeing familiar faces."
Born in Belgium but raised in Ghana, Sam reflects the diversity that St. Joseph Parish has embraced. On Pentecost Sunday, which celebrates the birth of the church, Prayers of the Faithful were offered, in order, in English, Tagalog, Spanish, Urdu, Malayalam, Slovenian, Polish and Kiswahili.
Father Bolger's homily contrasted the Feast of the Pentecost with the current state of American affairs.
"How did we get to this place," asked Father Bolger, who mentioned the pandemic lockdown and "rioting in our cities" in response to the death of George Floyd in Minneapolis, where one of the police officers restraining him was charged with third-degree murder and second-degree manslaughter.
In talking of the "fire of the Holy Spirit," Father Bolger referenced themes of unity, understanding and urgency.
"Why did God create us? What is our purpose?" he asked. "We have to do the Lord's work, even during a pandemic. Let us not see a virus and unrest keep us from that (work)."
Father Bolger told his people that the parish will continue to offer the 10:30 a.m. and 12:30 p.m. Masses outside, "weather permitting." St. Joseph will resume 4:30 p.m. Mass for the public in its church June 6, as well as 7 a.m. and 8:30 a.m. Mass June 7.
Churches in Carroll, Frederick, Harford and Washington counties also opened liturgies to the public, albeit at one-third capacity, per Archdiocese of Baltimore guidelines. All parishes, according to those guidelines, "must adhere to the directives and guidance of local jurisdictions," which meant that Catholic churches in Baltimore City, Anne Arundel and Howard Counties remained closed the weekend of Pentecost.
St. Margaret in Bel Air normally seats 900, but reopened to the public with a capacity of 270. It had approximately 70 people for 4 p.m. Mass May 30, among them Helen Green, who received congratulations on her 90th birthday from Monsignor Kevin Schenning, pastor.
"It feels like coming home after a long vacation," Donna Smucker said. "I'm glad to be back."
The archdiocesan guidelines left St. Joseph in Emmitsburg distributing a maximum of 100 tickets to each of its three weekend Masses. Its largest gathering was 48 people for 4:30 p.m. Mass May 30. Even dismissal was organized, beginning with the back rows and proceeding to the front.
"Our people will come back slowly," said Vincentian Father Martin McGeough, pastor. "We'll continue to livestream 8 a.m. Mass, no matter when Phase III (full reopening) happens, because that's something shut-ins can utilize. The only thing that's going to change there, hopefully we'll be able to get to these people and bring them Communion."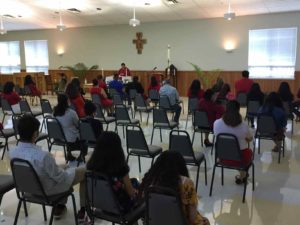 Elsewhere in Emmitsburg, an outdoor Mass May 31, at 11 a.m., drew 283 people to the Basilica of the National Shrine of St. Elizabeth Seton. Institute of the Incarnate Word Father Ted Trinko remained for several hours afterward, to hear confessions.
St. Joseph in Hagerstown had a similar "soft opening," according to Father John J. Jicha, pastor. It moved Masses to the parish hall, where the largest gathering, 85 people, was for the 2:15 p.m. Mass in Spanish May 31. Coordination included plenty of signage, volunteers directing the faithful where to sit and a housekeeping crew disinfecting surfaces after each Mass.
"A few really wanted to come back, and I'm glad we were able to accommodate them," Father Jicha said. "Many parishioners are still trying to be careful, especially those who are older and who have underlying health conditions. I think that's smart of them to stay home at this point.
"Knowing that we were able to do it as well as we did and as safely as we did, I will be encouraging more people to come, but everybody has to make their own decision."
Christopher Gunty and Kevin J. Parks contributed to this article.

Print