~1. Summer, please don't leave~
Autumn is coming, and I know I'll enjoy it once it's here. The very first leaves are starting to drift off the trees. But I am really sorry to see summer end—and not just because school is starting again. Summer is my favorite season. There's always a sadness to this time of year as the leaves start to turn.
~2. How to get a clean kitchen floor~
Some days everything goes right. Other days you find yourself frantically plunging a toilet in the midst of a day full of meetings and then drop a huge bowl of pepper steak on the kitchen floor as you're pulling your reheated leftovers out of the microwave to serve for dinner.
I'm also realizing how grateful I am for my weary husband, who hurried to the kitchen to wipe up the whole mess and cheerfully said, "Who knows how long it's been since we've cleaned this floor?" Then our younger son, an enormous pepper steak fan, said, "It's OK, Mom. I'll eat something else."
We have so many blessings here. No one went hungry, and I have a clean floor.
~3. Odd questions~
The other day I caught myself saying to one of the boys, "How was the raw pasta dipped in Nutella?" You don't expect to ask that type of question before you're parenting during a pandemic while working from home and raising wild…er…resilient children.
The answer? "Not bad." But I haven't tried it myself.
~4. Gift-giving perfection~
My friend Jen stopped by yesterday afternoon with a belated birthday gift, and it was so on point I was in awe. She gave me a zebra finch pin that will inspire me to get back into wearing blazers during my Zoom meetings, flyswatter bullets for a Nerf gun—along with a Nerf gun—and a bacon card.
Pandemic birthdays can be so much fun.
We have been shooting the flyswatter bullets around the house even though we haven't been able to find a fly yet. Where are all the flies when you need them?
~5. Berger cookies for Gotcha Day~
Last weekend we celebrated the ninth anniversary of meeting our little boy—who's not so little anymore. Around here we call it his Gotcha Day. That morning he stumbled out of bed, rubbing the sleep out of his eyes, and said he wanted Berger cookies for breakfast.
I don't think children should always have what they want when they want it, but Berger cookies for breakfast on Gotcha Day? I can't stand in the way of that.
We had a fun stay-at-home day, with udon noodles for lunch and carryout hibachi rice for dinner. Maybe it's only been nine years, but it feels like forever.
~6. Low egg-spectations~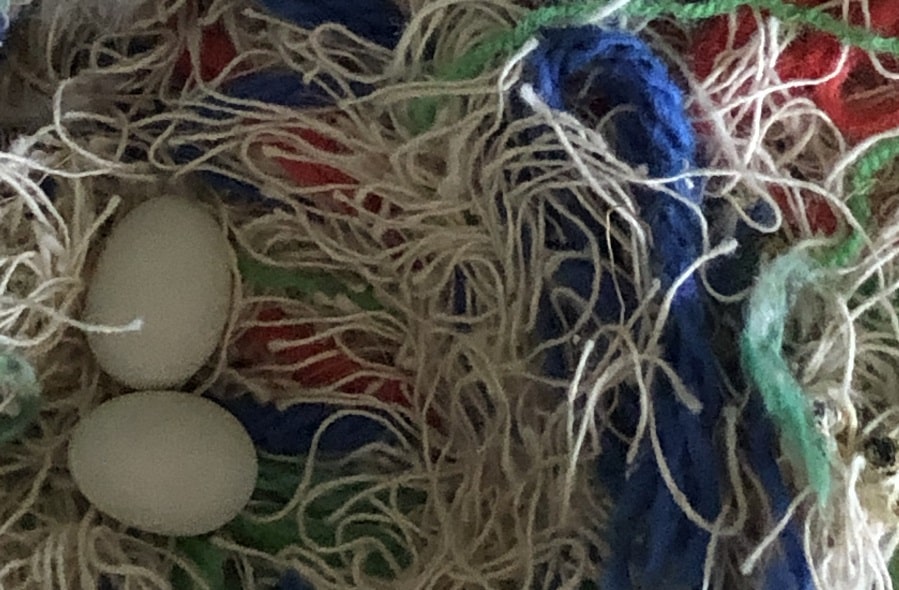 Our birds keep trying to start their family, as Hermione continues to lay eggs. This morning there are two eggs in the nest—one laid two days ago and one laid today. Our expectations are low since these are their seventh and eighth eggs, but it's amazing how much hope comes along with every egg. We care so much for every little one, not even knowing whether each is fertilized. But they are beautiful little reminders of what could be.
Meanwhile, the finches have started an Instagram account. Feel free to follow along.
Update: The eggs just fell. Both at the same time. One didn't break when it fell, and we tried to use a spoon to get it up into the nest, but it dropped and broke. The birds ate it. Nature lovers, I posted a video on Instagram. It seems the finches may just not have the experience yet to be parents…?
~7. An apple muffin a day…~
I made my strawberry muffins with diced apple instead of strawberries, and they were good, but not as good as the strawberry ones. One of my friends tried them with peaches, which sounds delicious to me, but I am the only peach eater in my house. I might have to try those and drop some off at a friend's house. I can usually find someone who's willing to help me eat peach treats.
Last week our grocery store called to tell us the peaches we had bought the week before might have had salmonella. I had to call my sister and let her know the peach cake I had delivered to her house might have been cooked with salmonella-laced peaches. Of course, by then we probably would have already been sick. So, I think we'll be OK.
Read more quick takes at Kelly's blog, This Ain't the Lyceum, and have a wonderful weekend!
Copyright © 2020 Catholic Review Media

Print