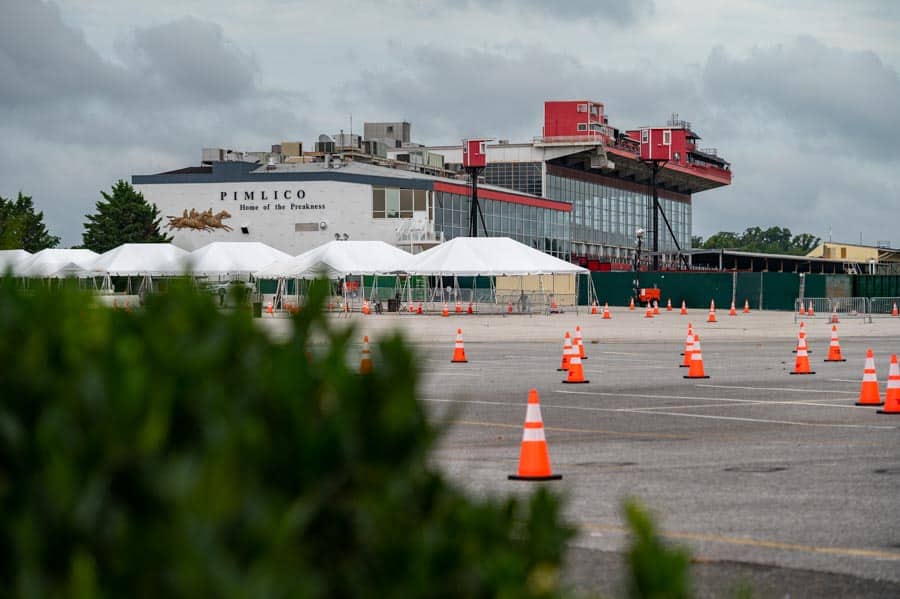 St. Ambrose in Park Heights will mark 30 years under the guidance of the Capuchin Franciscan Friars Oct. 3, when Father Thomas Betz, the provincial, celebrates with the parish community.
The church wouldn't schedule such an observance on a regular Preakness Saturday, but there is nothing normal about 2020, as Father Paul Zaborowski, the third pastor from the order to serve the parish, will attest.
The coronavirus pandemic delayed the 145th running of the Preakness Stakes from the third Saturday in May and led the Maryland Jockey Club to hold it, for the first time, without fans at Pimlico. Instead of swelling with traffic from the state's single-largest attendance at a sporting event, surrounding streets will be much quieter.
The irony of the situation is that the year began with great promise for Old Hilltop, as the Maryland General Assembly, in its 2020 session, approved a $389 million plan that includes the renovation of the property in northwest Baltimore, which in effect halted speculation that the Triple Crown race might move to Laurel Park.
To the immediate south on Park Heights Avenue, meanwhile, late last winter developers shared plans for a $100 million revitalization of 17 acres of land, much of it vacant after the leveling of abandoned homes.
And to the south of that, at St. Ambrose, in August the parish announced the sale of its school, vacant since 2012, to Fortis-Lowe Community Partners, a Washington, D.C.-based developer, which plans to turn the building into 75 units of senior housing. According to Father Zaborowski, the sales price was $300,000.
Similar repurposing of former parish schools has occurred at St. Dominic in Hamilton and Our Lady of Fatima in East Baltimore.
As Father Zaborowski noted in an Aug. 11 post on Facebook, it was a "bittersweet" moment.
"With this sale our property diminishes and we have no kitchen, gathering space or parking lot, but we will continue to give a powerful witness to the Park Heights neighborhood," he wrote.
Father Zaborowski said that when he arrived at St. Ambrose in 2004, its parish school had 375 students. When it closed, it was down to 103. Several charter schools had used it and paid rent, but Father Zaborowski said that the city water bill alone was $26,000 annually, which proved onerous to the parish.
For much of its history, the school was staffed by the School Sisters of Notre Dame, whom Father Zaborowski visits every Thursday at The Villa in Towson, to celebrate Mass and hear confessions.
Saturday's celebration with Father Betz, the provincial, includes a noon pet blessing on the day before the Feast of St. Francis of Assisi, and 4 p.m. Mass.
It's a 1.3-mile walk from St. Ambrose to Loyola University Maryland's Ridley Athletic Complex, and slightly less up Park Heights Avenue to the clubhouse at Pimlico. Father Zaborowski said that the latter stretch is tainted by drug abuse and prostitution, but he finds hope in the announced plans for redevelopment.
"I'm always cautious, but neighborhoods like this are always being neglected," he said. "A lot has to happen in Park Heights. If you need a bank or a dry cleaner or a cup of coffee, you have to go to Hampden or Pikesville – unless you build this conclave.
"I'm pleased that it's moving ahead, the section below the track, (but) a lot has to happen for people to buy homes. Just because you're building houses, doesn't mean you're building a community."
That, of course, falls under the mission of a parish.
"The prospect of 300 new homes, with another 600-700 people … " Father Zaborowski said. "Those are souls we can evangelize, and hopefully build up our parish."
Email Paul McMullen at pmcmullen@CatholicReview.org
Copyright © 2020 Catholic Review Media

Print