WASHINGTON (CNS) — The death of George Floyd, an unarmed black man, who was killed while in police custody in Minneapolis as a white officer knelt on his neck for an extended time, drew sorrow and anger across the United States, spawning nationwide protests against police brutality and societal racism in its wake.
That sorrow was felt acutely by members of the Baltimore-based Society of St. Joseph of the Sacred Heart, a Catholic religious society of priests and brothers that since 1871 has served the African-American community with pastoral and sacramental ministry, educational and charitable outreach, and by working for social justice.
After Floyd's murder, Bishop John H. Ricard, the Josephites' superior general and a former auxiliary bishop of Baltimore, issued a statement saying, "The Josephites look with horror and disbelief at the killing once more of a black man by the police in Minneapolis this week. This is but another tragic and sad reminder of the legacy of America's original sin of slavery and its aftermath, the continued violence against people of color."
In that statement, Bishop Ricard also said, "We must not slack in our vigilance to address the neglect of American society toward African Americans, which is glaringly evident during this pandemic in the differences in health care, employment, housing and education."
"For over a century, the Society of St. Joseph of the Sacred Heart has dedicated itself toward the needs of African Americans," he said, "especially to those of the spirit and the soul, deeply wounded by racism and racial prejudice and to shoulder with them in procuring justice and solidarity and will continue to do so until this land lives up its creed that all are created free."
But for Bishop Ricard and the other Josephites, their shared sorrow over a national tragedy would be followed that week by personal sorrow over the death of two brother Josephite priests from COVID-19, Josephite Father Frank Martin Hull and Josephite Father Joseph John McKinley, who both had lived at the Josephite Senior Residence in Washington.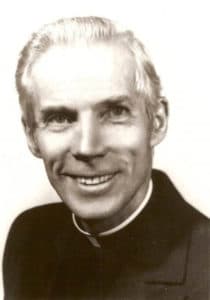 And one week earlier, another longtime Josephite priest who lived there, Josephite Father Jeremiah Dermot Brady, died at age 96.
"It's been quite a week," said Bishop Ricard in a phone interview with the Catholic Standard, newspaper of the Washington Archdiocese.
Josephite Father Paul Oberg, rector of the order's retirement residence in the nation's capital, confirmed that Father Hull and Father McKinley, who had underlying health issues, died from the coronavirus. The two priests died within hours of each other — Father Hull May 26 at age 96, and Father McKinley May 27 at the age of 83. The rector said Father Brady died of old age May 20.
The rector said another retired Josephite priest who had been living at the residence was diagnosed with COVID-19 and was in the hospital and recovering.
See related commentary: George Matysek remembers Father Hull
"These were good priests, and they had very productive ministry. They were good examples to me and to so many others who followed after them," said Bishop Ricard, who is the retired bishop of Pensacola-Tallahassee, Florida. He led the diocese from 1997 until his retirement from that post in 2011.
Father Hull, a native of Philadelphia, served in the Army Air Corps during World War II and was ordained as a Josephite priest in 1957 in Washington.
During his 63 years as a Josephite priest, Father Hull taught at the order's St. Augustine High School in New Orleans, was editor of the Josephite Harvest magazine for 14 years beginning in 1963, and served as a spiritual director and vice rector at St. Joseph Seminary and on the Josephite General Council as an area director.
He served in parishes in Houston and New Orleans, before serving in parishes in Washington and in the Diocese of Arlington, Virginia. After retiring briefly in 2012, Father Hull served in parish ministry at Our Lady of Perpetual Help Parish in Washington when he was in his late 80s. In his 90s, he served as director of the Josephite Archives in Baltimore and then when the archives moved to Washington.
Father McKinley was a native of Kelayres, Pennsylvania, who made his first profession in the Josephite society in 1960 and was ordained to the priesthood by Bishop Ricard in 1985 in Washington. Over the years, he served as a vice principal at St. Joseph Industrial School in Clayton, Delaware, and taught at St. Augustine High School in New Orleans. He was a pastor in Mobile, Alabama, New Orleans and Washington. In the early 1970s, he served three years as assistant treasurer at the Josephites' headquarters in Baltimore.
After his service as a pastor, Father McKinley worked for more than 20 years as a traveling Josephite, providing pastoral ministry at many parishes, substituting for sick Josephites, filling in for priests on vacation, and during transitions of priest assignments at parishes. During that time, he served people in 12 parishes in Louisiana, 11 parishes in Alabama, six parishes in Mississippi, and one parish in Washington and Texas. He retired in 2014 and moved to the Josephites' Senior Residence in 2018.
Father Brady, a native of Cork, Ireland, was ordained as a Josephite priest in 1951 in Washington. His nearly seven decades of priestly service included serving in parishes in Baltimore and Washington, including St. Pius V and St. Peter Claver in West Baltimore before he joined the faculty at St. Augustine High School in New Orleans. He was also the former rector of St. Joseph Manor in Baltimore.
Later parish assignments took him to Delaware, Louisiana, Virginia and Alabama.
Also see:
Ugandan ordained a Josephite priest at the West Baltimore parish he served as deacon
'Resilient faith:' Josephites celebrate 125 years of ministry

Print