Monsignor Paul Byrnes, who was known for years as the "super pastor" of Western Maryland, died Aug. 19 at his home along Deep Creek Lake. He was 84.
Monsignor Byrnes had a deep love of nature and lived by the maxim "meet the people where they are." In the summer months, he would celebrate Mass in the yard of his Deep Creek Lake home. Parishioners and vacationers often would arrive by boat on Saturday afternoons, said Father C. Doug Kenney, a longtime friend.
In the winter, Monsignor Byrnes would also celebrate Mass for skiers on the slopes of the Wisp Resort in McHenry. Father Kenney said Monsignor Byrnes' penchant for impromptu Masses once caught the attention of then-Archbishop William D. Borders.
"Archbishop Borders told him, 'I don't care where you do Mass, but just wear your vestments," Father Kenney said with a chuckle.
A native of Western Maryland, the mountains, forests and waterways of Garrett and Allegany counties deeply informed Monsignor Byrnes' sense of spirituality.
"He saw God in the beauty of nature, and he saw love in all of that. So that's why he said 'Love is God.' He'd sometimes say, 'I don't say God; I say, Love. Help me, Love.'" Father Kenney said.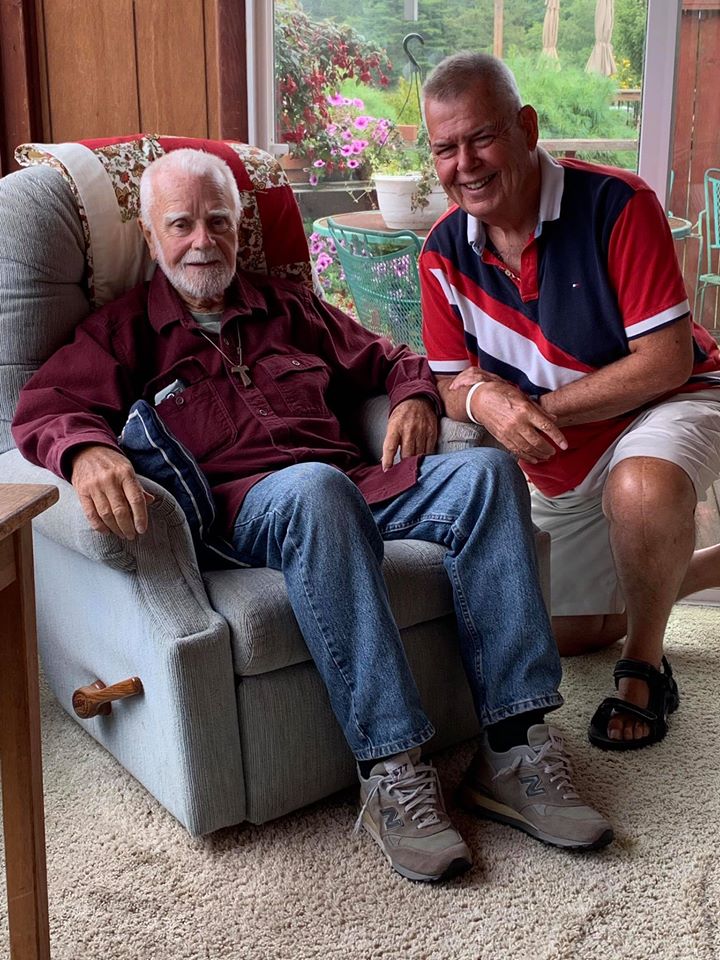 Monsignor Byrnes' favorite place was his deck overlooking Deep Creek Lake, where he would pray and meditate.
"Paul really lived his spirituality as a person who was very much centered in prayer and was always at peace with himself," said Baltimore Auxiliary Bishop Adam Parker, who visited his friend late last week. "He was very much at peace with his current situation, even though he had a pretty significant diagnosis of stage-four cancer. But that didn't disrupt the peace that I had always experienced in him."
Monsignor Byrnes told friends the big moment in his spiritual journey came when he realized no matter how much he did, it wasn't a matter of earning salvation, it was a matter of accepting it as a gift and trying to love.
"Paul was ageless in many ways. He'll always be a young man in my eyes," said Monsignor Richard Woy, rector of the Cathedral of Mary Our Queen in Homeland. He met Monsignor Byrnes as a student at Bishop Walsh High School in Cumberland and said Monsignor Byrnes helped him on his path to the priesthood.
"He always had a deep and profound belief in God's love," said Monsignor Woy, who will deliver the homily at Monsignor Byrnes' funeral. "He believed that God always had more to offer him and always had more to give, and Paul was always excited by the new possibilities."
When Monsignor Byrnes retired in 2006, he told the Catholic Review he wanted to become a priest since he was 6, inspired by the priests of his childhood parish, St. Mary of the Annunciation in Lonaconing.
"They were men that seemed to have it together," he said. "I wanted to be like them."
In 1958, Monsignor Byrnes entered St. Mary's Minor Seminary on Paca Street and graduated with a bachelor's degree in philosophy. He was ordained in 1962 after completing studies at St. Mary's Seminary, Roland Park. He also graduated from Columbia University with a master's degree in education administration in 1971.
Early in his priesthood, he was an associate pastor of St. Mary, Hagerstown, and St. Joseph, Cockeysville. Other assignments included serving as chaplain of Bishop Walsh and religious education coordinator for Western Maryland.
In 1982, Monsignor Byrnes became pastor of St. Peter, Westernport. He became pastor of St. Michael, Frostburg in 1995, a role that he would keep until his retirement.
In 1999, he took on the role of vicar forane of the Western Maryland region, overseeing 14 parishes in Garrett and Allegany counties. Meanwhile, from 2003 to 2006, the priest had simultaneous pastoral responsibility for St. Michael, Frostburg; St. Peter, Westernport; St. Gabriel, Barton; St. Ann, Grantsville; and St. Patrick, Mount Savage.
"[The archdiocese's bishops] relied upon Paul as their point person in Western Maryland, and I think in his many years there, he offered a stability and a leadership that was much needed and appreciated by the people there," Monsignor Woy said.
For several years in the 1970s, Monsignor Byrnes left his beloved Mountain Maryland to serve as director of the preparatory seminary program and vocations counselor at Cardinal Gibbons High School in West Baltimore. His time away from his beloved Western Maryland was brief, but his dedication to helping those called to the priesthood was long-lasting.
Monsignor Byrnes was a mentor to dozens of priests and deacons over the years, including Bishop Parker when he served in Western Maryland from 2000 to 2005.
"The experiences that I gained under his mentorship in my first years in the priesthood served me to this day," Bishop Parker said. "He really taught me not just how to minister to God's people, but also the practical aspects of being a pastor."
Bishop Parker said that Monsignor Byrnes' best pieces of practical advice were: "Take people where they are and to listen to them first," and "Don't preach morality for your first five years of priesthood."
"He said, 'Understand your people and understand that that you never know what people are carrying around, what challenges they're facing and what their difficulties are,'" Bishop Parker said.
Monsignor Byrnes had a close bond with his family and had a tradition of holding a weekly Sunday dinner with his sister, Eileen Lewis, and her family. Father Kenney and Bishop Parker said Monsignor Byrnes shared his family with his fellow priests, "adopting" them. Bishop Parker said Monsignor Byrnes' warm welcome especially helped him through some homesickness when Bishop Parker was a young priest serving in Western Maryland, far from his Anne Arundel County home.
An avid reader and writer, Monsignor Byrnes filled his house with stacks of books and wrote a blog called "Half Hermit by the Lake." He was still writing blog posts as recently as this month.
"He was very into reading your book that you didn't read. He had all the very best of scripture when a different version came out," Father Kenney said.
Monsignor Byrnes was a scholar of both Greek and Latin and would befriend parishioners who studied those ancient languages, often debating the translations of Bible passages.
While he loved being close to nature, he also longed for connections with people. Father Kenney said Monsignor Byrnes used the blog to keep connected with his host of friends, fellow priests and former parishioners while living alone.
Monsignor Byrnes is survived by his two sisters, Lewis of Lonaconing and Diana Byrnes of Portland, Oregon, and more than 40 other relatives.
Archbishop William E. Lori will offer a funeral Mass at 11 a.m. on Aug. 25 at St. Peter at the Lake Center in McHenry. A viewing will be held at 10 a.m. Aug. 25 before the funeral Mass. The Mass will be livestreamed on the Internet at https://www.csfredlockfh.com/obituary/MonsignorPaul-Byrnes.
Monsignor Byrnes requested memorial contributions may be directed to one's local parish community in his name.
Read more obituaries here.
Email Tim Swift at tswift@CatholicReview.org
Copyright © 2020 Catholic Review Media

Print