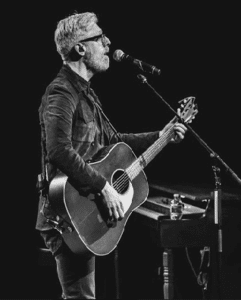 Asked whether he has a hard time surrendering to God, musician Matt Maher just laughed.
"Yes, yes, extremely," he said. Sometimes he feels like an actor in a scene and the director keeps asking for a new take. "Sometimes I feel like that's what the daily surrender of a Christian must look like to God," he tells the Catholic Review's Christopher Gunty in a radio interview for "Catholic Baltimore."
A jazz major in college, Maher said he started as a parish liturgical musician in the late 1990s as a way to get health insurance and use his musical training.
Over the years, the Catholic singer-songwriter has evolved into full-time recording and touring, eventually getting a major recording contract and moving to Nashville, the center of the contemporary Christian recording scene. Six of his albums have reached the Top 25 Christian Albums Billboard chart, and several of his singles hit the Top 25 Christian Songs list. He has been nominated for nine Grammy Awards and has won five Dove Awards from the Gospel Music Association.
Along the way, he also got married; he and his wife have three children.
He has played for large youth festivals and in small churches. He performed an outdoor concert for the Archdiocese of Baltimore's 225th anniversary celebration in 2014 at Loyola Blakefield. He has also played for Pope Francis and about 4 million people on the beach in Rio de Janiero for World Youth Day 2013.
His current single, "Alive and Breathing," was ranked as the third-fastest rising song this week across all music genres on Rolling Stone's Trending 25. *
Maher sat down with Gunty for an interview via videoconference from his home studio in Nashville.
After the interview, Maher sang one of his songs, "All the People Said Amen," for the graduates of Notre Dame Preparatory in Towson. The song was their senior class anthem, sung at the end of every Mass this year. Maher added a special message for the NDP grads and the video was part of the students' virtual graduation ceremony May 26 and an all-school final prayer service June 2.
Video of Matt Maher's performance for NDP is below, followed by audio of his full Catholic Baltimore radio interview.
* Updated June 10 with Rolling Stone information.

Print