This latest installment of Names and Numbers includes women's religious orders that contributed greatly to the Archdiocese of Baltimore, highlights school fundraising initiatives, as well as an observance of 9/11 with particular resonance in Harford County.
$3 million
Goal of the capital campaign announced Sept. 14 by Our Lady of Mount Carmel School in Essex. The school, which opened in 1927, will use the funds raised for science and technology, facility improvements and tuition assistance. "Inspired by our Past – Investing in Our Future" looks to continue the development of the campus, which, according to a news release, can support up to 5,000 devices on its WiFi network. Second-graders Nevaeh Burnette, from left, Estelle Malicdem and Sophia Oxendine are pictured on the first day of class enjoying sno-balls.
600
In attendance at Mount de Sales Academy in Catonsville Sept. 9, when the school formally began the final leg of a capital campaign toward building a Center for Performing Arts and Student Life. "Anchored in Excellence. Charting our Future" expects to raise $10 million to $12 million. In between Mass in the Chapel of St. Francis de Sales and a festival with food trucks and activities, WBAL-TV News anchor Mindy Basara served as MC.
455
Finishers in the Nun Run 5K sponsored by the Little Sisters of the Poor at the Cathedral of Mary Our Queen in Homeland Sept. 8. St. Ignatius in Hickory won the Parish Pride Award for having the most runners and walkers (59) among parishes, and Mount de Sales Academy in Catonsville won both the Flying Nun Award for being the school with the most participants (72), and the Blisters for Sisters Award for having the best team finish.
185
Years of service from the School Sister of Notre Dame, who will mark Foundation Day Oct. 24. In the Archdiocese of Baltimore, the SSNDs founded Notre Dame of Maryland University, the Institute of Notre Dame and Notre Dame Preparatory School. The order's Atlantic-Midwest is offering 185 stories of their ministry at https://atlanticmidwest.org/
165
Sisters of Mercy of the Americas serving in the Archdiocese of Baltimore. In December the order will mark 175 years of ministry in the United States. In Baltimore its many ministries include Mercy High School and Mercy Medical Center, where Sister Helen Amos is the executive chairwoman of the Board of Trustees. She is pictured in July, when she received the 2018 Catholic Business Leadership Award from the Catholic Business Network of Baltimore, with Sister Karen McNally, chief administrative officer of Stella Maris, and Sister Fran Demarco, director of Mission Services at Mercy Medical Center.
70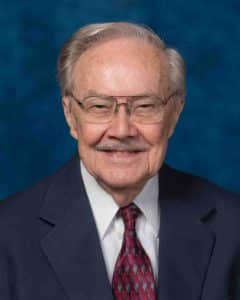 Years as a professed member of the Marianists by Brother Howard Hughes, a Baltimore native who joined the order Aug. 22, 1948. Born and raised at the former St. James Parish, Brother Howard used his musical talents to form a renowned high school choir in Cleveland, teach at St. Mary's University, sing with the New York Philharmonic and, from 1971 to 1988 and 1993 to 2006, served as the organist at the order's Provincial House in Baltimore.
In retirement, Brother Howard serves as community organist at the Marianist Center in Cupertino, Calif.
20 percent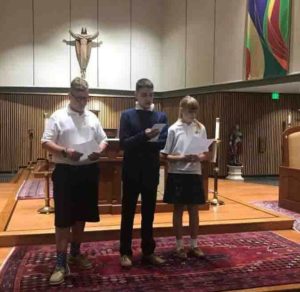 The percentage of students whose parents are in active military duty at St. Joan of Arc School in Aberdeen, which continued its custom of holding a Freedom Walk Sept. 11 to mark the National Day of Service and Remembrance. All 194 students, along with faculty, staff, parents, members of the U.S. Army and Marine Corps, as well as veterans, police and firefighters, joined a solemn observance of the 9/11 terrorist attacks. Pictured are eighth-graders Tyler Stock, Jimmy Confer and Emma Stoffel, leading the group in the singing of the Navy Hymn.
9
Dominican Friars of the Province of St. Joseph professing their simple vows Aug. 15 in Madeira, Ohio, among them Brother Oliver Cornelius Marie Avaritt, a graduate of McDaniel College in Westminster and parishioner of Ss. Philip and James in Baltimore when he worked at The Johns Hopkins School of Medicine. The help Brother Oliver received in eradicating his student debt was featured in the Catholic Review in June 2017
He has begun his seminary studies at the Dominican House of Studies in Washington, D.C.
8
Sisters of St. Francis with ties to the archdiocese who celebrated jubilees in June at Our Lady of the Angels Convent in Aston, Pa. Pictured are diamond (50 years) jubilarians Sister Julie McCole, who taught at Immaculate Conception School in Towson, St. Peter Claver School in Baltimore, and Our Lady of Mount Carmel School in Essex; Sister Rose Raymond Barba, who taught at St. Anthony of Padua School in Gardenville; and Sister Patricia Hutchison, who taught at St. Joseph School in Fullerton and St. Anthony of Padua School.
Diamond (70 year) jubilarians included Sister Jordan Marie Goeke, who studied nursing at St. Joseph Hospital in Baltimore and returned there for two terms of ministry; Sister Francis Ann Harper, who ministered at St. Joseph Medical Center and coordinated the sisters' assisted living facility at St. Anthony Convent; Sister Bernard Helene McGuire, a Baltimore native who taught at Towson Catholic High School and The Catholic High School of Baltimore, and served as provincial counselor for the former St. Joseph Province, which was based in Baltimore; and Sister Frances Schiminsky, who taught at St. Joseph School in Fullerton, St. Stephen School in Bradshaw, Our Lady of Mt. Carmel School, and St. Pius X School in Rodgers Forge.
Those celebrating 80 years included Sister Jean Clare Rohe, a Baltimore native who taught at Immaculate Conception School in Towson, Ss. Philip and James School and The Catholic High School of Baltimore, and Our Lady of Mount Carmel High School in Essex.

Print