Among the highlights of this month's edition of Names & Numbers is a fundraising drive by Ellicott City parishioners who are helping to build a church in Vietnam. 
$9,285 
Dollars raised by parishioners of St. Paul in Ellicott City to support the building of a new church in one of the poorest regions of Vietnam.  
The money will aid in the construction of a new building for Hoomong Parish, St. Paul's sister parish. Father Warren Tanghe, pastor, said that he hoped the parishioners would be able to cover one tenth of the cost, $6,600, but they far exceeded his expectations. 
8,646 
Diapers collected by students of Mother Seton School in Emmitsburg for the Catoctin Pregnancy Center during their "Give From the Heart" Catholic Schools Week service project. 
Sixth-grader Colter Danieley made a personal request at all Masses at his parish, St. Peter the Apostle in Libertytown, resulting in nearly 2,200 diaper donations.  
Other parishes participated in the collection by placing donation boxes in their churches, including St. Joseph in Emmitsburg, St. Anthony Shrine in Emmitsburg, Our Lady of Mount Carmel in Thurmont, St. Timothy in Walkersville, St. Katharine Drexel in Frederick, Holy Family Catholic Community in Middletown and St. Joseph on Carrollton Manor in Buckeystown.  
1966 
The year that School Sister of Notre Dame Sharon Slear graduated from what is now Notre Dame of Maryland University. A long-time influential faculty member, she stepped into the role of Interim Provost and Vice President of Academic Affairs Jan. 17. 
Sister Sharon previously served as the Dean for the School of Education. She sought out national accreditation for all of the university's graduate and undergraduate programs, making it the first private college or university in the state to do so.  
The graduate program in education is accredited to Sister Sharon's dedication, and she led the school in its creation of the Ph.D. in Instructional Leadership for Changing Populations, the university's first doctoral program. 
In her new role, Sister Sharon will oversee academic affairs, student life and athletics.  
768 
Entries in the grade 6-8 category that Anna Dang competed against to win first place in Maryland for the Knights of Columbus Keep Christ in Christmas Poster Contest. 
Dang, a seventh grader at Our Lady of Perpetual Help School in Ellicott City, drew the poster, "The Angels Adore His Majesty," which earned her the top prize – a plaque and a check for $100. She was presented the awards by Grand Knight of Council 9638, Tom Smith.   
365 
Paintings on display March 11-24 at the Franciscan Center in Baltimore's Inaugural Art Exhibition, all created by longtime volunteer and artist Patricia O'Brien.  
The artwork is from a painting challenge that O'Brien recently completed where every day for a year, she created a new piece. They are for sale at the center and online.  
Maryland's First Lady Yumi Hogan, who is an artist and adjunct professor at the Maryland Institute College of Art, will visit the Franciscan Center March 16 to view the exhibit and to serve a meal to those in need. 
The Franciscan Center provided more than 260,000 meals last year through hot meals and bags filled with emergency groceries. The center also provides the community with programs to aide in computer skills, professional dress, school supplies and financial assistance, among others.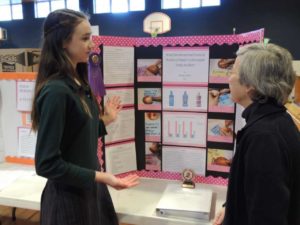 100+ 
Students who participated in the STEM Fair at Mother Seton School in Emmitsburg. Eighth-grader Megan Adams was named overall Grand Champion, as well as Grand Champion of Experimentation for her project studying various mouthwashes and whether or not they restore tooth enamel.  
The Grand Champion of Invention is seventh-grader Nathan Kovalcik for The Snapper, a device that snaps the ball to a quarterback during practice, acting as the team's center.   
The following students received awards in their grade levels: Third Grade: Jacob Marron (1st), Abigail Field (2nd), Rachel Zurawski (3rd); Fourth Grade: Maggie Rabaiotti (1st), Sophia Erdman (2nd), Thien-y Pham (3rd); Fifth Grade: Isaac Jenkins (1st), Olivia Adams (2nd), Faith Collins (3rd), Brady Koenig (HM); Sixth Grade: Cassidy Sill (1st), Emily Flynn (2nd), Julia Wivell (3rd), Sophia Launchi (HM); Seventh Grade: Grant Kelly (1st, Experiment), Nathan Kovalcik (1st, Invention); Brendan Guinan and Beckett Tayler (2nd, Experiment), Carter Loher (2nd, Invention), Quynh Nguyen (3rd, Experiment), Jayden Joseph (HM, Experiment); Eighth Grade: Megan Adams (1st), Keola Evans and Jane Waybright (2nd), Mia Ferrero (3rd), and Raphaela Smaldone (HM). 
24  
Organizations supported by the Social Concern Committee of St. Peter the Apostle in Libertytown.  
The money was raised through the Thrift Shop, which is led by Nancy Dusza and her volunteers, and Poor Box donations.  
The organizations that were supported include: ARC of Frederick, Birthright, Villa Maria of Frederick County, Child Advocacy Center, Frederick Community Action Agency, Frederick County Right to Life, Frederick Prison Ministry, Frederick Rescue Mission, Heartly House, Frederick Hispanic Center, Mary's House, Mission of Mercy, Mother Seton Academy in Baltimore, Religious Coalition, St. Vincent de Paul Camp Glow, Thelma Mood Fund, Way Station, Second Chances Garage, Interfaith Housing Alliance, Student Homelessness Initiative Partnership (SHIP) of Frederick County, Frederick County Meals on Wheels, Partners in Care, Manasseh House and Kairos Prison Ministry.  
12 
Charities that received donations from the Society of Italian Businessmen's 12 Days of Christmas Giving. Members visited and donated $1,000 each to the organizations Dec. 4-19.  
The benefitting organizations were: Welcome One Emergency Shelter; Harford County Education Foundation; RAACE Foundation; The Humane Society of Harford County; Homecoming Project, Inc.; Harford County Deputy Sheriff's Union Benevolent Fund; The Empty Stocking Fund; Harvest House; Chesapeake Therapeutic Riding; Artesans Don Bosco; Jane M. Johnston Foundation; and the Senator Bob Hooper House.  
The Society of Italian Businessmen is an organization of Italian-American businessmen who live, work or worship in Harford County to support charitable organizations and scholarships for young Italian-Americans. Members are parishioners of St. Margaret in Bel Air, St. Ignatius in Hickory, St. Francis de Sales in Abingdon, St. Joseph in Fullerton, St. Ursula in Parkville, St. Stephen in Bradshaw and Christ the King in Glen Burnie.  
7 
Days Kristen Landsman, a resident of Westminster and parishioner of St. Alphonsus Rodriguez in Woodstock, will spend in Los Angeles in June for a Holocaust study trip after winning the international Messenger of Memory: Holocaust Art and Writing Competition sponsored by Chapman University in California and the 1939 Society (a group of Holocaust survivors and their descendants).  
Landsman won first place in the high school art category for her piece, "Humanity," inspired by the testimony of survivor Natan Gipsman. 
A senior at Delone Catholic High School in McSherrystown, Pa., Landsman will attend with her mother and Jessica Reed, who teaches foreign language and a course on the Holocaust at Delone.  
More than 250 schools in 31 states and 8 countries submitted entries in the categories of poetry, prose, art and film. There are eight trip attendees, who are the first place winners in each category, one from high school and one from middle school. 
4 
Recognitions for Catholic schools in Harford Magazine's Best of Harford County.  
St. Margaret School in Bel Air was voted the best private school in the county. John Carroll School received an honorable mention.  
St. Margaret's principal, Madeleine Hobik, also took the first-place prize in the best principal category.  
In the category for best annual event or festival, St. Margaret School's Fall Festival received an honorable mention. 
4-3 
The score of the final game in the Division VII final game at the U.S. Squash High School National Tournament. 
Calvert Hall College High School in Baltimore took the first place prize over neighboring Loyola Blakefield High School in Towson March 4, after both met in the last game after beating out high schools from around the nation. 
The game, held at Germantown Cricket Club in Philadelphia, Pa., was the teams' third meet up this season. Calvert Hall beat Loyola two other times in the Baltimore league, also with scores of 4-3. 
The team includes captains Colin Shoul and Evan Simmons, both seniors; seniors Matt Kearney and Daniel Rohd; juniors Jack Basmaci, Paulo Gonzal, Michael Hershey and Beau Quaerna; manager Will Cook, a junior; head coach Aaron Siegner; and assistant coaches Randall Etheridge and Mike Tritsch (class of 2016). 

Print