~1~
Here in Baltimore, we take our Old Bay seriously. We put it on many foods—pizza and scrambled eggs and tuna melts and pasta and corn on the cob. Yum.
So, when I saw that there were limited edition Old Bay Goldfish available, I couldn't wait to try them. But the first time I saw them in the store, I was on a specific buying mission, so I didn't grab a bag. And then I never saw them again.
Luckily, a Catholic writer friend on Twitter, Barb Szyszkiewicz, found some in New Jersey and shipped a bag to me! My sons and I couldn't wait to try them, and we opened the bag right away. They did not disappoint. They are crunchy and salty with just the right (generous) amount of Old Bay.
Just when we had almost finished that bag, my friend Malia picked up another one for me! She just happened to be at the grocery store when they were putting some on the shelves. I was so excited.
If you're an Old Bay fan, I hope you'll be able to get your hands on some. I think you'll enjoy them.
~2~
Grilling season is here, at last. One of our best pandemic purchases was a grill for John, and we have really enjoyed his grilled dinners. This week he made us kabobs—chicken, beef, and, for the first time, shrimp.
The kabobs were so good, and we cut up way too many veggies for the skewers.
But that means we had leftovers, which are everyone's favorite meal—or, at least, Mom's.
~3~
I always think that once we reach Memorial Day, we'll settle into a slower, more restful summer vibe. I don't know why I believe this because it never happens. But every year, I tell myself this story, and every year I believe it will happen. Then, I realize I'm drinking out of the fire hose of an overscheduled summer and wondering where those ideas of relaxation went.
The next thing I know it's September. This year, I am really going to try to find some time for actual summer rest.
~4~
One of my favorite things about returning to work in person has been thinking about how to make the most of our actual time together. Lots of the writing and editing work I do can happen just as well virtually, but really connecting is so much easier in person.
So, this week, one of my colleagues and I took a shopping trip to Valley View Farms and grabbed lunch together. We discussed a thousand things and caught up, and it was such fun.
I had also offered to treat my team to lunch the next day to celebrate the end of the semester, and when the picnic table we had planned to use at the office was taken, I invited them to come to our house and eat on our deck. Stepping away from the office added so much excitement to the lunch, and we had such a great time being together.
I love a good Zoom, but nothing can top real-life time with people you enjoy.
~5~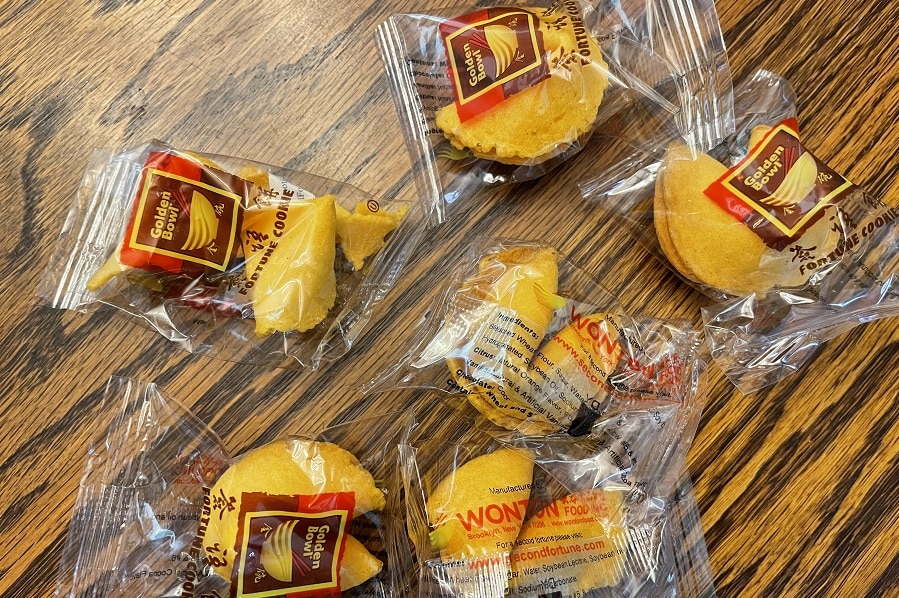 When we order Chinese food, I am always intrigued by the number of fortune cookies that come with the meal. I figure the restaurant is guessing how many people will be eating based on how much we order.
There are always more cookies in the bag than there are people I'm ordering for here. Still, I like to order enough Chinese food so that we have some for the next day. Leftover Chinese food is very popular in my household. Don't knock lo mein for breakfast until you've tried it.
~6~
Our peonies are blooming! Watching them open and spread their petals makes me happy every spring.
Some of the spring flowers haven't offered their usual vibrancy, so I was especially happy to see the peonies making their appearance.
I should confess that I do not have a green thumb. All credit goes to my husband and God—and the rabbits and deer for eating the other plants instead.
~7~
Sometimes when something terrible happens, I write about it. This week, though, the events of Uvalde hit so hard. There was so much noise and anger in response, I found myself needing to sit with what had happened in sorrow and prayer.
I saw many voices speaking up against prayer, and it made me think not everyone understands prayer. Prayer does not happen instead of action. Prayer often drives action. Prayer helps us grow in empathy and gain clarity of purpose. Through prayer, we invite God to walk with us as we consider how to act.
Prayer has power. Prayer has value. Prayer gives us strength but also makes us more vulnerable and open to consider what God might ask of us. Prayer helps change each of us so we can change the world. And clearly the world needs to change.
I don't pray instead of doing something else. I pray to figure out what to do. I pray because I know that I cannot solve problems alone—but God can. That doesn't mean I will pray and do nothing else. But humans alone cannot fix all the problems in our fallen world. Let's work to address those problems. Let's continue to ask God to give us what we need to make that possible. And let's ask Him to walk with the families who have been affected and heal their sorrow in ways that only He can.
Copyright © 2022 Catholic Review Media

Print