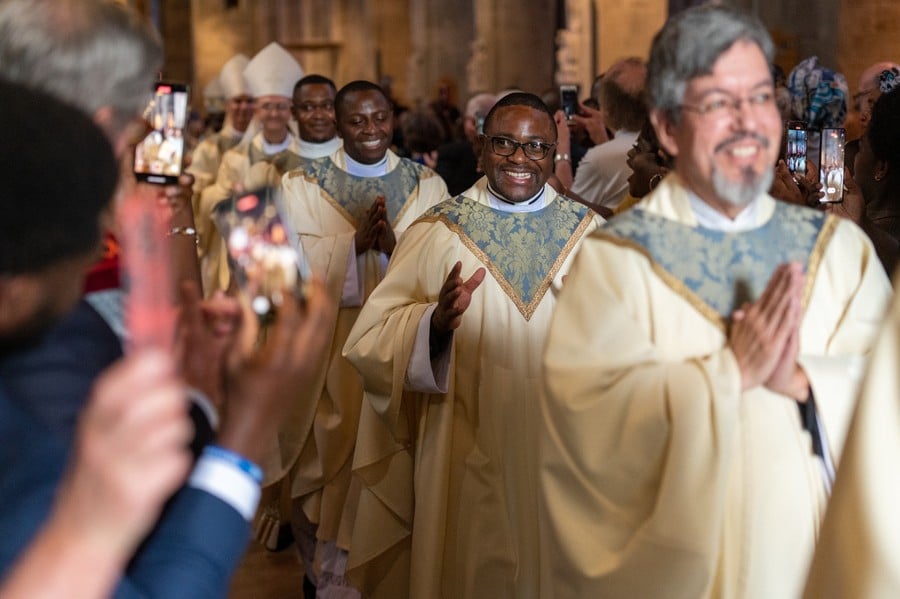 As five newly ordained priests slowly walked down the long central aisle of the Cathedral of Mary Our Queen at the conclusion of their June 18 ordination Mass, it was fitting that many who filled the Homeland cathedral greeted them with a loud chorus of high-pitched trills.
Three of the new priests hail from the West African nation of Cameroon, where vocal ululations are commonly used to express unfettered joy.
That emotion was evident on the faces of the people who applauded, waved their hands overhead and cheered the newly vested priests as they passed. It was also obvious in the beaming faces of the clerics themselves.
Father Maurice Sunde Afor, a native of Nkambe, Cameroon, called ordination a moment of great joy. Even after spending 13 years in the seminary – in Africa, Rome and St. Mary's Seminary in Roland Park – he said his long-awaited day came as a "surprise."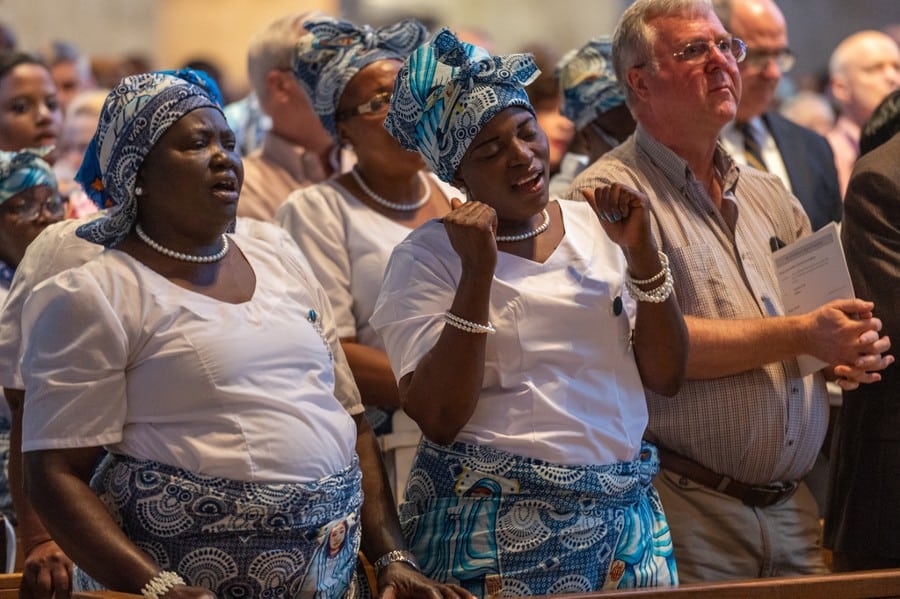 "It's finally here," said Father Sunde Afor, standing in the sanctuary after his ordination as people pressed in on him to take photos. "I thank God and I thank all the people who came here for me, praying for me. From this day forward, I want to be with the people and pray for them."
Father Peter Kiamo-oh and Father Kenneth N. Lukong were the other Cameroonians to receive the sacrament of holy orders. Americans ordained to the priesthood include Father James Bors and Father David C.F. Ray.
Archbishop William E. Lori led the two-and-a-half-hour ordination liturgy. He was joined by Bishop George Nkou of the Diocese of Kumbo in Cameroon; Baltimore Auxiliary Bishops Adam Parker and Bruce Lewandowski, C.Ss.R., and retired Baltimore Bishop Denis J. Madden.
Dozens of seminarians were present for the celebration, along with more than 25 deacons and more than 90 priests.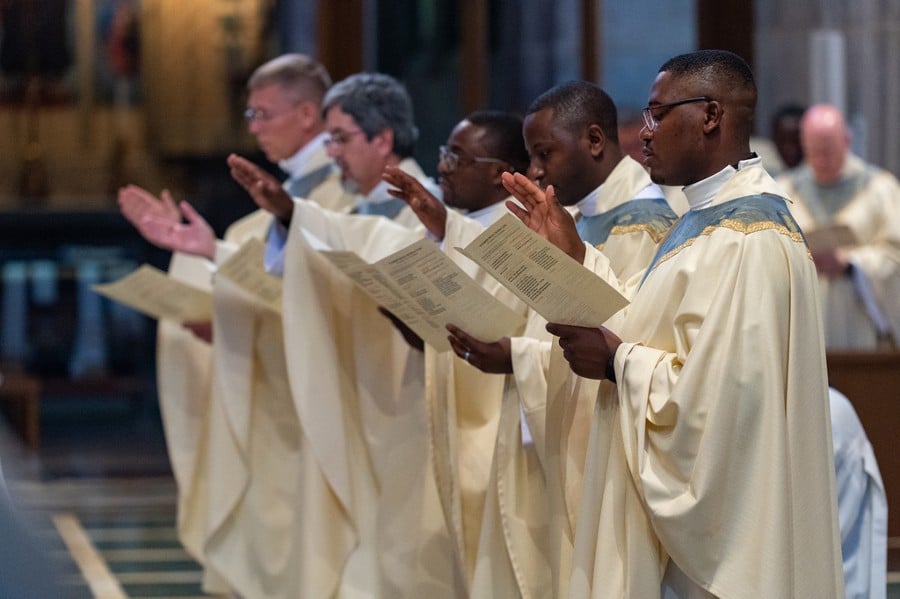 Since 2016, the Archdiocese of Baltimore has collaborated with the Catholic Church in Cameroon to welcome seminarians into the Archdiocese of Baltimore.
In his homily, Archbishop Lori greeted some 2,000 people and drew laughter when he jokingly called Bishop Nkou a "donor bishop." The archbishop reiterated that the ordination celebration was a day of joy for the entire archdiocese "from stem to stern." He noted that with significant numbers of men expected to be ordained in the years to come, there would soon be 20 new priests serving the archdiocese.
"Such a thing has not happened here for decades," Archbishop Lori said, adding that next year he expects 60 seminarians to be in formation to become priests for the Archdiocese of Baltimore.
"The ordination of more priests means that new doors of evangelization will open as young priests begin to serve in parishes and in ministries hitherto unfilled by priests, such as high school chaplaincies and in campus ministry," Archbishop Lori said, urging the congregation to remain vigilant in praying for more vocations.
Addressing the men he was to ordain, the archbishop said they were being ordained for holiness and for mission.
"You are being ordained not merely to preserve the status quo," he told them, "but rather to bring new energy, new joy, new gifts of the Spirit to the mission of evangelization in the Archdiocese of Baltimore."
During the ordination rite, the candidates for priesthood prostrated themselves in the sanctuary as the congregation solemnly chanted the Litany of the Saints.
Archbishop Lori laid his hands on their heads as he silently conferred the gift of the Holy Spirit – a gesture that was repeated by the many priests present. The new priests were then vested with stoles and chasubles before the archbishop anointed their hands and presented each a paten and chalice.
One by one, priests of the archdiocese joined the archbishop and other bishops in giving the new priests a fraternal kiss.
Use the navigation arrows on the photo gallery below to see more pictures. Story continues beneath gallery.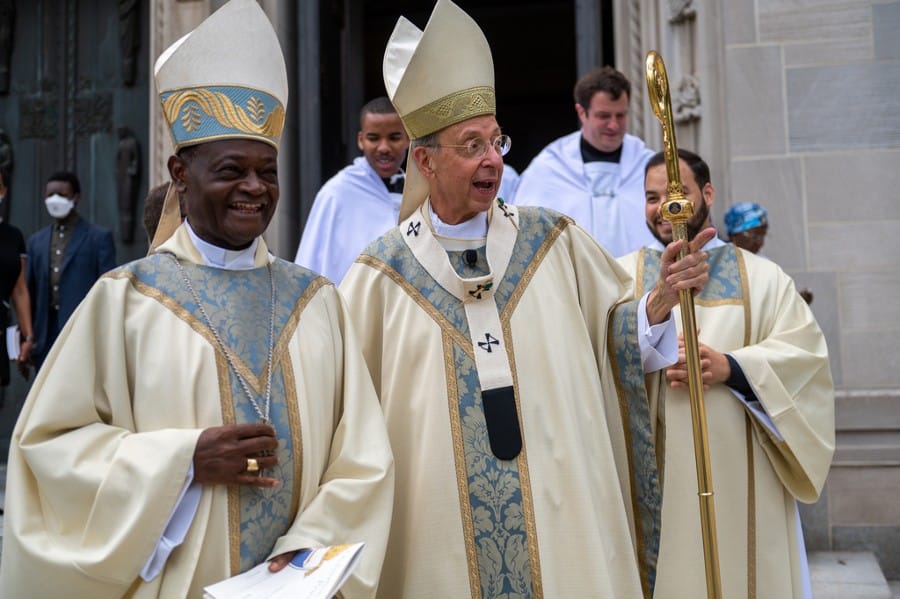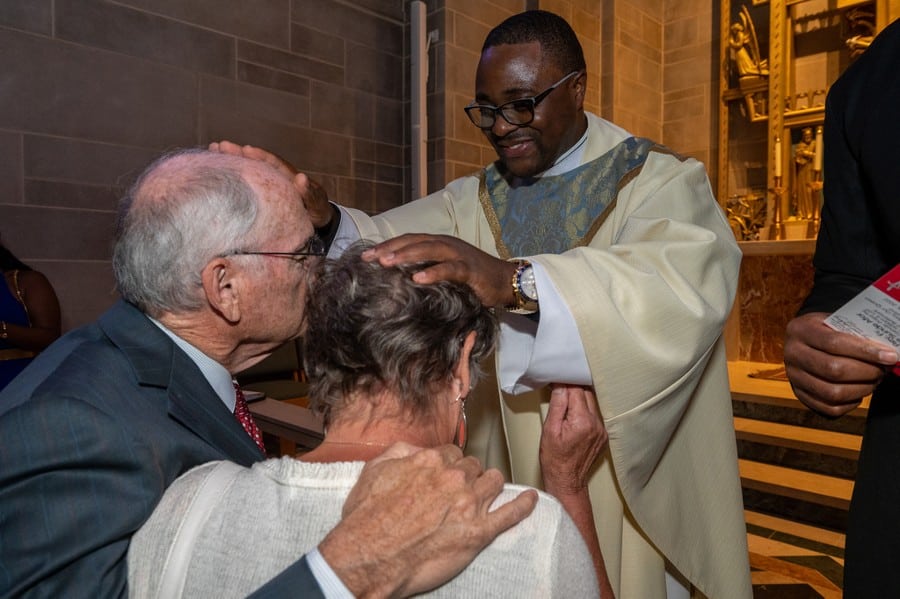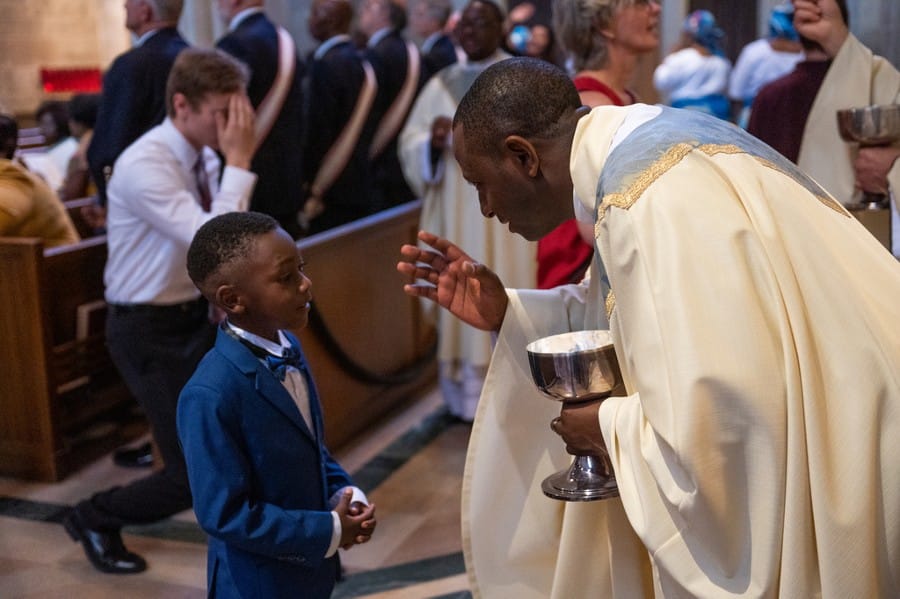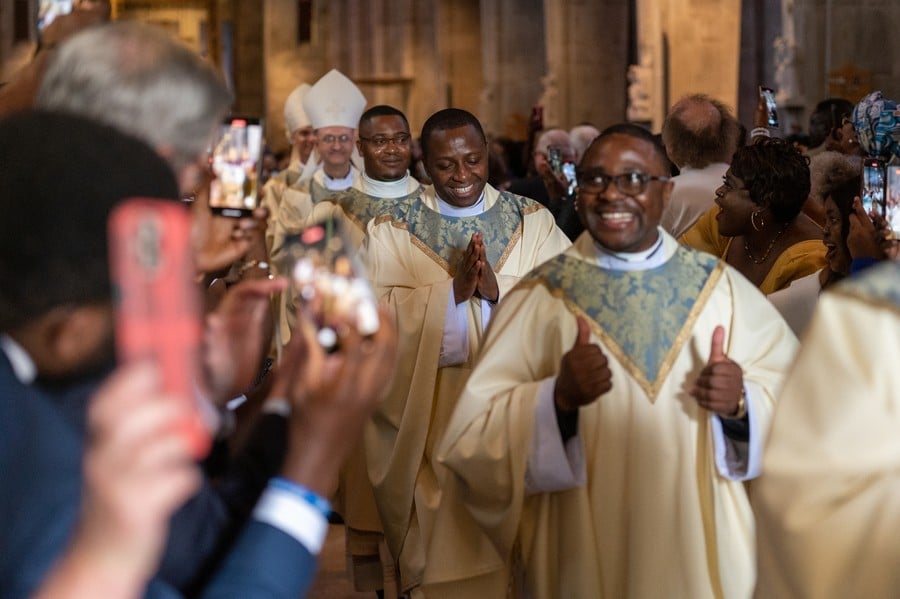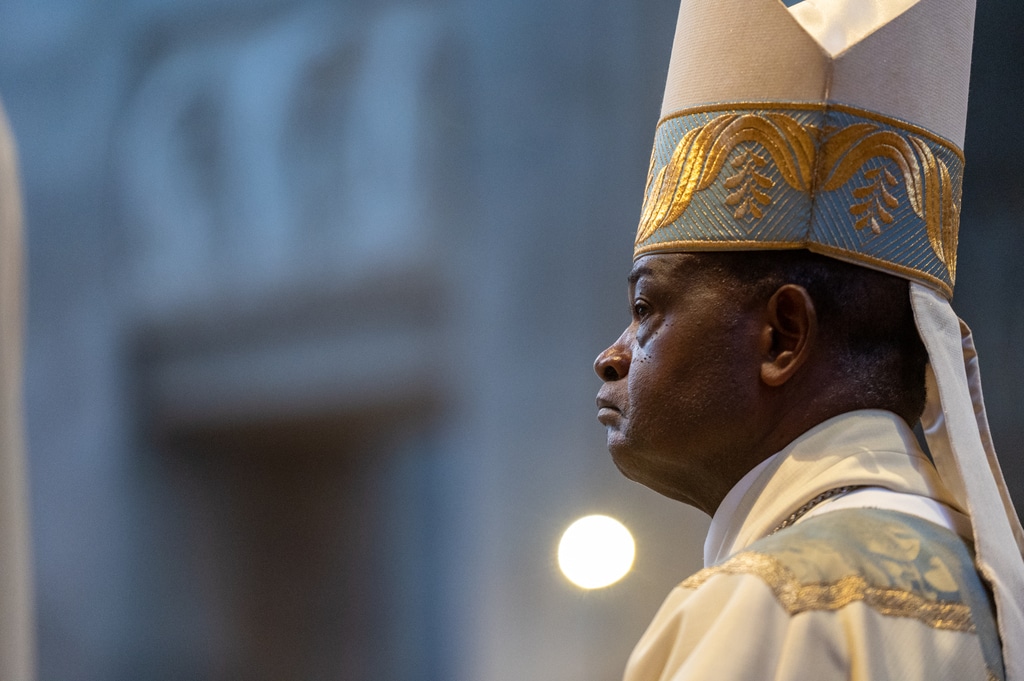 Father Bors, a retired naval officer and a longtime parishioner of St. Andrew by the Bay in Annapolis, said he was dedicating his priesthood to his late wife, Shirley. His priestly ordination took place on the anniversary of his baptism.
"Everything that I have is a gift – my whole life is a gift," he told the Catholic Review. "My vocation to a marriage was a gift and now my vocation to the priesthood and God's people is a beautiful gift, and I just pray that I will be able to faithfully fulfill the responsibilities that the Lord has given me."
Jeffrey Bors, Father Bors' youngest son, said he was happy for his father.
"When he told us this is what he wanted to do after my mom died, I was happy that he found what he was called to do and I'm proud of him," Jeffrey Bors said.
Bors said his father has "a lot of initiative."
"Wherever he goes, he always starts Bible studies and tries to bring people into the church and make people feel at home," Jeffrey Bors said.
Gladys Muma stood in a long line to receive a priestly blessing from Father Lukong. She has known the fellow Cameroonian since he was a teenager.
"I am so overwhelmed and so happy to receive a blessing from a freshly-made priest," she said with a smile.
George Venyelle, a native of Cameroon whose wife is a cousin of Father Kiamo-oh, wore striking emerald-green African garb and a necklace of cattle horns for the special day. Moments before receiving a blessing from Father Kiamo-oh, Venyelle smiled as he noted that the new priest's touch "might increase my spirit."
Following his ordination, Father Ray said he was grateful to be called to ministry. The laying on of hands by the archbishop was a powerful moment, he said.
"That's the tradition from the time of the apostles," Father Ray said. "They laid hands on people to continue their ministry. It was special to know I was a part of that incredible legacy."
For additional images or to purchase prints, visit our Smugmug gallery here.
Click here to watch a recorded livestream of the ordination.
Email George Matysek at gmatysek@CatholicReview.org
Read profiles of the new priests
Copyright © 2022 Catholic Review Media

Print