~1. The Gift of Boredom~
Every now and then, when the children aren't on screens and they don't feel like reading or dodging the mosquitoes in the yard, they don't know what to do. That's when the magic happens.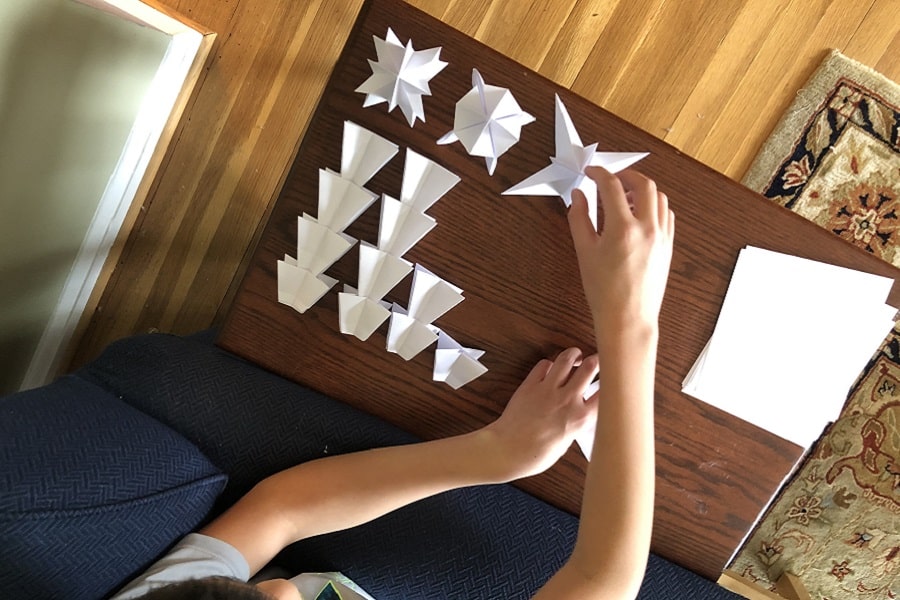 The other day our older son found a stack of origami paper—probably a gift from two or three Christmases ago—and started folding.
Before I knew it, he had created a magnificent tower. He wasn't following any kind of a pattern. He was just using the creativity God gave him.
Let's squeeze every ounce of fun out of these last days of summer. And maybe we can have some this fall, too.
~2. Does anyone have a pencil?~
Yesterday I finally ordered the school supplies, and I realized why our seventh grader has been asking me when I was going to place the order. The first items won't arrive until Tuesday, which is the first day of school, and some items won't arrive until the second week of school. Still, I've been a bit of denial over needing school supplies when the kids aren't actually going to school.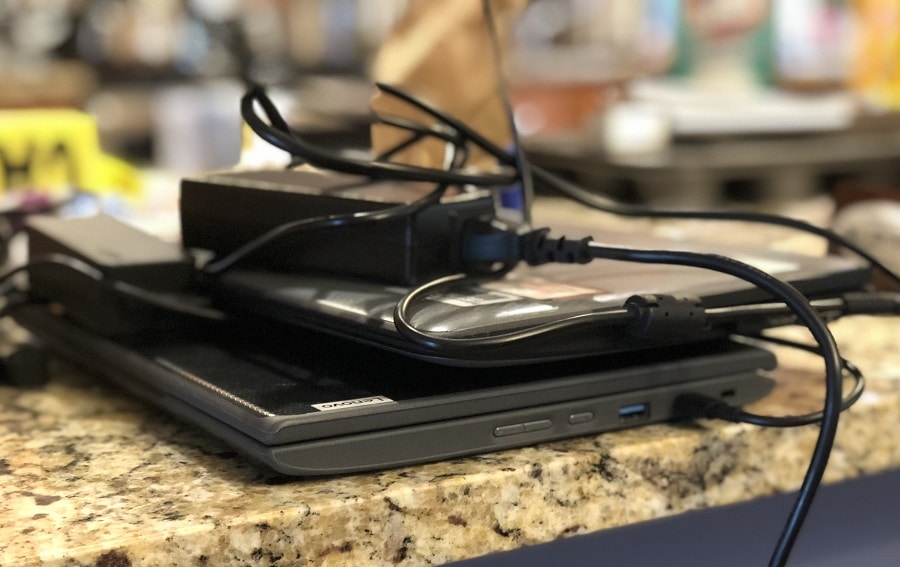 Then I have a flashback to last spring when people were yelling, "Where can I find a pencil?" as they logged onto classes.
Somehow, we'll muddle our way through without index cards and sticky notes and yellow highlighters. If it turns out you have to have everything for the first day, we're in trouble.
I am, however, finally charging the Chromebooks, so let the record show that I am making some effort to prepare.
~3. What should be on the school supply list~
Our fifth-grade son's teacher seems fantastic. When she gathered the whole class for a virtual "sneak a peek at your seat," she reminded them that we will all need lots of patience during this time. She also said we need to give one another lots of grace.
Grace. That's what I don't give enough of to myself or to others these days.
~4. Schedules schmedules~
During a telehealth call the other day, our fifth grader announced that he stays up really, really, really late every night—and that there's no way he'll be able to wake up in time for school. Our nurse practitioner kindly reminded me that it can be a good idea to get the children on a better sleep schedule before the school year starts.
Sigh. Yes, I think that is a great idea. And I will continue to try. He also told her he wants a benchpress and that the way you get pet birds is to ask for them constantly, so I'm sure she took some key parenting tips away from the conversation.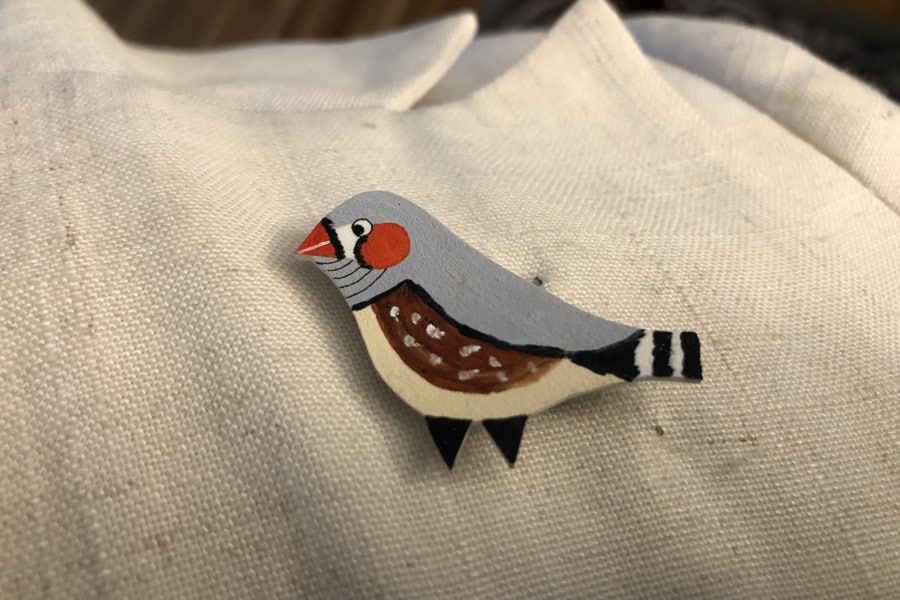 The nurse practitioner noticed that I was wearing a zebra finch pin and was clearly impressed. She had been introduced to our finches at the start of the call, and she could not believe how much the pin resembled our male finch.
"Did you send away a picture of your bird to have the pin made?" she asked. No, no, we did not. I just have a terrific friend who knows her way around Etsy and understands my passion for finches.
~5. We heart our pandemic pets~
Our finches bring us so much joy. There are other perfectly wonderful ways to endure a pandemic, but I have to admit that adding birds to our household has been transformative in all the best ways.
Ron and Hermione are just so adorable and full of such personality. I can't believe how different they are from each other and how much I enjoy watching them play and interact in their cage.
We had two more eggs in the nest as of Friday morning, but by afternoon one had fallen and the other one may or may not still be in the nest. Sometimes they bury their eggs, and we are in the midst of a family debate over whether that's what's happening here. I won't share my opinion because it changes every time I look in the cage.
Stay tuned for another finch update coming soon.
~6. When fantasy becomes reality~
My sister's brother-in-law invited our boys to be part of his fantasy football league, and we are jumping in headfirst. We are a bit clueless about this, but somehow our boys built a team. They ended up with both Lamar Jackson and Justin Tucker, so they're happy.
2020 has become the year of new activities—cutting our own hair, getting a grill, wearing masks, and trying out fantasy football. Here we go!
~7. A word problem~
If two children are sleeping late on a summer Saturday morning and school starts in three days, how doomed is the family for the first day of school? Show your work. Or don't. I think we all know the answer. But it's going to be a great fall. I can just feel it in the air.
Read more quick takes at Kelly's blog, This Ain't the Lyceum, and have a wonderful Labor Day weekend.
Copyright © 2020 Catholic Review Media

Print