When Christopher Gunty, associate publisher/editor of the Catholic Review, presented the most recent issue of the magazine to Pope Francis following a March 2 general audience at St. Peter's Square, it wasn't the first time a copy of the official publication of the Archdiocese of Baltimore made its way into the hands of a pope or future pope.
It's happened at least twice previously.
During a 1960 visit to Baltimore to tour the one-year-old Cathedral of Mary Our Queen in Homeland, Cardinal Giovanni Battista Enrico Antonio Maria Montini – the future Blessed Pope Paul VI – sat in a car in front of the neo-gothic cathedral and read from the newspaper's front page.
The Catholic Review published a photo of the future pope glancing down at stories in the newspaper, including coverage of the establishment of ecumenical commissions by St. John XXIII. Then-Father Paul Cook, an associate pastor of the cathedral at the time, can be seen outside the car grinning widely.
Now-Monsignor Cook, retired pastor of St. Joseph in Cockeysville, told the Catholic Review that Cardinal Montini toured the cathedral for about an hour, pausing to pray beside and bless a statue of St. Charles Borromeo. A plaque was installed at the spot he prayed after the cardinal became pontiff in 1963.
"St. Charles Borromeo was from Milan," Monsignor Cook said, "and Cardinal Montini was the archbishop of Milan at that time."
Monsignor Cook recalled that then-Archbishop Francis Keough beamed with pride as he showed off the newly completed cathedral.
"He was very pleasant and very interested in hearing all about the building," Monsignor Cook said.
Thirty-seven years later, Cardinal William H. Keeler showed similar pride as he presented a copy of the Catholic Review to St. John Paul II. A photo of the presentation was published in the Dec. 4, 1997, issue of the Review.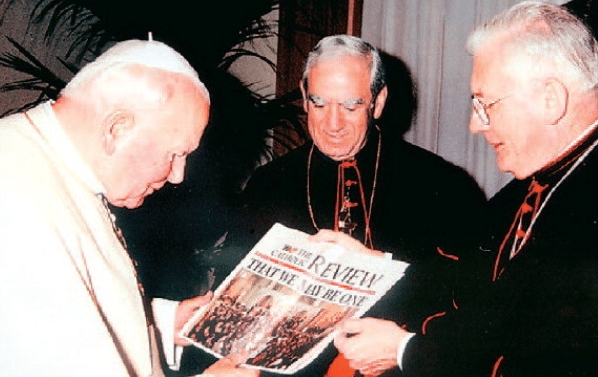 The Oct. 29, 1997, edition of the Review newspaper given to the pope was historic, containing coverage of the visit of Ecumenical Patriarch Bartholomew to Baltimore in 1997. The front page included a bold headline: "THAT WE MAY BE ONE."
The coverage highlighted an ecumenical prayer service in the Basilica of the National Shrine of the Assumption of the Blessed Virgin Mary in Baltimore – the first time an ecumenical patriarch led a prayer service in a Catholic church in the United States.
During the prayer service, the spiritual leader of the world's 300 million Orthodox Christians declared that "our hopes and prayers point us toward the day of universal communion of love in the Lord."
Email George Matysek at gmatysek@CatholicReview.org.
Copyright © 2016 Catholic Review Media

Print