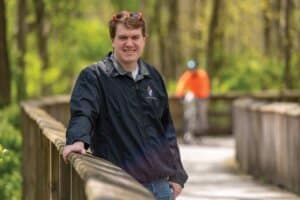 One month they were digging into the final semester of seminary studies.
The next they were bolting from Baltimore, Emmitsburg and Rome to conclude their priestly formation in parish rectories, with remote learning and social distancing. It's an experience which should only strengthen their capacity to empathize with the faithful they will soon lead.
Just as other milestones were postponed by the coronavirus pandemic, the ordination of transitional Deacons Zachary Crowley, Brendan Fitzgerald, Justin Gough, Evan Ponton and Jeremy Smith as priests of the Archdiocese of Baltimore has been pushed back, from June 20 to Aug. 22.
For Deacon Crowley, celebrating the nuptial Mass for friends is on hold.
For Deacon Gough, it makes the connection to his home parish, Immaculate Heart of Mary in Baynesville, bittersweet.
"June 20 this year is the feast of the Immaculate Heart," he said. "We were going to celebrate my first Mass and the parish feast day (the next day). To get so close and then to have the goalposts moved – it's a little jarring.
"It (the delay) made me pray about it and think, 'Yeah, I really want to be a priest.' If I didn't really want this, then moving the date wouldn't matter so much to me."
Pack your bags
Rather than send its 51 seminarians home when the pandemic shut down campuses, the archdiocese placed its men in rectories here, where the five transitional deacons mixed completing advanced degrees with helping at the parish level and fellowship.
The pandemic hit early in Italy, where Deacon Gough was studying at the Pontifical North American College in Rome.
"Thankfully, most of (my) classes were in the afternoon in Rome, so that worked out well with the time change," Deacon Gough said. "There are a couple that have a 4:30 a.m. Eastern start, but the professor has been good about giving us notes or posting a video, so we don't have to be up before dawn to tune in."
Deacons Crowley and Ponton had a melancholy St. Patrick's Day as they vacated St. Mary's Seminary in Baltimore. Seminarians were told to leave behind belongings for another day, which left Deacon Crowley packing mental baggage rather than his personal library and mini-fridge.
"I left a room I had lived in for seven years," said Deacon Crowley, who will receive a degree in licentiate theology. "The seminary made it clear, you can leave your stuff and lock your room, but what about the deacons who are graduating?
"I went and said goodbye to a lot of friends. There were a lot of tears that day. Normally, there's a bit of sadness at graduation, because a chapter is closing, but there's also joy, balancing that out."
Deacons Fitzgerald and Smith were at Mount St. Mary's Seminary in Emmitsburg, where they waited on test results to confirm that a sick classmate did not have COVID-19, the disease caused by the novel coronavirus.
Deacon Crowley moved into St. Isaac Jogues in Carney; Deacon Fitzgerald to Sacred Heart in Glyndon and Deacon Gough to IHM, his home parish, which is still mourning the absence of Father Michael Carrion, who died suddenly last November.
"It was a tall order for them to find a place for all of us on very short notice," Deacon Fitzgerald said.
Deacon Ponton was helping weekends at Holy Family in Randallstown and Deacon Smith was doing the same at St. Mary in Hagerstown, but circumstances sent them instead to Ellicott City, at Church of the Resurrection and Our Lady of Perpetual Help, respectively.
"It's a challenge, being detached from the normal community I serve," Deacon Ponton said, of circumstances others described as "surreal."
Zoom in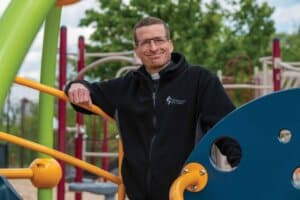 In Glyndon, Deacon Fitzgerald found a pastor, Father Gerald Francik, who was a bandmate of his father, Tom, at Calvert Hall College High School in Towson. At OLPH, Deacon Smith was housed with an old friend from seminary, Father Robert Katafiasz, and a pastor, Father Michael Triplett, on whom he has two years.
"I don't feel older," said Deacon Smith, 43. "Father Mike says, 'You're like a younger brother.' He has a gift for languages. I ask him stuff all the time."
Getting fresh air, Deacon Smith was recognized by two sisters out for a walk who said they "know you from the livestream" of Mass, a rare benefit of their formation's conclusion.
Quarantine eased the labor of required reading, but assisting at Masses without people in the pews made perfecting a homily problematic.
"There's no energy, no feedback," Deacon Smith said. "With spiritual Communion, I feel like I'm uniting with them, even though the church is empty, but I don't know what the people are feeling."
Deacon Crowley said, "It's not the same, preaching to a cell phone. I miss the people. There is a silver lining. Normally, it wouldn't be recorded, but now I can go back and watch, critique. I found myself continually looking at the ground. I've got to keep looking into the camera."
At IHM, online Mass for the Fifth Sunday of Easter had Father James Proffitt, director of clergy personnel, offer a line that begged for a rim shot.
"He had a funny line in his homily," Deacon Gough said. "I chuckled and Deacon Charlie (Hiebler) chuckled. He was waiting for the reaction, and it's an empty church in front of him. Church mice aren't going to laugh."
Fortuitously, Deacon Ponton's schoolwork included a paper titled "Integrating Mission and Technology."
"There's a really important conversion we need to be having," Deacon Ponton said. "We need to reflect on rapid change, and (ramifications) we're probably not even aware of. We're moving so fast, and it's impossible to have that conversation during a pandemic.
"We're so busy responding, there's no time to reflect."
Passing time
There was time to enjoy hobbies, as Deacon Ponton brought his skateboard and upright bass to Resurrection.
The transitional deacons have helped with yard work, cleaning and cooking. Deacon Crowley's mushroom risotto got rave reviews at St. Isaac Jogues. Deacon Fitzgerald's experience in the seafood business includes time over a stove, which he's put to use at Sacred Heart.
"We were busy finishing out the semester, but this environment was a lot more peaceful than seminary," Deacon Fitzgerald said. "The daily schedules were a little bit more relaxed and flexible, and that's been wonderful."
At OLPH, Deacon Smith became a regular visitor to the Mary Garden. Prior to his Tuesday afternoon ecclesiology class at the Mount, he prayed the rosary, via cell phone, with two classmates, Deacon Mike Bovino, of the Diocese of Norwich, Conn., and Deacon Steven Felicichia, of the Diocese of Fort Wayne-South Bend, Ind.
What's next?
One has to go back to 2003, when the archdiocese welcomed seven new priests, to find a larger class. To a man, they lament not having a more immediate connection to the people this spring. They know that the pandemic could mean permanent changes to the church that go beyond having to wait to bless the wedding vows of family and friends, and baptize their children.
"It's going to require a lot of adaptability and imagination," Deacon Ponton said.
Deacon Gough, meanwhile, said, "I wish I had a better answer as to what my early priesthood will look like. It's certainly not what I would have expected when I started seminary about 10 years ago. It wasn't what I would have expected six months ago."
Deacon Fitzgerald addressed the good that could come out of that changing landscape.
"I'm hoping that this experience rekindles amongst the faithful a greater desire to participate and to really live the life of the church," he said. "Until you're missing something, you don't realize how great it is. This time away from the sacraments could really be a spark for the local church.
"Think of the panic that ensued as churches were closed, everyone was so upset. Wasn't it just last summer that a study came out saying that as many as two-thirds of American Catholics don't believe in a Real Presence of the Eucharist? Now we're seeing all these outcries, that they can't come to church.
"Something good always comes from our hardship and suffering and tragedy. We know it's there, and hopefully we can find it."
Christopher Gunty contributed to this article.
Ordinands
Deacon Zachary Crowley
Age: 28
Sponsoring parish: St. Mark, Fallston
Education: Fallston High School; University of Maryland College Park; St. Mary's Seminary, Baltimore
Deacon Brendan Fitzgerald
Age: 36
Sponsoring parish: Immaculate Conception, Towson
Education: St. Stephen School, Bradshaw; Calvert Hall College High School, Towson; Mount St. Mary's Seminary, Emmitsburg
Deacon Justin Gough
Age: 26
Sponsoring parish: Immaculate Heart of Mary, Baynesville
Education: Immaculate Heart of Mary School, Calvert Hall; Providence College; North American Pontifical College and the Angelicum University, Rome
Deacon Evan Ponton
Age: 30
Sponsoring parish: St. Peter the Apostle, Libertytown
Education: Linganore High School; The Catholic University of America, Washington, D.C.; St. Mary's Ecumenical Institute, Baltimore; St. Mary's Seminary
Deacon Jeremy Smith
Age: 43
Sponsoring parish: St. Ursula, Parkville
Education: St. Thomas More School, Baltimore, and St. Ursula School; Loyola Blakefield; Virginia Tech, Blacksburg, Va.; Mount St. Mary's Seminary
In-depth individual profiles of the transitional deacons will appear on CatholicReview.org prior to their priestly ordination Aug. 22.

Print