Pope Francis has named Baltimore native Bishop Mitchell T. Rozanski of the Diocese of Springfield, Mass., as the 10th archbishop of St. Louis.
Bishop Rozanski, a graduate of Our Lady of Mount Carmel High School in Essex who grew up at Holy Rosary in Fells Point and Sacred Heart of Mary in Graceland Park, succeeds Archbishop Robert J. Carlson.
Archbishop Carlson, who has headed the St. Louis Archdiocese since 2009, is 75, the age at which canon law requires bishops to turn in their resignation to the pope. He turns 76 June 30. Bishop Rozanski, 61, has been Springfield's bishop since 2014.
The resignation and appointment were announced by Archbishop Christophe Pierre, the Vatican nuncio to the United States, June 10 in Washington.
"I am delighted that Pope Francis has chosen our dear friend Bishop Mitchell T. Rozanski to be the next Archbishop of St. Louis," Baltimore Archbishop William E. Lori said. "As the people of his native Baltimore know, Bishop Rozanski is a beloved example of a pastoral leader who serves with a warm humor and deep love for the people of God. He was an outstanding pastor and auxiliary bishop in the Archdiocese of Baltimore. I know he will serve the people of his new archdiocese with the same energy and commitment he has exhibited throughout his priesthood and episcopacy."
Speaking in English and Spanish at a morning news conference at the Cathedral Basilica of St. Louis, where he was introduced by Archbishop Carlson, Archbishop Rozanski called it "a joy and a privilege to be called to serve as the 10th archbishop of St. Louis."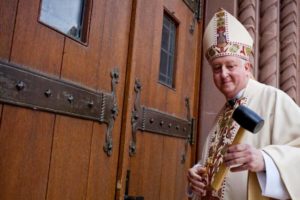 The crowd of media and archdiocesan staff on hand for his introduction was small because of social-distancing measures due to the coronavirus.
One reporter asked how he will reach out to the diverse groups in the archdiocese and make them feel welcomed by the church. Archbishop Rozanski replied by describing how, in the Springfield Diocese, it has become his custom to purposefully walk through his neighborhood regularly and talk to the neighbors, many often gathered in a group.
One of those neighbors told him right after the May 25 death of George Floyd at the hands of a police officer that this regular gathering of people is "what we need to do. We need to get together to talk, to get to know one another."
"If we look at the ministry of Jesus, he approached everyone who came to him. He was not afraid," Archbishop Rozanski said. Jesus sets this example and Pope Francis "does the same," he added. People getting along with one another "begins by getting to know one another," he said, "so we see every person's dignity and see that we have so much to bring to each other."
Born in Baltimore on Aug. 6, 1958 to a Polish-American family, Bishop Rozanski is the eldest of three sons. His parents, Alfred (a Bethlehem Steel police officer who also worked as a security guard at Allied Signal) and Jean Rozanski, are still living.
Bishop Rozanski knew from a young age he wanted to be a priest and received his seminary training at the Theological College at the Catholic University of America in Washington.
After his priestly ordination in 1984 by Archbishop William D. Borders, Bishop Rozanski served as associate pastor of St. Michael the Archangel, Overlea; the Cathedral of Mary Our Queen in Homeland; St. Anthony, Baltimore, and St. Isaac Jogues, Carney. He was pastor of Holy Cross and St. Mary, Star of the Sea, Baltimore; temporary administrator of Immaculate Conception, Towson; and pastor of St. John the Evangelist, Severna Park.
Ordained a bishop in 2004 as the youngest U.S. bishop at that time, Bishop Rozanski first oversaw a vicariate that included the parishes of Anne Arundel, Baltimore and Harford counties. Later, when the archdiocesan vicariate structure was altered, he oversaw the newly formed Seton vicariate, whose territory included Allegany, Anne Arundel, Carroll, Frederick, Garrett, Howard and Washington counties. Bishop Rozanski was also the vicar to Hispanics.
In a 2014 interview with the Catholic Review, Bishop Rozanski said it is important for the church to "look outward."
"When we turn outward and when we're living the Gospel message of the Lord Jesus, then we are able to overcome divisions, to realize that those divisions that almost seem insurmountable really aren't that insurmountable when we're working together, evangelizing and reaching outward," he said.
Archbishop Rozanski's installation Mass is tentatively scheduled for Aug. 25, the Feast of St. Louis.
Catholic News Service contributed to this story.
Email George Matysek at gmatysek@CatholicReview.org

Print