Happy Pentecost! Happy birthday to the Church! Here are a few highlights from our week.
~1~
One of my goals every summer is to make sure our sons get some swimming time. One night this week our friends invited us to come to their house to enjoy their pool, so our boys had their first dip of the summer.
Some summer maybe we will join a community pool. I just worry we wouldn't use it enough to make it worth our while. And it's almost more special when opportunities to swim just pop up as a surprise.
~2~
I no longer seem to be able to make social plans in advance because so often you have to change them because people get sick. When I realized I was off from work on Tuesday, I reached out to my friend Julie to see if she would like to meet for noon Mass that day at the Shrine of St. Anthony. We both agreed we would check in that morning in case either or both of us needed to cancel.
Even that morning, I was wavering on whether to cancel. I had plenty of errands to run and work I could do, and so did Julie. Then I realized it was the Feast of the Visitation. What better way to celebrate the Blessed Mother's visit to her expectant cousin Elizabeth than by spending time with friends?
I met my friend Katie and my godson Jon for breakfast, met Julie and her youngest daughter for Mass, and then we went swimming at Katie's house that evening. It was a beautiful day—especially beautiful during this time when it's still so special to be able to spend time with people in real life.
~3~
Our sons are currently obsessed with Rubik's cubes.
Their hands twist the cubes at an incredible speed, and the noise of the cube turning and turning and turning is a constant background noise in our home.
I marvel at everything they can do with Rubik's cubes. And I can't get over how quickly they work.
~4~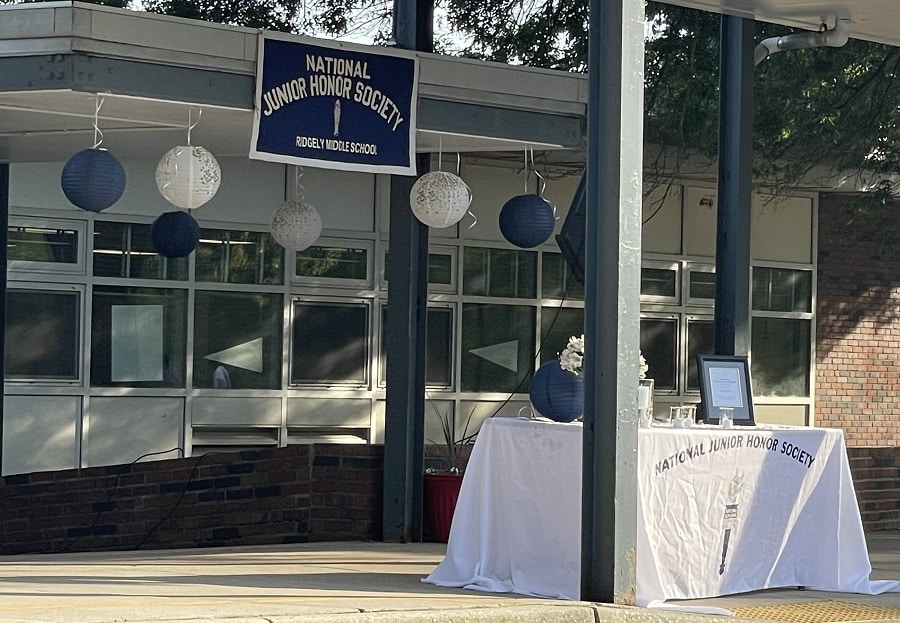 My older son was inducted into the National Junior Honor Society this week. At first, the event was going to be held in person inside the school, then it became a virtual ceremony, and then the school decided to hold it outside in the bus loop.
I have to admit I was briefly relieved when it was virtual because May and June are so, so busy, and that would give us one evening back. Instead, I had to scramble to put dinner on the table and then sprint to a bring-your-own-chair event.
But then we got there, and it was a beautiful, if hot and humid, evening. I found a spot on the curb. A woman on a bicycle sailed by, heading the wrong way through the bus loop. Recorded music played. The teachers were so excited to celebrate the students' success. The students came out five at a time, and we clapped for all of them.
After my son's name was called, he came and sat with me on the curb for the rest of the ceremony. Then we stopped on the way home and got him a sub for dinner.
As it turns out, real-life can be better than virtual—even with honor society ceremonies.
~5~
Have you ever made a balloon arch? I have a sudden desire to make one. It seems like it might be fun to try. It might also be frustrating, but maybe it would be good to know how to do like making a diaper cake or a veggie tray in the shape of a Christmas tree or a paper towel snowman.
~6~
Our younger son came home from school with a beautiful tile he created, and I realize how much I've missed real-life art projects.
When your children are in preschool, so much artwork comes home that it can be overwhelming.
When they get older, though, much less art comes home. It's been more than two years since any art came home.
This piece is called, "Summer Day at the Pond."
I absolutely love it.
~7~
My niece Elise has a longstanding affection for frogs.
So, when I saw that my friend Tiffany at Glory Design Crochet had made a sweet long-limbed frog, I felt I simply must secure it for Elise.
Her birthday had already passed, but Christmas is such a long way away.
Even her half-birthday in September seemed far off, as the frog has been sitting and waiting for its new home.
So, this weekend I gave Elise the frog.
And all is right in the world. Ribbit.
Copyright © 2022 Catholic Review Media

Print