~1~
Lately, I have been trying to think of small things that I can do for myself. I don't mean that I try to be self-centered or treat myself to jewelry and boxes of chocolates. I mean that I am trying to carve out time for things that feed my spirit such as daily Mass and evening walks with my neighbor.
Last weekend I treated myself to the Maryland Catholic Women's Conference. There were more than 200 women there, and I enjoyed speaking with them, praying with them, and learning from them. I still feel as if we are emerging from seclusion, so going to a larger event brought its own kind of thrill—especially as I had the chance to meet some new people and have wonderful conversations about our faith.
The theme was "Holy and Beloved," and the keynote speakers were Katie Prejean McGrady and Sister Mary Madeline Todd, O.P., a Dominican Sister who teaches at Mount de Sales Academy in Catonsville, Md. I was so excited to meet Katie since I follow her on social media, but I hadn't known much about Sister Mary Madeline, and she was phenomenal. You can see their talks on the recording on Facebook.
Maybe you can turn the recording on while you're packing lunches or doing the dishes and listen to the Holy Spirit speak through them straight to you. That might be your gift to yourself today.
~2~
Sometimes I feel that time is flying much too quickly and that our children are growing way too fast.
Then I realize someone else is willing to help me frost the cupcakes for Dad's birthday, and I recognize the wonders of older children.
It really is extraordinary to have a chance to see them grow up and become whoever God is calling them to be.
Also, our sixth grader did an amazing job with the cupcakes.
~3~
That said, I really don't understand how my twin nephews turned 4 this week. I wrapped their gifts and stopped by their house to drop them off this week.
I slipped inside and left them on the floor for the family to discover. Then I texted my sister and brother-in-law to tell them the Birthday Fairy had stopped by.
I wonder whether the Birthday Fairy will become a tradition. You never know.
~4~
As soon as I hit publish on my post about the stand my father built for our finches, I started remembering other items he has made for our family.
He sent me a photo of this rocking horse, but he also made a wooden ride-on airplane for us that our children enjoyed too as toddlers and preschoolers. And he made a playpen for my doll Beansie when I was a child.
We are really fortunate to have so many beautiful, functional pieces my father has made over the years.
I can't tell you how many children have rocked on that horse.
~5~
Whenever I go shopping, I find myself texting photos to my sisters along the way.
This week it was stuffed animals I knew their children didn't need, but that I just couldn't resist photographing and sending along.
Everyone does this, right? Because it saves you from having to buy all the things, even when you really want to?
~6~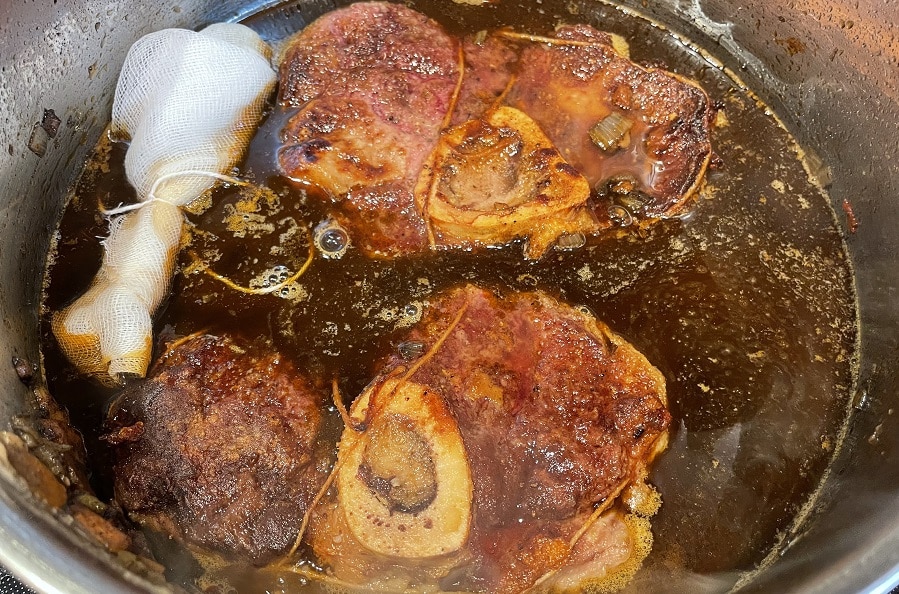 We've ordered beef from Bell Road Beef a few times because it's so good and because I love supporting a family business. I've been wanting to try making osso buco, and I saw Bell Road was offering a box of beef including shanks. The box would come with a recipe for osso buco.
I made osso buco tonight for dinner, and it was incredible. It might be the best thing I've ever made, or maybe it's just been so long since I've cooked a real dinner, that I can't remember the last time we had something that wasn't mac and cheese out of a box.
I had to use kitchen twine and cheesecloth and fresh herbs, but it was delectable. The meat was so moist and tender, and the house smelled savory all afternoon while the osso buco was cooking.
Also, I really like saying osso buco.
~7~
At the Maryland Catholic Women's Conference, I dropped my business card into a bowl at a table promoting the GIVEN Institute to enter to win a prize. And I won! This week I had a delightful phone conversation with the executive director, Rachel Harkins Ullmann, who called from GIVEN to tell me about their work mentoring, inspiring, and supporting the spiritual and leadership development of young women.
Then my prize arrived in the mail, and it's a beautiful book, Women of Hope: Doctors of the Church.
I am looking forward to learning more about GIVEN. And I especially love the idea of trying to be a woman of hope.
Find more quick takes at Kelly's blog, This Ain't the Lyceum, where she is launching her new book.
Copyright © 2021 Catholic Review Media

Print