When permanent deacons are ordained in the church, it's usually very much a family affair. But for soon-to-be deacon John Schmidt Jr. of St. Ignatius in Ijamsville, his cheering section wasn't just in the pews – his son, Connor Schmidt, was helping lead the procession.
Connor Schmidt, a seminarian who is set to continue his studies at Mount St. Mary's Seminary in Emmitsburg, said he was feeling "just joy" as he watched his father and 12 other men become permanent deacons May 22 at Cathedral of Mary Our Queen in Homeland.
"It's really personal," Connor Schmidt said. "I'm just filled with excitement for the future."
Connor Schmidt said his father forging a similar path of service will enrich his future ministry and can only bring the two closer together.
"Now we can both talk about serving at the altar of the Lord with him and seeing the grace that comes from that," Connor Schmidt said.
Deacon Schmidt, a clinical psychologist by training, said he hopes to bring the skills he learned in the secular world while serving with the U.S. Navy to his new ministry. But he said bridging his secular and spiritual worlds will be a challenge, but one he's ready for.
"I think for me that's going to take a lot of reflection, to figure out how to bring the best of both worlds to my ministry," Deacon Schmidt said.
Becoming an effective ambassador or bridge between those two worlds was a common theme among the men called to the permanent diaconate. At 35, Deacon Daniel Miller of St. Francis of Assisi in Mayfield is now the youngest deacon in the archdiocese.
He intends to use his youth as an asset for the church.
"I want to reach out to those who have fallen away from the church. I have a lot of friends and family who have fallen," Deacon Miller said. "I want to show that married with a young family … that you can still be called to serve God and especially to the diaconate life to lay ecclesiastical ministry or whatever it might be."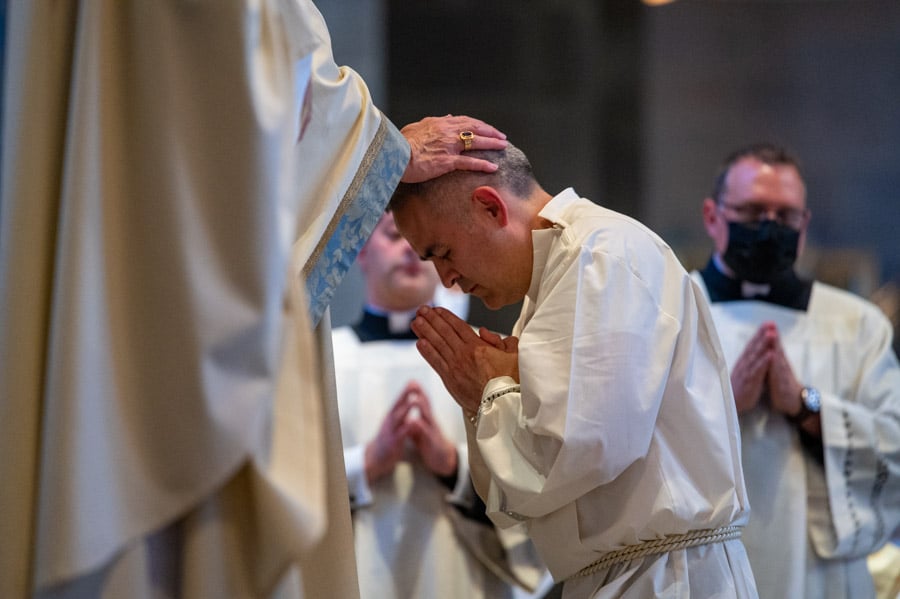 A native of Puerto Rico, Deacon Daniel Cajigas said he intends to help serve the growing Hispanic community at his Harford County parish, St. Francis de Sales in Abingdon.
"It's a humbling experience because I'm going to be serving his people," he said of his ordination. "The flock that needs us, especially the Latino community, which is growing so big here in the United States."
Deacon Cajigas agreed that the permanent diaconate is very much a ministry that involves the whole family.
"There's no way we can go through the process without the family support,"
Archbishop William E. Lori celebrated the ordination Mass just after many social distance precautions brought on by the pandemic were relaxed. Congregants still wore masks but the cathedral allowed for more people in the pews. Although it was not the same as pre-pandemic ordinations, Saturday's Mass was still a big contrast from the scaled-back liturgies of the past year.
Bishop Denis J. Madden, Bishop Adam J. Parker and Bishop Bruce A. Lewandowski, C.Ss.R, were also present for the celebration.
Watch a photo slideshow below. Story continues beneath.
"You have sought to make your homes not merely places of love and security, but indeed, havens of faith and hope and love," Archbishop Lori said in his homily. "You discerned a calling to serve the larger church, your parishes and the archdiocese, just as you serve so generously the domestic churches you have established."
During the liturgy, the deacon candidates placed their hands in those of Archbishop Lori, promising respect and obedience to the archbishop and his successors. After their ordination, they were vested in stoles and dalmatics, the liturgical garments of their office. The archbishop handed each new deacon a book of the Gospels and offered each a fraternal kiss, repeated by other deacons.
The new deacons will proclaim the Gospel at Mass, preach homilies, assist at the altar, lead general intercessions and distribute Communion. They will administer the sacrament of baptism, witness marriages and preside at rites of Christian burial. They will also minister in the wider community at hospitals, nursing homes and elsewhere.
"Permanent" deacons differ from "transitional" deacons in that they do not go on to become priests.
The other men ordained were Deacons William Arther III of Holy Family, Randallstown; Thomas Higgins Jr. of St. Paul, Ellicott City; Roch Kallmyer of Our Lady of Perpetual Help, Ellicott City; Karl Noah of St. Joseph-on-Carrollton Manor, Buckeystown; Howard Klohr of Christ the King, Glen Burnie; Michael Lewandowski of St. John the Evangelist, Frederick; Mark Rachid of St. Philip Neri, Linthicum Heights; James Rose of Our Lady of the Mountains, Cumberland; Joseph Slattery of St. Peter the Apostle, Libertytown and Michael Tiné of Our Lady of the Fields, Millersville. (See capsule profiles of the new deacons here.)
At the end of the ordination Mass, Archbishop Lori announced the new deacon assignments.
Deacon Arther will serve at Holy Family, Randallstown; Deacon Cajigas at St. Margaret, Bel Air and St. Mary Magdalene, Churchville; Deacon Higgins at St. Lawrence Martyr, Hanover, and Resurrection of Our Lord Parish, Laurel; Deacon Kallmyer at Our Lady of Perpetual Help, Ellicott City; Deacon Kloher at St. Jane Frances de Chantal in Riviera Beach; Deacon Lewandowski at St. Augustine, Williamsport, St. James, Boonsboro, and St. Joseph, Hagerstown.
Deacon Miller will serve at St. Bernadette, Severn, and Christ the King, Glen Burnie; Deacon Noah at St. John the Evangelist, Frederick, and St. Joseph-on-Carrollton Manor, Buckeystown; Deacon Rachid at St. Philip Neri, Linthicum and St. Clement I, Lansdowne; Deacon Rose at Our Lady of the Mountains, Cumberland; Deacon Schmidt at St. Ignatius of Loyola, Ijamsville; Deacon Slattery at St. Joseph, Sykesville; and Deacon Tiné at St. John the Evangelist, Severna Park.
Catholic Review Photographer Kevin J. Parks contributed to this article.
Watch a livestream of the liturgy below.
To view more photos and purchase prints, visit our Smugmug page here.

Email Tim Swift at tswift@CatholicReview.org
Copyright © 2021 Catholic Review Media

Print