In January, then-Josephite Deacon Fred Kaddu vowed to visit every family in the parish of West Baltimore's St. Peter Claver and St. Pius V. He said he wouldn't stay long and no one had to feed him, but he wanted to forge lasting connections with the parish where he was finishing his studies before he became a priest.
"He's somebody who's really good with people. He's very outgoing and he relates well with all ages, really," said Josephite Father Ray Bomberger, pastor of St. Peter Claver, St. Pius V and St. Gregory the Great in West Baltimore.
The 32-year-old native of Uganda was ordained a Josephite priest May 23 at St. Peter Claver in West Baltimore. Because of restrictions brought on by the coronavirus pandemic, only 10 people were present for the liturgy. But many more watched via a livestream on YouTube, including Father Kaddu's family in Africa. As of May 29, there were more than 900 views on YouTube.
St. Peter Claver choirs and a liturgical dance group were unable to perform along with Ugandan dance and music groups from across Maryland.
Bishop John H. Ricard, Josephite superior general and a former auxiliary bishop of Baltimore, celebrated the Mass. In his homily he noted that in 1995, he visited Father Kaddu's native country. At that time, he said, young men in Uganda were being ordained for the priesthood "under the radar of the genocide that was taking place at that time."
"They had to do the ordination quietly – almost in secret – because it was so dangerous then," Bishop Ricard remembered.
Later, on a trip with Baltimore-based Catholic Relief Services, Bishop Ricard went to Bosnia in Eastern Europe, where the bishop in Sarajevo ordained two young men to the priesthood in secret during a time of civil conflict.
"The point is that the church goes on," Bishop Ricard said. "The priesthood goes on despite wars, persecutions and pandemics. That's why we are here today."
The bishop said his prayer for the newest Josephite priest is that Father Kaddu will help "set the church on fire with the love, respect and attentiveness to others that was the vision of Christ."
A video of the ordination follows; story continues below
Father Kaddu, who had long aspired to be a missionary, said he was drawn to the Josephites' commitment to social justice. The Baltimore-based Society of St. Joseph of the Sacred Heart was founded in the wake of the Civil War to minister to African Americans across the country.
During his time in Baltimore, Father Kaddu "got out there and he was eager to learn," Father Bomberger said.
"He wasn't judging the culture here," the pastor said. "He wanted to learn it. He wanted to be a part of it."
Father Kaddu attended meetings for community organizations such as the No Boundaries Coalition and interfaith conferences. He not only served the parish, he also served the whole community in West Baltimore.
Father Kaddu stayed busy during the pandemic, holding Bible study classes over Zoom. With the office staff sheltering at home, he has been answering the church office phones and manning the food bank. And even though the church has been closed, Father Kaddu said someone knocks on the door almost every day.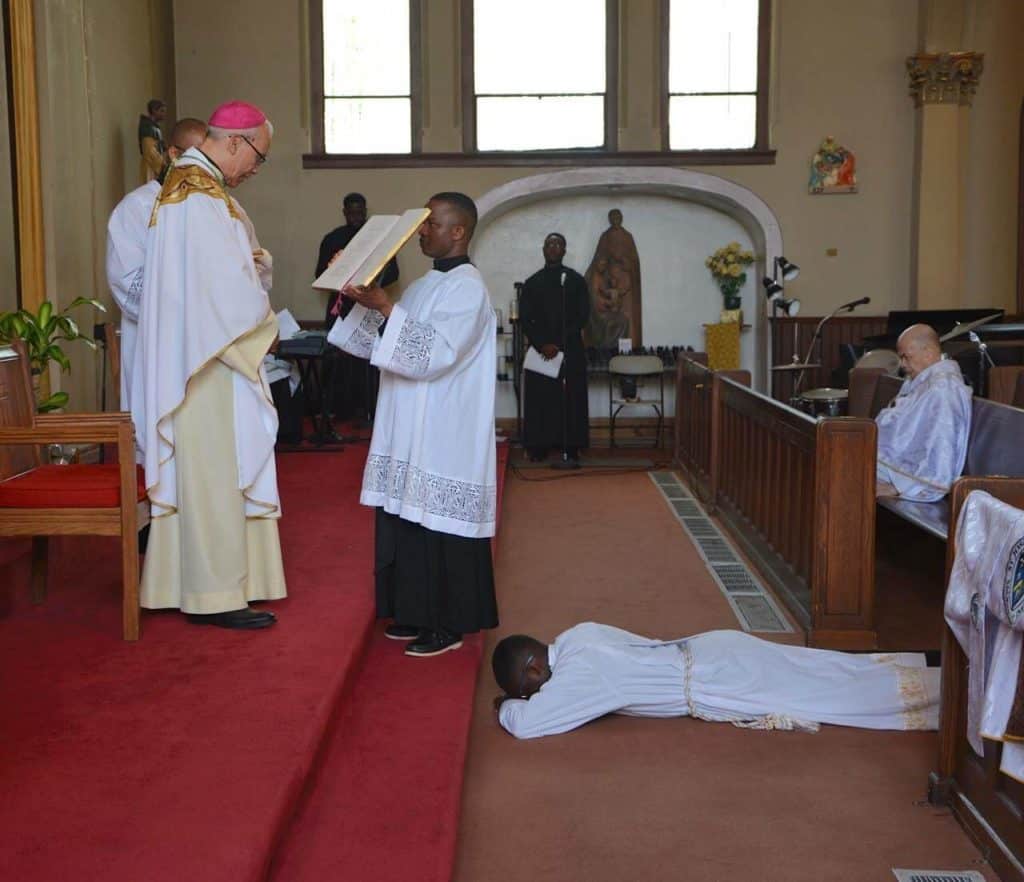 Father Kaddu said he does what can for the impromptu visitors while following social distance guidance.
The new priest said he has been impressed by the welcome he received in Baltimore. In addition to serving at St. Peter Claver and St. Pius V, he also did some ministry at St. Gregory the Great.
"I was impressed by the level of care and generosity," Father Kaddu said. "They have been so kind to me. They have loved me."
Although Father Kaddu's tour of parishioner homes was cut short by the pandemic,  parishioners noticed his dedication and initiative. After his ordination, more than two dozen cars formed a parade outside St. Peter Claver along North Fremont Avenue. High school students armed with sparkling cider made toasts to Father Kaddu from a distance.
The Josephites have not decided what Father Kaddu's first assignment will be as a priest. However, it won't be St. Peter Claver; Father Bomberger said he made the case for Father Kaddu to stay, but knows there are greater needs elsewhere.
George Matysek Jr. contributed to this story. 
Also see:
For the brothers Bolger, the priesthood is a family affair
'Resilient faith:' Josephites celebrate 125 years of ministry
Email Tim Swift at tswift@CatholicReview.org
Copyright ©2020 Catholic Review Media.

Print