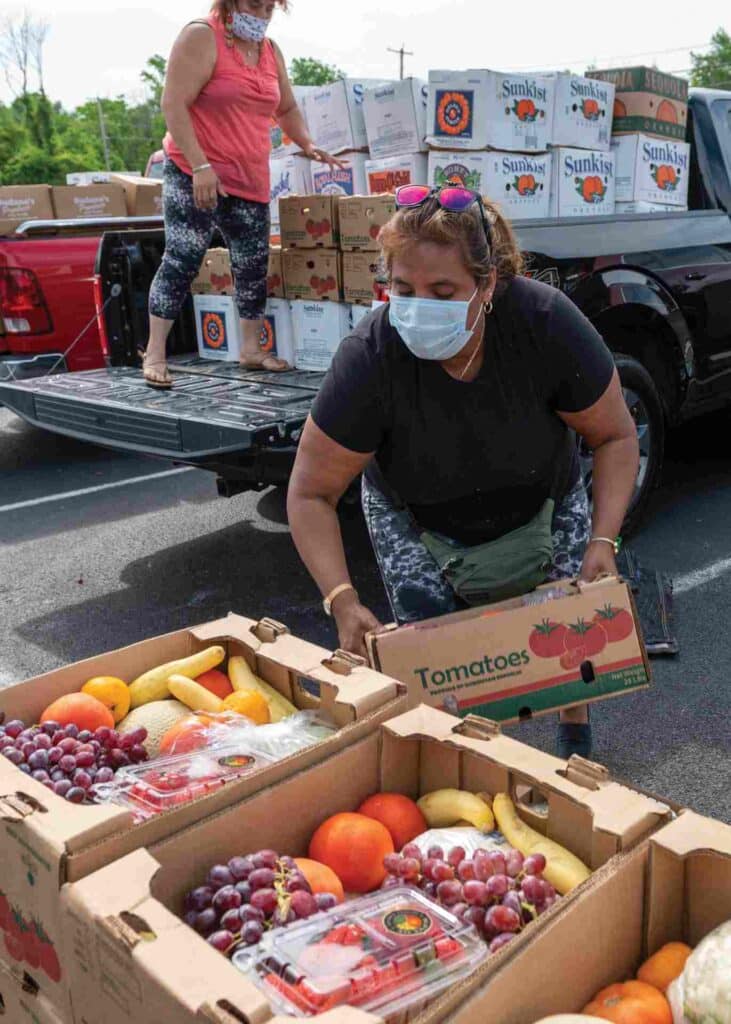 WOODLAWN – As the coronavirus pandemic began to shut down businesses and institutions in March, Jenny Contreras received a call from a friend.
Did she have any extra food to help out a neighbor who had lost their job? Contreras did, and felt inspired. She reached out to families she knew were struggling, asked friends for help, and started getting calls from people she didn't even know asking about food.
Three months later, Contreras can be found at St. Gabriel Parish, in a hall filled with boxes of food that will be shared with people all over the state – 250,000 pounds worth on a typical day.
"This has gotten big, and has been multiplied by God," she said. "This all is from the hands of God."
While COVID-19 forced churches to cancel public liturgies, Contreras' parish of 12 years seems to have strengthened its community connections.
The mission accelerated when Monsignor Thomas Phillips, the pastor, was approached about promoting a Palm Sunday food distribution.
"We are the apostles in the 21st century, and we have a lot to learn and a lot to do about how we live out the Gospel in our lives," Monsignor Phillips said.
It was hoped that the April 5 distribution would assist 300 families. Nearly 500 cars gridlocked local streets, and drove off with approximately 150,000 pounds of food, enough for more than 800 families.
"That's when we realized that we had a lot to learn, and a lot to do," said Dan Reese, a St. Gabriel parishioner.
He helps organize what has become one of the state's largest parish-based food distribution sites. Its logistics include local philanthropies and food distribution companies scrambling to find a place for their products as the pandemic slowed the economy.
Christopher Dipnarine, founder of 4MYCITY, leveraged existing relationships with distributors such as Sudano's Produce of Jessup. Christine Garrahan, emergency relief director for So What Else Baltimore, also helped turn St. Gabriel's massive parking lot into a food rescue hub, which receives and distributes more than 200,000 pounds of produce alone each day.
Shouting over the hum of refrigerated freight trucks and forklifts, Garrahan explained that more than 100 nonprofits, churches and other religious organizations have come to St. Gabriel for food that they then distribute
in their respective communities. Every afternoon, meanwhile, St. Gabriel volunteers in protective masks fill 50-75 boxes with rice, beans and other staples supplied by the parish for its people. The parish spends roughly $3,000 a week on the project. Arely Martinez, a mother of three whose husband's work hours were cut, called it a godsend. "I was on the verge of desperation," Martinez told the Review over the phone. "I can say that they are angels that God put in my path."
St. Gabriel, with a substantial number of Spanish-speaking parishioners, has emerged as a leader in feeding a demographic hit hard by the pandemic.
"It makes me happy that the Latino community, my people, feel that this place is what it should be – a place of refuge," said Maria Rivera, an outreach coordinator for the Spanish-speaking parishioners of St. Gabriel. "I feel like now our people have a voice."
Monsignor Phillips noted that St. Gabriel is also home to large African and Filipino communities. Brendaline Sop, who helps organize the local African community, described it as "different cultures, one faith," as she volunteered with the food distribution.
With so many people coming and going every day, Reese cited the necessity of safety, as he said, "Our goal, our big arc, is to give away as much food as possible. If we get shut down because of a COVID infection, then we haven't met our mission."
Copyright © 2020 Catholic Review Media

Print