Franciscan Fathers Casey Cole and Roberto "Tito" Serrano are on the baseball trip of a lifetime, swinging for the fences in an attempt to evangelize.
Father Cole, 33, and Father Serrano, 35, are traveling 17,000 miles in less than three months this summer, visiting all 30 Major League Baseball parks on a mission to introduce fans to the Catholic Church. The trip included a stop at Oriole Park at Camden Yards June 7.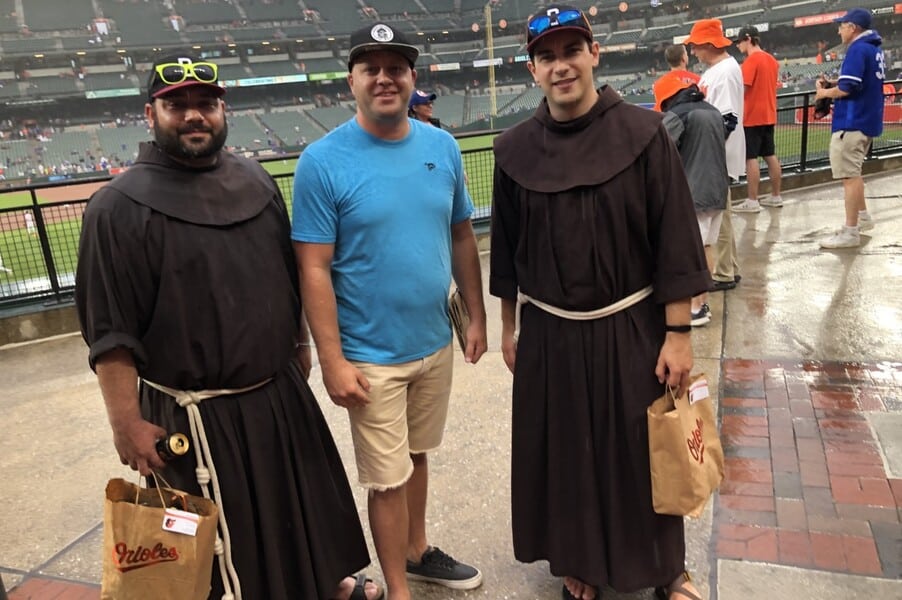 While the Orioles hosted the Chicago Cubs on a Tuesday night, the members of the Order of Friars Minor were using the Flag Court near Eutaw Street as their "town square" to get to know some of Baltimore's baseball enthusiasts.
"It's amazing the response we've gotten and how many people already know who we are," said Father Cole, who watched the Orioles coast to a 9-3 victory over the Cubs.
The priests got a bump in popularity from their posts on TikTok and YouTube.
"We even had a 65-year-old lady come up to us at one ballpark and say she recognized us from TikTok," Father Cole said.
Cody Moore, a 35-year-old who attended St. Gregory's University in Oklahoma, recognized the priests and stopped with his friend, Josh Cavalier, to have his photograph taken with the friars.
"It's really cool what they are doing," Moore said. "I saw them on TikTok and am really envious of what they are doing."
The friars know how to stand out in a crowd, wearing their habits and colorful sunglasses at each of the games and mingling with fans in the stands.
They've been brainstorming about the trip since they were both second-year novices eight years ago at seminary in Wisconsin, trying to follow in the footsteps of their order's founding father, St. Francis of Assisi.
"It's basically an evangelization tour," said Father Cole, chaplain of Mount de Sales Academy in Macon, Ga. "We're meeting the people where they are."
Father Serrano, the assistant chaplain at Siena College in Loudonville, N.Y., said baseball parks are the new meeting place.
"That's where the people are during the summer; so that's where we are going," said Father Serrano, who grew up in Florida and Arizona. "Baseball is our national pastime; it's part of our collective identity. We hope it's a different encounter for people. We aren't proselytizing and we aren't nagging people. We're just going to be out there for people to talk with.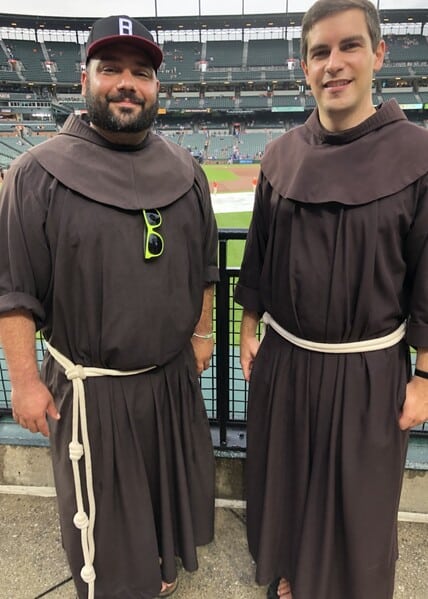 "There's no better way to show that God is present in other places than holy sites than at a ballpark," said Father Serrano, who played baseball from Little League until his sophomore year of high school.
The friars started the trip by traveling from Macon, Ga., to Miami for a Marlins game May 20. From there, they drove to Tampa Bay, Atlanta, Cincinnati, Cleveland, Detroit and Pittsburgh before arriving in Baltimore.
After the stop at Oriole Park at Camden Yards, they planned to make two stops in New York as well as trips to Philadelphia, Boston and Washington, traveling by car. The trips west of the Mississippi are scheduled for air travel with the journey concluding July 30 in Colorado.
"Logistically, it was a lot to put together because we had to work with the Major League schedule to make sure everything lined up," said Father Cole, who played high school baseball in Pennsylvania and club baseball at Furman University in South Carolina.
Not all has gone exactly as planned. Father Serrano noted that they got lost on their initial trip to Miami after an 11-hour drive, and a decal on their truck, meant to promote their trip, blew off on their first drive.
"You know what they say," Father Serrano said. "You make one plan and God has another."
The friars also are giving talks at parishes and schools at several of their stops.
"We want to give people more of a full experience of the word of God in any way we can," said Cole, who even had a confession request at one game.
The tour coincided with the release of Father Cole's book, "The Way of Beatitude: Living Radical Hope in a World of Division and Despair." In the book, he explores the meaning of the words Jesus preached at the beginning of the Sermon on the Mount and shows readers how to get beyond apathy and despair and "help Christ bring about the Kingdom of Heaven."
One Baltimore fan, Alejandro Ortiz of St. Clement parish in Lansdowne, came prepared with a copy of Father Cole's book to get signed on the new town square, Flag Court at Camden Yards.
Email Gerry Jackson at gjackson@CatholicReview.org
Copyright © 2022 Catholic Review Media

Print