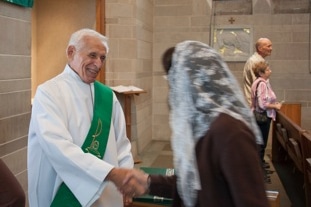 When George Evans became one of the first deacons in the United States in 1971, the 37-year-old from Baltimore County was already a family man with a wife and four children, but over the 50 years of his ministry his "family" has grown exponentially.
"It's the people that drew me in. And the fact that I brought so many people into the Catholic Church," said Deacon Evans, who will celebrate his milestone with a special Mass June 20 at St. Rita in Dundalk. "The church is really my family. And I don't like missing any time with my family. I know so many people there."
Father George Gannon, pastor of St. Stephen in Bradshaw, met Deacon Evans when they served together at St. Rita. Father Gannon said even though Deacon Evans had cut back on his ministry in his later years, he was still in high demand among parishioners.
"I would say most of the baptisms that were done at St. Rita's were done by Deacon George and not because he was just there to do them, but because people requested him. And it was the same thing with weddings."
Deacon Evans' work has spanned generations. He would celebrate the weddings of young couples and years later be on hand for the baptisms and marriages of their children.
"Once he made a connection with you, he kept that connection alive. He recognized people. He really was someone who welcomed people to the church and continued to support them in their role as a disciple of Christ," Father Gannon said.
Over the decades Deacon Evans has been a fixture at his parishes, but that wasn't always the case. He was among the first class of new deacons after the Second Vatican Council restored the permanent diaconate. Deacon Evans and five other Baltimore men were ordained at the Cathedral of Mary Our Queen as the national news media looked on.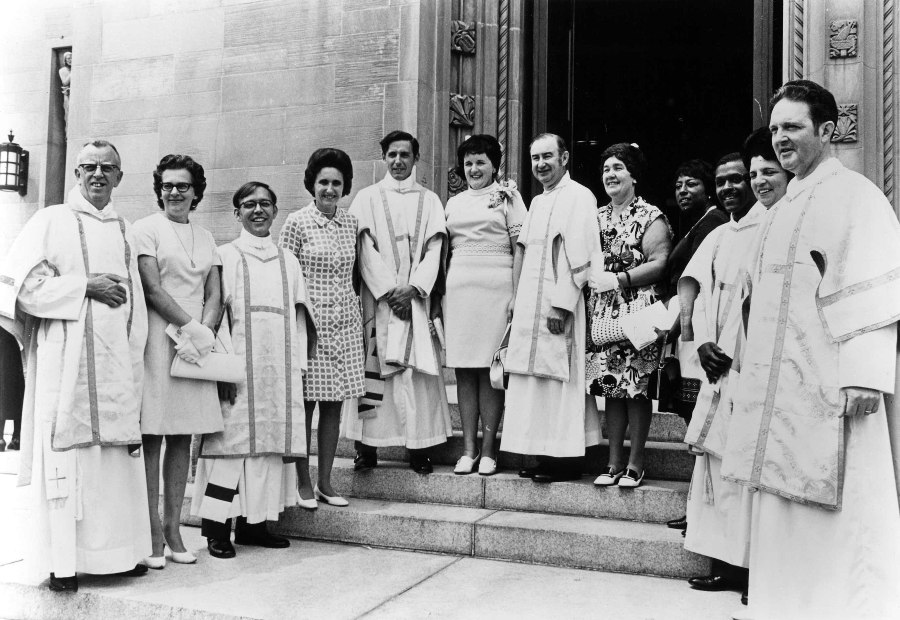 Deacon Americus Roy, the first African-American permanent deacon, was among them, as were Deacons Charles Kruger, Hubert Derouaux, Bernard Bak (who received permission to be ordained a priest in 1988) and Richard Johe. At 88, Deacon Evans is the last surviving member of that historic first class.
Currently there are 121 deacons actively serving in the Archdiocese of Baltimore, handling a variety of duties, including performing sacraments, assisting with the liturgy and engaging in pastoral care. Last month, 13 new deacons were ordained and have begun serving in the archdiocese.
In 1971, all of the men had the support of their wives, especially Deacon Evans, whose wife, Joyce, has been very active in the church as a longtime director of religious education for St. Clare in Essex.
"It was just an amazing thing that happened because that wasn't available before," Joyce Evans said of the permanent diaconate. "It's been a blessing all along."
Father Gannon said Deacon Evans and his wife are really a package deal.
"That personal connection they add, it is a blessing to the church in so many ways," Father Gannon said.
Deacon Evans began his ministry at his home parish of Our Lady of Mount Carmel in Essex, serving for about 17 years. In 1989, he moved to St. Rita in Dundalk.
"I've been there ever since. Over the years I have tried to retire, but it just doesn't seem to work. So, I'm still there," Deacon Evans said.
Joyce Evans said the couple have had health issues in recent months, but their health has recently improved allowing them to attend the Mass at St. Rita on Sunday. Joyce Evans said she and husband now both use canes to get around, leading to some gentle ribbing from their friends at St. Rita.
"They joke and call us 'Cain' and not-so-able," she said with a laugh. "But we'll be there."
A special Mass for Deacon George Evans to commemorate his 50 years of ministry will be celebrated at 11:15 a.m. on June 20 at St. Rita in Dundalk.
Email tswift@CatholicReview.org
Copyright © 2021 Catholic Review Media

Print