Five years ago, after Mark Amatucci enlisted Todd Karpovich and Joe Baker to help write a book chronicling Amatucci's four decades as a head basketball coach at the high school and college levels, the heart of the project's focus was clear.
Published in early 2018, "No Limits" drilled down on the first of Amatucci's two stints at Calvert Hall – a consequential four-year run that altered the diversity culture at the school and propelled its basketball program to incredible heights.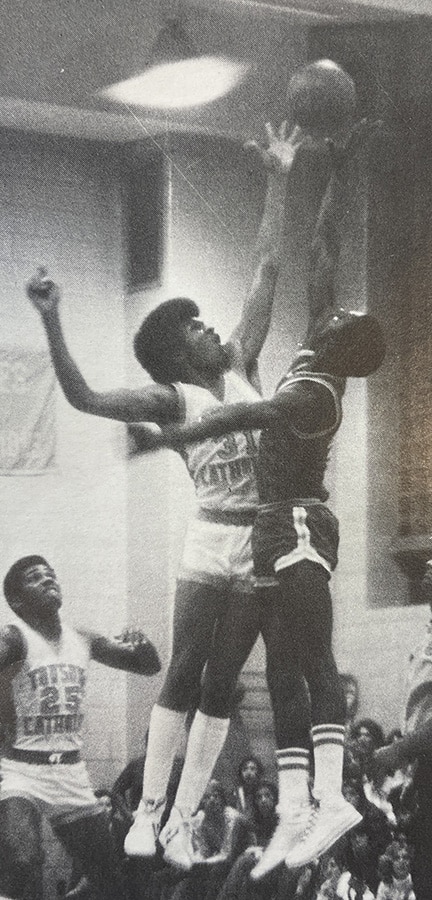 It culminated with a perfect 1981-82 season. The Cardinals won their third straight Baltimore Catholic League title and went wire-to-wire as the country's top-ranked team. They finished 34-0 by beating Washington, D.C., powerhouse and four-time national champ DeMatha at the prestigious Alhambra Catholic Invitational.
"No Limits" was received so well that Amatucci and his co-authors decided to enter uncharted territory by making a documentary film tackling the same subject matter.
The result is "More Than Buckets," a triumphant, two-hour story that took more than two years to tell. It is directed by Michael Amatucci, Mark's son.
The co-authors – now co-executive producers – spent countless hours at local libraries immersed in print and film archives. Amatucci's weighty scrapbook was also a hefty resource.
The film centers around that magical trip by the Cardinals, who, with Amatucci at the helm from 1978 through 1982, put Calvert Hall and its basketball team on the national map – and not just because the Cards went a combined 91-5 from 1979-82.
As the documentary points out, it was also about how Calvert Hall did it, specifically how Amatucci moved the color line at the school by recruiting talented African-American student-athletes at the recreation centers and playgrounds of East Baltimore.
In December 1979, Calvert Hall became the first Catholic League school to start five African-American players.
"When I started coaching (the junior varsity at Calvert Hall in 1976), minorities made up nearly 2 percent (of the student body)," Amatucci recalled. "By the time I left (to coach at what is now Loyola University Maryland) in the summer of '82, that had grown to over 13 percent, a direct result of what we did with our basketball family."
The older, reminiscing voices of those core players, from Darryle and Paul Edwards to Marc Wilson and "Pop" Tubman to Vernon Hill – huge components, along with future NBA player Duane Ferrell, to the hoops glory days – bring powerful perspective on such changing times.
An especially poignant, early scene in the film finds middle-aged Darryle Edwards of the Class of 1981 revisiting the gravesite of classmate Paul Kinney, who died of a heart attack after collapsing at a preseason scrimmage Dec. 1, 1980. The '81-'82 team dedicated its season to the memory of Kinney.
The film's game footage is quite a treat. It includes great moments from the Cards' epic, triple-OT win over Dunbar in the spring of 1981. And they capture the brilliance of Calvert Hall in its perfect year, especially at prestigious national tournament titles in Philadelphia and Las Vegas and that thrilling finish.
"It was emotional watching a lot of the footage and watching the kids talk about things now," Amatucci said. "I'm proud of how it captures how close our family was and still is."
Editor's note: "No Limits" was published by Cathedral Foundation Press, a subsidiary of Catholic Review Media. Todd Karpovich is a contributing writer to the Catholic Review. Calvert Hall will host a screening of the film March 11 at 7 p.m. in the school's Marion Burk Knott Center.
Copyright © 2022 Catholic Review Media

Print