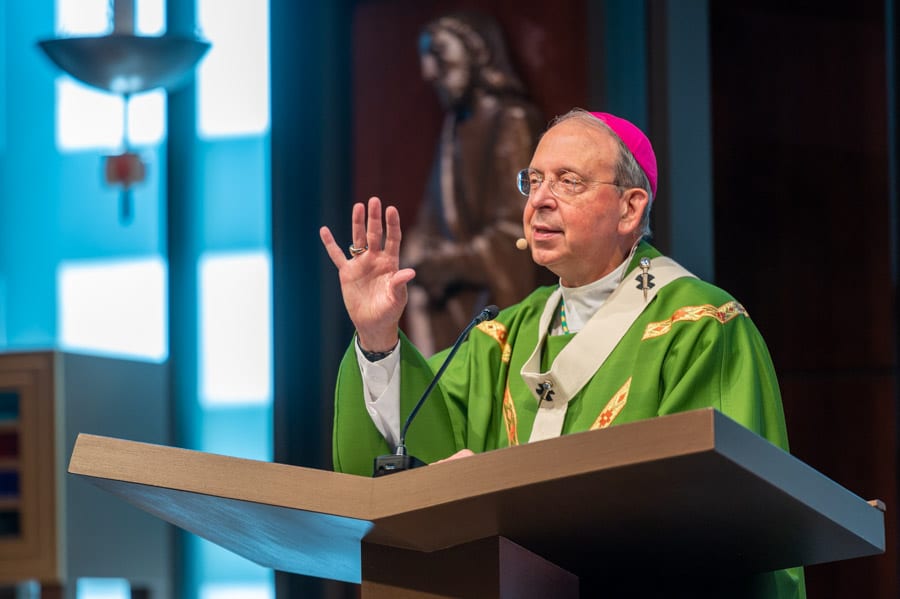 TIMONIUM – Catholic school educators should teach their students to "reach for the stars," Archbishop William E. Lori said at the 11th annual Catholic Schools Convocation held at Church of the Nativity in Timonium Aug. 26.
Referencing Monsignor Luigi Giussani, an Italian priest, philosopher, theologian and educator who founded the Catholic movement known as Communion and Liberation, Archbishop Lori said the stars for Monsignor Giussani "stood for the infinite, the unknowable, for a destiny beyond imagination."
Speaking in a homily during an opening Mass, the archbishop invited Catholic school teachers and staff to ask themselves one question as they think of the daily routine, the rough-and-tumble of the classroom, meetings with parents, the scramble to keep up with technology and all the other events that fill their busy days: "What does it all have to do with the stars?"
Due to the increase of COVID-19 infections across Maryland and the Delta variant, this year's convocation was hosted virtually for thousands of Catholic school educators and administrators. In-person attendance was limited to 2021 Teacher of the Year recipients and special guests.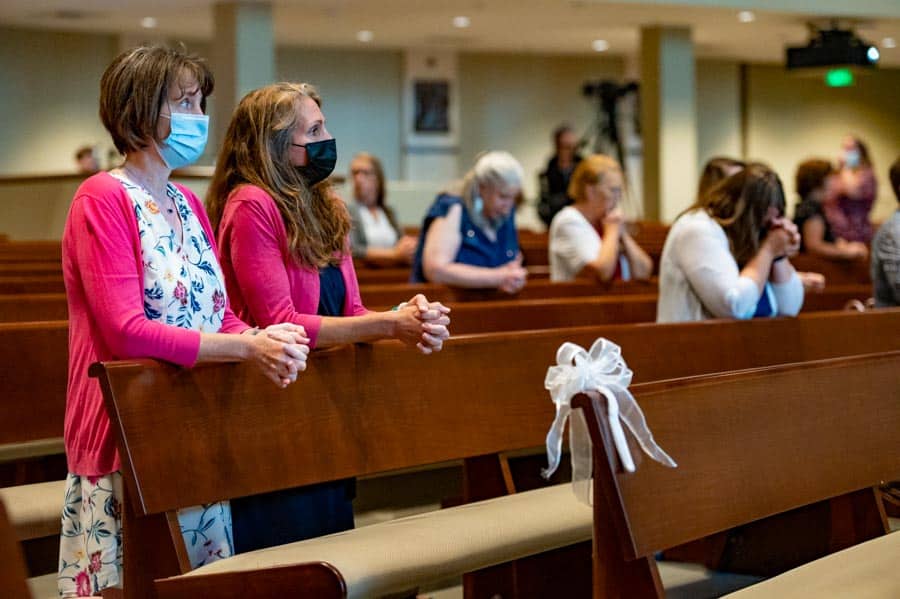 Two leaders who helped the Archdiocese of Baltimore's Catholic schools navigate the pandemic were honored with the Doris Musil Award, the highest honor the Catholic school system bestows each year. Tom Alban, director of Risk Management for the Archdiocese of Baltimore, and Dr. Robert Redfield, former director of the Centers for Disease Control and current senior public health advisor to Gov. Larry Hogan, were lauded for their work keeping Catholic school communities safe.
Archbishop Lori said Alban's main role during the pandemic was establishing safety protocols and mitigation methods to prevent the spread of the coronavirus in parish and school communities.
"Early on we established the COVID-19 task force, which Tom headed with the Department of Catholic Schools," Archbishop Lori said. 
The archbishop said Redfield's scientific expertise, knowledge of infectious diseases and practical, safe guidance "helped us open the schools in person."
In his homily, Archbishop Lori said two religious sisters who taught him at Our Lady of Perpetual Help Catholic School in New Albany, Ind., had a way to open up the students to the heavenly realities behind the Catechism questions the children had to memorize. They also spoke of their own love for the Lord and the reason why they became religious sisters, the archbishop said. Without their influence, Archbishop Lori said, he would not be a priest today.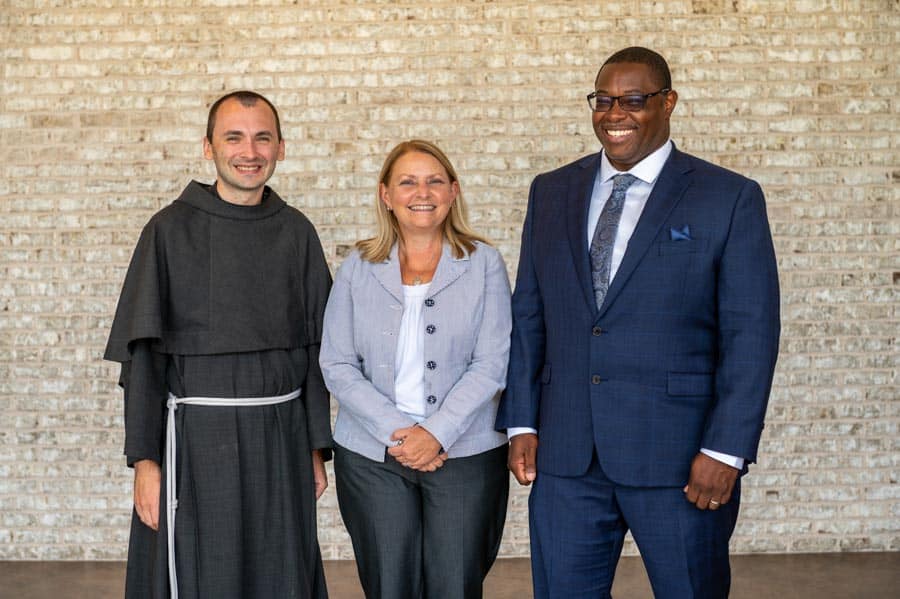 Following a Mass that featured liturgical music from the schola at Archbishop Curley High School in Baltimore, Archbishop Lori joined James Sellinger, chancellor of education, and Dr.  Donna Hargens, superintendent of Catholic schools, in presenting awards to the Archdiocese of Baltimore's 2021 Teacher of the Year recipients.
Rufus Waller, a Catholic educator for 23 years who teaches at Cardinal Shehan School in Baltimore, was named Archdiocesan Elementary School Teacher of the Year. He recalled religious sisters who taught him at St. Peter Claver School in West Baltimore.
"I lived in a rough neighborhood," he told the Catholic Review. "It was not until I attended St. Peter's Claver, that I began to think, 'What does God want me to be?' The sisters there were strict but also loving and that caused me to look around and think about my actions, environment and to why things were the way they were. There is where I was introduced to Christ."
Conventual Franciscan Father Chris Dudek, from Archbishop Curley, was named Archdiocesan High School Teacher of the Year; and Julie Baker, from The John Carroll School in Bel Air was named Independent Catholic High School Teacher of the Year. Educators were also recognized for service hallmarks, including Christian Brother Charles Filberg of Calvert Hall College High School in Towson who is celebrating 60 years of teaching.
The schools chancellor acknowledged the struggles in academic life due to the pandemic, thanking educators for their commitment to their communities.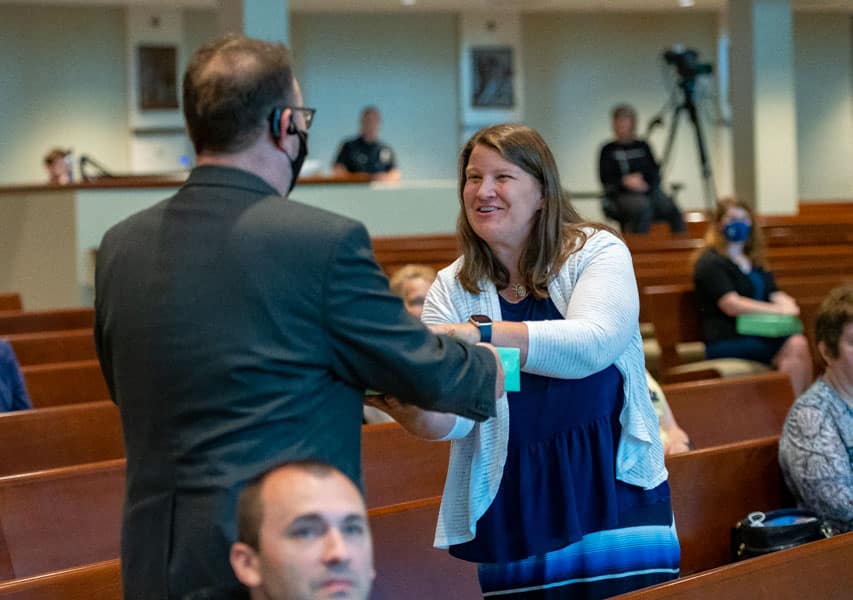 "We are running our sophomore year," Sellinger said. "Two years of pandemic and we learned a lot. It is all about dedication, commitment and leadership."
In his keynote address, Auxiliary Bishop Bruce A. Lewandowski, C.Ss.R. encouraged educators and staff to embrace their "power" in the midst of the pandemic.
"Say to yourself, 'I am powerful,'" he urged. "Not because of the titles, awards, education, or wealth but because God's grace is in you."
Bishop Adam J. Parker concluded the convocation by thanking Catholic school educators who continue to "rise above."
"You rise above the challenges that are presented before you every single day, whether pandemic or a difficult situation in the classroom," he said.
Email Priscila González de Doran at pdoran@CatholicReview.org
Copyright © 2021 Catholic Review Media

Print