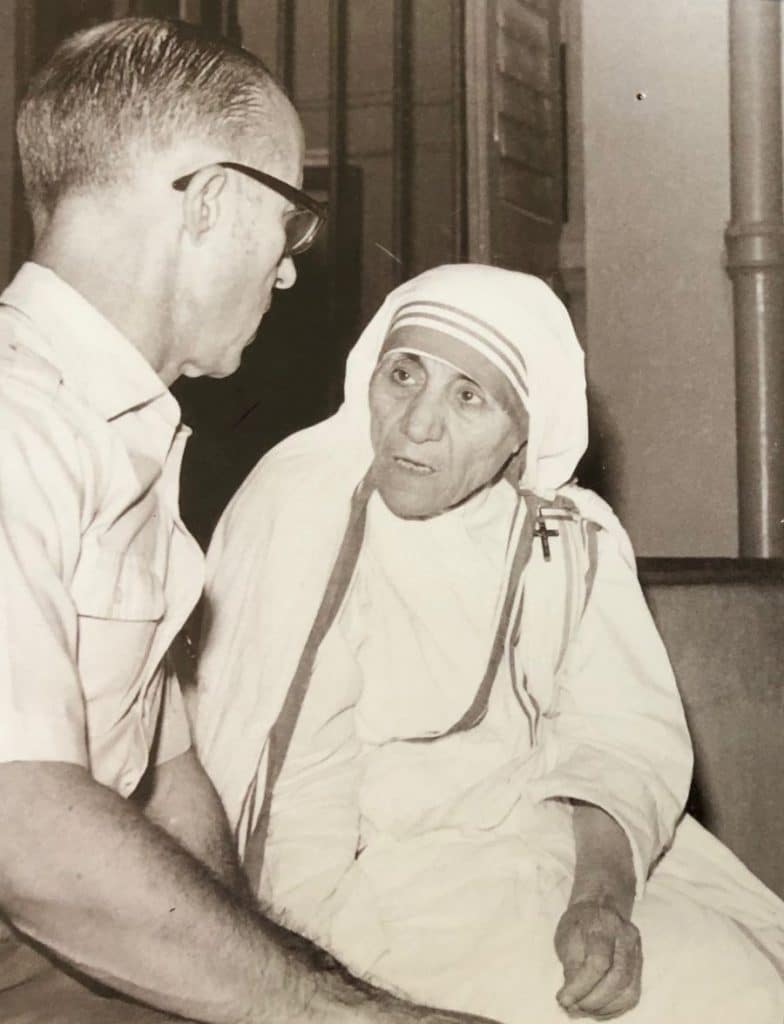 Maryknoll Father J. Lawrence Schanberger, whose missionary work spanned the globe, including serving the poor of India with St. Teresa of Kolkata, died May 22 at his religious community's headquarters in Maryknoll, N.Y. He was 98.
Described as tough and formidable, Father Schanberger served as a Maryknoll missionary in Latin America for decades in Chile and later Venezuela and Colombia. He mentored hundreds of missionaries and navigated often-dangerous places with a mix of street smarts and good humor, his colleagues said. But in 1979, he decided to take on a new challenge to work in one of the poorest countries in the world at the time, Bangladesh.
"He wanted to go where there was the most pressing need," said Maryknoll Father Richard Albertine, who worked with Father Schanberger in Venezuela. "But that was pretty unheard of at some 57 years of age, taking on a new language and going into a whole new area. This was a tremendous jump."
An issue with his visa delayed his mission to Bangladesh, but a new opportunity presented itself in the interim — working in India with St. Teresa of Kolkata.
Fellow Maryknoller Father Larry Lewis said Father Schanberger and St. Teresa were "two peas in a pod," because like St. Teresa, Father Schanberger did not need much as far as comforts and was entirely dedicated to serving the poor.
"He loved her because Larry was not at all ostentatious." Father Lewis said. "He was very humble, but he was firm. He could be tough when he had to be, but it was never malicious. He was one of our best by far."
Father Albertine, who is now retired, said he visited Father Schanberger in India in 1979. Even as a seasoned missionary, he said he was unsettled by the poverty that he saw there.
"He came from a bright family, two of his brothers were doctors, but yet he wanted to be with the poor, the poorest of the poor," Father Albertine said. "At that time, there were a million people on the street. He, of course, was there washing them, caring for them and even carrying them to places. He was just that kind of man."
Father Schanberger's nephew, Vincent Fitzpatrick, said his uncle's work with St. Teresa marked a high point in his long ministry.
"He was extremely grateful for the great blessing of working with her community in their efforts to serve the very poor and abandoned persons," Fitzgerald, a teacher at Loyola Blakefield in Towson, wrote in a 2009 retrospective for the Catholic Review.
Born in Baltimore's Forest Park neighborhood in 1922, Father Schanberger was one of seven children and attended All Saints School. His family ran several prominent theatres in the area, including Keith's Theatre and the Maryland Theater. While most of his siblings studied to become doctors and nurses, Father Schanberger was dedicated to the church from a very early age.
As a seminarian for the Archdiocese of Baltimore, he graduated from the former St. Charles College, a minor seminary in Catonsville, and attended one year of study at St. Mary's Seminary in Roland Park. But Schanberger's ministry took a drastic turn after hearing of the generous spirit of one of the founders of the Maryknoll society.
During Father Schanberger's time at St. Charles College, Bishop James Edward Walsh came to Catonsville to speak. On his way, he noticed a poor old man lying in the bitter cold on a bench outside the train station and immediately comforted the man and gave him his winter coat. Bishop Walsh went on to deliver the speech without any mention of his selfless act. But a priest who had accompanied Bishop Walsh at the station later told the St. Charles students about the encounter.
From then on, Father Schanberger knew he wanted to follow in the bishop's footsteps and become a Maryknoll missionary.
"Father Schanberger thought that was what Christianity is all about," Father Albertine said of the Maryknollers' commitment to helping the poor and the forgotten. "And listening to that story about Bishop Walsh, Larry said, 'That's what I want.' And I think that was the reason he eventually opted for Bangladesh."
He was ordained in Maryknoll, N.Y., in 1949. He graduated from Manhattan College in 1950 and later earned a master's degree in Christian Spirituality at Creighton University in Omaha.
By 1953, Father Schanberger had his first assignment at an agricultural school in Molina, Chile. Years later, he would become a pastor in Talcahuano, Chile.
"He saw his parishioners struggle to raise families while confronted with unemployment, drugs, alcoholism, divorce, teenage pregnancy and social unrest. He faced the challenge of trying to penetrate the lives of all these people with a message of hope," Fitzpatrick wrote.
By 1968, he was serving as the Maryknoll regional superior of Venezuela and Colombia. In 1974, he returned to the United States to become the rector of the Maryknoll Seminary, but his time at home didn't last long. By 1979, he was ready for a new mission.
After 14 months with St. Teresa, he was finally able to work in Bangladesh as the pastor of Holy Spirit Parish in Tuital. By that time, he had learned the difficult Bengali language. Despite being only 25 miles from the capitol, Tuital, at the time, was accessible only by boat, a seven-hour trip.
From 1981 to 1995, he served the parish and helped the community endure terrible floods in the late 1980s. By 1995, Father Schanberger fell ill and returned to the United States for medical care. After his recovery for health reasons, Father Schanberger returned to Chile rather than the rougher environment of rural Bangladesh. He would go on to retire, living at Maryknoll's headquarters in New York and inspiring a new generation of missionaries.
Throughout his ministry, Father Schanberger was a prodigious letter writer, keeping in close contact with his Baltimore relatives despite being thousands of miles away.
A Mass of Christian Burial was celebrated May 27 in the Queen of Apostles Chapel at the Maryknoll Society Center in Maryknoll.
Father Schanberger is survived by his sister-in-law, Evelyn Schanberger, of San Diego, Calif., and many nieces and nephews, including Fitzpatrick.
Email tswift@CatholicReview.org
Copyright © 2021 Catholic Review Media

Print