MIDDLE RIVER – On the eve of the arrival of Tropical Storm Isiaias, between bands of strong wind and rain, The GIVEN Institute and the Archdiocese of Baltimore hosted a relatively dry prescreening of the movie "Fatima" Aug. 3 at Bengie's, the state's only drive-in movie theater.
The event, coordinated by Rachel Harkins Ullmann, GIVEN's executive director, sold out in 48 hours to local parishioners and families from as far as Washington, D.C.
"I saw a GIVEN mentor attending a streaming event in Miami," said Ullmann, a parishioner of St. Stephen in Bradshaw. "I loved the pictures I saw on social media, where she and her kids were in their car and had Fatima masks, and it looked like a normal, fun family friendly night."
Just three weeks ago, Ullmann reached out to the Picturehouse production company through a private message on social media. It had already booked six screenings across the country, and agreed to add another in Baltimore.
"My motivation was we need hope," Ullmann said, of the coronavirus pandemic. "As a wife and mother, I see how families are suffering from everything being canceled, every summer activity, every festival, every conference, and so seeing how creative and innovative this production company has been to offer an event with masks in a socially distant way, I just felt like the Holy Spirit inspired me to send that little private message. Why not ask?"
While the threat of the storm did keep some away, Ullmann said that 56 cars filled with 167 people attended the event. They included Mother Aeiparthenos and other Servidoras sisters from Sacred Heart of Mary in Graceland Park and the National Shrine Grotto of Lourdes at Mount St. Mary's University in Emmitsburg. Their predecessors include a figure central to the Fatima story.
Upon entering the outdoor theater off Eastern Avenue in Eastern Baltimore County, attendees were greeted by a towering rosary of blue and white balloons, made by Teda Behr and Veda Diegel, teachers at St. Stephen School in Bradshaw.
The prescreening was dedicated in the memory of Isaac Scharbach, a parishioner of Mount Calvary Catholic Church in Baltimore and graduate of Mount St. Joseph High School in Irvington, who was struck and killed while on his bicycle Aug. 1. Scharbach, the son of Mount Calvary pastor Al Scharbach and GIVEN staff member Abby Scharbach, was preparing to enter his senior year at Davidson College.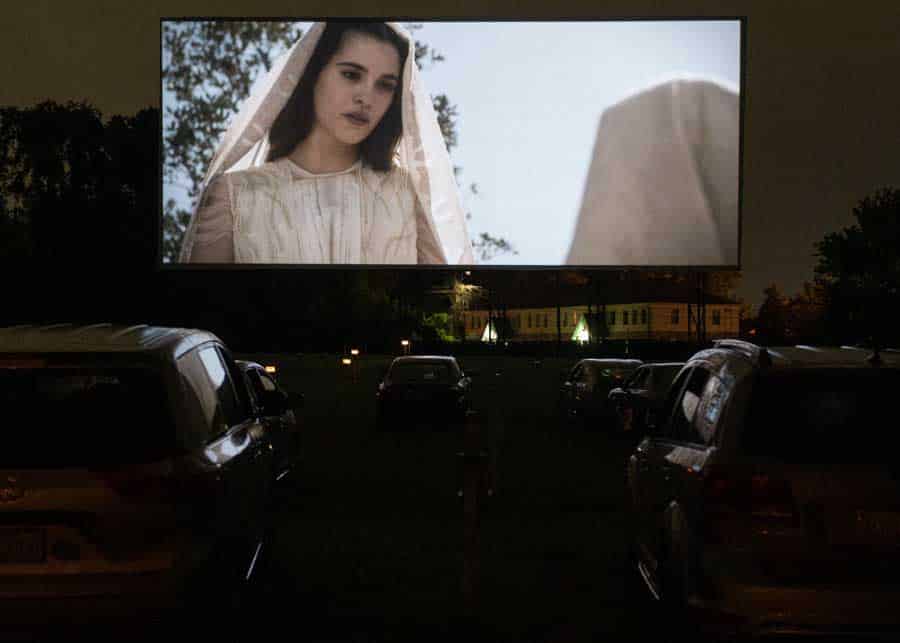 In a personal message shared before the movie, Ullmann asked attendees to remember the Scharbach family in their prayers.
"When all of you go home and pray the rosary after being inspired by this movie, please lift up a special intention for the repose of the soul of Isaac Scharbach," she said.
The movie, set in 1917 in Fatima, Portugal, just before the global influenza epidemic that killed millions, recounts the story of Lucia dos Santos, a 10-year-old shepherd, and her two cousins, Francisco and Jacinta de Jesus Marto, who believe they have been visited by the Virgin Mary. Tensions mount in Fatima between members of the church and the secular government as more learn of their visions. On Oct. 13, 1917, thousands flocked to Fatima to pray with the children and witness the Miracle of the Sun.
Francisco and Jacinta, who died in 1918 from the flu, were canonized by Pope Francis in 2017. In that same year, the girl who grew up to be Sister Lucia was given the title Servant of God in the process of canonization. She had died in 2005.
Directed by Marco Pontecorvo, "Fatima" was filmed entirely in Portugal in 2018. It was originally slated for release in April 2020; due to COVID-19, it is now scheduled to be released Aug. 28 in select theaters and on demand.
In a taped opening statement, Baltimore Archbishop William E. Lori encouraged moviegoers to be inspired by the movie's message.
"At a time when we are facing so many challenges, the message of Fatima is so important in bringing peace within our families and in our world," the archbishop said. "I pray that this film will encourage a new generation to listen to Our Lady's words from 100 years ago to pray the rosary, to offer up their sufferings for the salvation of souls."
The GIVEN Institute was established in 2018. According to Ullmann, the not-for-profit organization "seeks to activate the gifts of young adult women for the church, and for the world by gathering together a network of Catholic female leaders, both lay and religious, who get together through programming focused on faith formation, leadership training and dedicated mentoring."
Claire Grabowski, a GIVEN mentor and parishioner of Holy Redeemer Catholic Church in Kensington, looked forward to attending the prescreening with her husband, John, but was forced to stay at home because of the storm.
"I (was) looking forward to going on a date with my husband," said Grabowski, "and just to be reminded of the hope we have as Catholics to know that God has a plan and we can trust in him even during the suffering and what is going on in this world, that our hope is in God."
The attendees included Craig Gould, director of youth and young adult ministry for the archdiocese, who brought his wife, Katie, and their six children.
In bringing the movie to Baltimore, Ullmann hopes the parallels between the story of Fatima and current crises serve as an inspiring message.
"What's so amazing is if you think about 100 years ago, in Portugal, the story of Fatima is in the midst of World War I, in the midst of an influenza epidemic," Ullmann said. "If you think about all of the fears and anxieties that these families were facing, and the Blessed Mother chose that time, that era to appear to these children and share the message to pray the rosary for peace and that these evils will end, if you pray.
"We are all suffering in so many ways. I hope that by bringing this movie to our local Archdiocese, we can offer, not just hope, but maybe even some miracles that can take place here."
Also see:
Mount St. Joseph alum killed in crash remembered as a 'pure soul'
Copyright © 2020 Catholic Review Media

Print