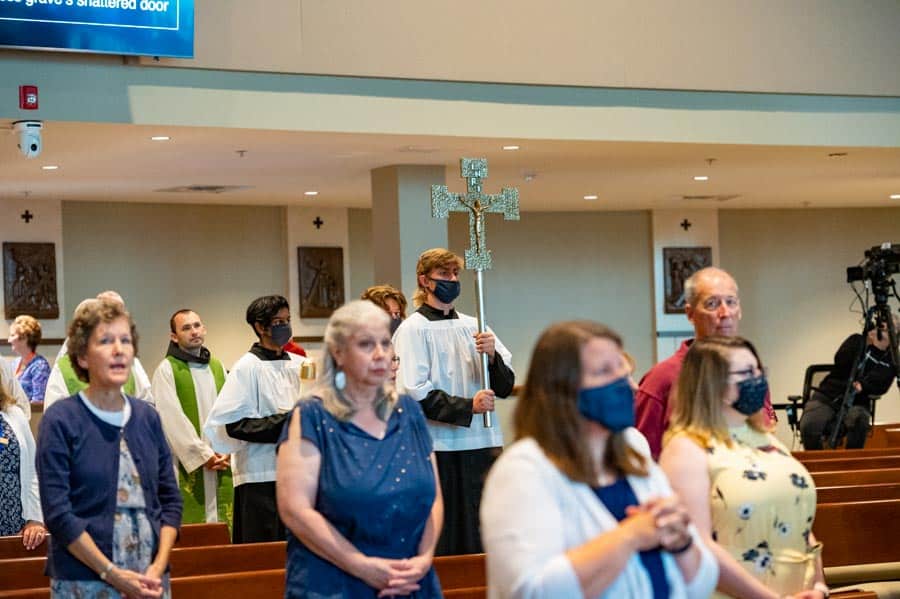 Following an unprecedented academic year that challenged Catholic educators to embrace a hybrid approach to learning – partly in person and partly via videoconferencing – Catholic schools in the Archdiocese of Baltimore are returning to only in-person learning for the new academic year that begins Aug. 30.
The resumption of all in-classroom instruction comes as enrollment has increased approximately 6 to 7 percent from last year, according to Laura Mooney, archdiocesan director of enrollment management. She projects there will be about 16,500 students enrolled in pre-K to high school for archdiocesan schools in the 2021-22 school year. That figure does not include independent Catholic schools.
"I think our educators get the credit for doing such an amazing job," said Dr. Donna Hargens, superintendent of Catholic schools. "Our educators did a great job of just maintaining the focus. Our mission is to provide a Christ-­centered, academically excellent education that focuses on the full potential of every child."
Even amid the pandemic, Catholic school leaders continued work on a comprehensive strategic plan for the Catholic school system, Hargens said. With increased demand, she added, admissions directors have also been responsive to an increasing number of inquiries from parents interested in Catholic education.
Click play below to listen to a Catholic Review Radio interview with Dr. Donna Hargens and an audio report on the blessing of the Mother Mary Lange Catholic School, the first Catholic school to be built in Baltimore City in six decades. Story continues beneath.
Hargens said last year's experience demonstrated the adaptability of Catholic educators and the commitment of parents. Teachers "learned a lot" about using technology to benefit learners, she said, while recognizing that the optimal learning experience happens with the teacher and students in the classroom together.
In tandem with in-classroom instruction, the archdiocese will introduce a masking policy for the new academic year that requires masks when the average new cases per 100,000 residents in a particular geographic jurisdiction is "substantial" (7.1-14.1 cases per 100,000) or "high" (14.2 cases per 100,000 and higher). Masks will be optional when the average number of new cases per 100,000 is "low" (0 to 1.3 cases per 100,000) or "moderate" (1.3-7.0 cases per 100,000).
At press time, with all the jurisdictions within the archdiocese in the substantial or high transmission category and the statewide average in the high range, masks were required in all Catholic schools.
The archdiocese will send parents an email every Sunday to indicate what the masking policy will be for that week. If a particular local government mandates masks, then that policy will supersede archdiocesan regulations, if it is stricter.
Masks will not be required for outdoor activities or while students are eating in the cafeteria. According to protocols announced in August, ongoing sanitization of school facilities and hand hygiene practices will be required to mitigate the spread of COVID-19, RSV infections and influenza.
While the archdiocese encourages those who are eligible to be vaccinated, it is not mandating vaccinations, Hargens said.
As the archdiocese celebrates the Year of the Eucharist declared by Archbishop William E. Lori, Hargens said schools will be focused on educating young people about the meaning of the Eucharist and how Catholics are called to service.
A music teacher is working on preparing a eucharistic song that will be sung throughout the school system, Hargens said, and the archdiocese will provide educational resources such as lesson plans and prayer services centered on the Eucharist.
"Our role is to really make sure that our students have a strong foundation and they grow spiritually as well as academically," Hargens said, "so this is an opportunity for all our students. We really want to capture stories of how students encounter Christ's presence."
Email George Matysek at gmatysek@CatholicReview.org
Copyright © 2021 Catholic Review Media

Print