Part of a series about married couples who met through the Catholic Church or one of its institutions.
Francis Tam grew up in Macao, China, where his family tried to find a bride for him. After he took a teaching job at Frostburg State University and settled in Allegany County, he met Margaret McGann and realized that his family's choices of prospective wives were not right for him.
"We always said he had an arranged marriage in China, but God arranged our marriage," Margaret Tam said.
Prominent religious men and women helped.
Margaret was in the first graduating class of Bishop Walsh School in Cumberland, named for a local product and Maryknoll missionary who became bishop of the Diocese of Kongmoon ­(Jiangmen), China. He was arrested by the Communist government in 1958 and sentenced to 20 years in prison. When he was released in 1970 and crossed a footbridge into Hong Kong, those accompanying him included Tam's sister, Maryknoll Sister Eucharista. When Bishop Walsh returned to Cumberland, Tam wrote a welcome home banner for him in Chinese calligraphy.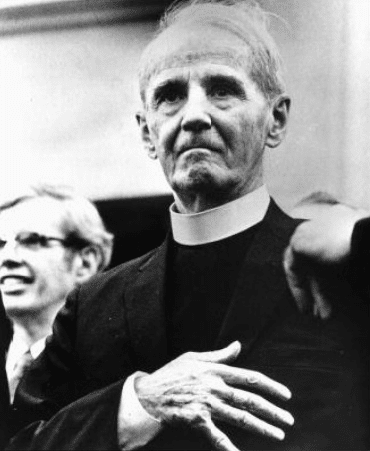 Margaret was teaching at Ss. Peter and Paul School when Tam joined her discussion group for religious educators at St. Patrick, both in Cumberland. After school, she cared for her ailing parents. He would help, washing dishes from that day's meal.
"My father said to me, 'If you don't marry him, I'm going to,' " Margaret said. "My father loved him very much."
Looking at family photos, Margaret noticed that she was related to a priest standing with Bishop Walsh and Sister Eucharista outside a school in China.
"I said, 'Is that a sign we should get married?' " joked Margaret, who, like her husband, has a sister who is a religious woman, School Sister of Notre Dame Iris Marie McGann.
One date included a visit to Ss. Peter and Paul (now a shrine). As volunteers prepared the worship space for Christmas Eve Mass, Francis proposed with a heart-shaped ring.
"I prayed, and I thought it was time and the good Lord wanted me to make this step," Francis said. "He arranged this marriage for me."
They were married Oct. 28, 1978, at St. Patrick, absent her father, who had died of Parkinson's disease.
They differed on how to raise their children, Mary Christina, Peter and Matthew. When Francis accompanied his mother to Hong Kong for several months, they communicated by mail.
"I was understanding the (Chinese) culture and learning to be a part of it," Margaret said. "Just because it sounds different, doesn't make it wrong. … Even after 42 years of marriage, you have to learn to understand and be committed to becoming part of that culture."
Francis said, "For me, there was a cultural awareness and an adaptation of my festivities, especially in terms of (Margaret's) Irish traditions."
Margaret is an extraordinary minister of holy Communion, and, before the pandemic, brought the Eucharist to nursing homes. Both play the organ, a gift Francis has taken to local senior centers. They are involved in several ministries at Divine Mercy Parish, and helped organize a socially distant, outdoor gathering in October to pray the rosary at St. Michael in Frostburg, where its parish office is located.
"We both feel that when you see a need, you fill a need," Margaret said. "We try to do that."
They also share a prayer life.
"We've done Bible studies the last couple of years," Francis said. "We discuss together the passage we're reading. It has given us more faith and motivation in our everyday living."
They advise newlyweds to find ways to have fun together – and pray together.
"Pray to the Lord every day for patience, perseverance and resiliency, and faith and hope," he said.
"Pray together, and for each other," she said. "I think that's key in the success of a marriage."
Know of a Catholic couple that could be featured in the "It's About Love" series? Send details to mail@CatholicReview.org
Also see: Cumberland remembers Bishop Walsh, its missionary hero
Read more 'It's about love'
Copyright © 2021 Catholic Review Media

Print