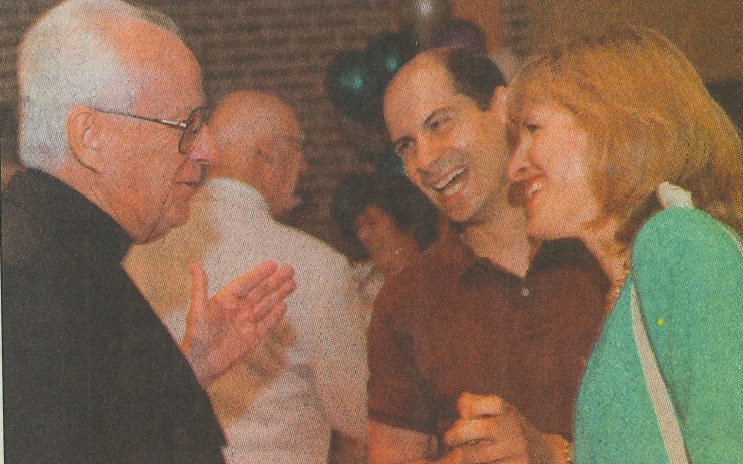 Monsignor Charles Frederick Meisel, founding pastor of Church of the Nativity in Timonium and a mentor to upcoming priests, died Oct. 2 at Stella Maris. He was 96, and at the time of his death was the oldest living archdiocesan priest.
A priest for more than 70 years, Monsignor Meisel had only two assignments during his lengthy period of active ministry. He was ordained May 27, 1950, at the Basilica of the National Shrine of the Assumption of the Blessed Virgin Mary in Baltimore and was soon appointed associate pastor and later administrator of St. Anthony of Padua Parish in Baltimore.
He was charged with creating a new parish in the York Road corridor, the Church of the Nativity in Timonium, in 1968, and he remained at Nativity until he retired in 1996.
"When he first started out, Monsignor Meisel was very much concerned about building a parish that reflected the needs of the people," said Father Joseph Cosgrove, who was one of Monsignor Meisel's seminarian interns at Nativity beginning in 1989. "He was a devoted pastor, and he loved the parishioners at Nativity. He lived in a way so that people were what mattered, and people were drawn to him."
Before the church building came along in 1970, Monsignor Meisel first celebrated Masses at the gym at Ridgely Middle School, prompting the congregation to give it the nickname "Our Lady of Sweat Socks."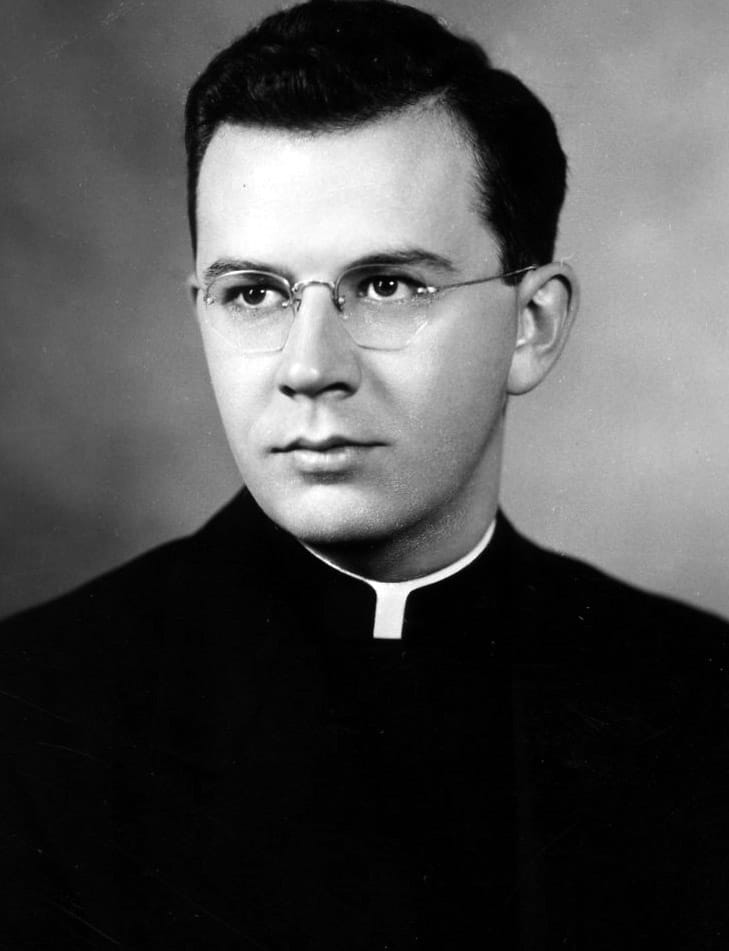 "People at Nativity adored him, and he made it into one of the best places in the archdiocese," said Father Cosgrove. The pastor was so appreciated that a number of parishioners from Nativity created a fund in his name at St. Mary's Seminary in Roland Park, a nod to his passion for mentoring seminarians and young priests.
"He was a great mentor to me and many other seminarians, not just from Baltimore but from other dioceses as well," said Father William Franken, pastor of St. Joan of Arc in Aberdeen, who was first sent to Monsignor Meisel as a seminary intern in 1985. "He was a very pastoral priest and he related well to people. He was an excellent leader at Nativity."
After Father Franken was ordained, the pair would play golf together and have weekly meals on Wednesdays – their shared day off – and Sundays. Monsignor Meisel loved Italian cuisine, and his favorite restaurants were Vellegia's in Towson, and then after it closed, Vito Ristorante in Cockeysville.
"He often came across as a curmudgeon, but that was not the real person," said Father Franken. "He was crusty on the outside but he would have done anything to help out anyone."
Father Franken added that Monsignor Meisel had a great sense of humor and was very witty. He had a lot of catch phrases such as "never apologize, never explain," which friends and colleagues dubbed "Meisel-isms."
After his retirement, Monsignor Meisel assisted wherever Father Franken was pastor, including St. John the Evangelist in Hydes and Our Lady of Hope in Dundalk.
Born in Baltimore, Monsignor Meisel attended St. Jerome Elementary School in Baltimore and St. Charles High School. After graduation, he entered St. Charles Minor Seminary and went on to study at St. Mary's on Paca Street and St. Mary's Seminary in Roland Park.
Monsignor Meisel served as a member of the Presbyteral Council and the Senior Priests Retirement Board. He was named a monsignor in 1990 by St. Pope John Paul II.
Besides golf, Monsignor Meisel enjoyed opera and classical music. After his retirement, he took up painting as a hobby while at Mercy Ridge. Father Franken, who visited Monsignor Meisel twice a week, said he had been healthy and living at Stella Maris for the last four years until a recent heart surgery brought on a stroke.
Longtime friend Jerry Dolle joined the Church of the Nativity in December 1968 when Masses were still in the gym. He and his family grew close to Monsignor Meisel, and Dolle traveled with him to many locations, including Scotland, Ireland, Scandinavia, Canada and Russia.
"He was an avid golfer but never had a hole in one," said Dolle, who played golf with him at the course at St. Andrews in Scotland, which he said was a dream come true for him and Monsignor Meisel.
Father Cosgrove also played golf with Monsignor Meisel, and he said they sometimes put friendly wagers on their games.
"If you missed a putt, he let you know it," Father Cosgrove noted. "He would win all the time. I once won a dollar from him. I wanted to frame it because it was from Meisel."
Father Cosgrove, now retired, looks back fondly at his time spent at Nativity, where he became "Meiselized," an expression people started using for the seminarians Monsignor Meisel mentored.
"He had a very good relationship with those who were his interns," said Father Cosgrove. "It is a special kind of gift he brought to the church to help people prepare for the priesthood. It's a very important position."
What has stuck with Father Cosgrove over all these years as a true sign of his friendship with Monsignor Meisel is when Father Cosgrove lost his mother a week and a half after he was ordained. Monsignor Meisel traveled to Boston with several other priests to lend his support and attend the funeral.
"He wanted to be there so I could have someone to talk to and rely on," he said. "Even as a priest, there are times you do need to lean on other people. I was so touched by this, and it meant a great deal to me. It's something I will never forget."
A lot of people may have described Monsignor Meisel as larger than life, and Father Cosgrove could not agree more.
"There's a quote [from Isaac Newton] that says, 'If I have seen further than others, it is by standing on the shoulders of giants," he said. "Monsignor Meisel was that giant."
On his retirement in 1996, the famously modest Monsignor Meisel politely refused an interview with the Catholic Review.
"I didn't do anything that any other priest would not have done," he said.
Archbishop William E. Lori will offer a 10:30 a.m. funeral Mass for Monsignor Meisel Oct. 6 at St. John the Evangelist Church in Hydes.
George Matysek Jr. contributed to this report. 
Copyright © 2021 Catholic Review Media

Print