From the time Isaac Scharbach was a child, prayer was central to his life. Family members remember finding the boy asleep on the floor by his open prayer book late at night. Later, his teachers at Mount St. Joseph High School in Irvington recalled frequently seeing the young man alone in the school's darkened chapel, taking time away from a jam-packed schedule to pray quietly by himself on late afternoons.
Isaac, from a family of nine brothers and sisters, joined the Catholic Church as a child during the 2009 Easter Vigil at the Basilica of the National Shrine of the Assumption of the Blessed Virgin Mary in Baltimore. Father Albert Scharbach, his father, had been a priest in the Anglican Church, but joined the Catholic Church with his family and was ordained a Catholic priest in 2013.
"As his priest, I gave him Communion daily," said Father Scharbach, a former pastoral assistant to Bishop Denis J. Madden and the current pastor of Mount Calvary Catholic Church in Baltimore.
"He always received the Eucharist as if it was his first time receiving, his last time receiving, his only time receiving," Father Scharbach said. "This was evident in his face and his entire bodily posture: peace, joy and an apparent interior ecstasy that communicated there is no place else he would rather be."
Isaac Scharbach, 21, was killed Aug. 1 when an automobile struck him from behind in Upperco while he was riding his bicycle. The driver remained at the scene, and Baltimore County Police are investigating the crash.
Father Scharbach remembered his eldest son as a "pure soul" who treated everyone with kindness.
"Isaac was always kind, he always thought the best of others and he was always trying to help people," his father said. "And I mean always, without exception. There are very few other people I can say that about, if anyone."
A gifted artist, Isaac expressed his faith through the ancient practice of writing religious icons. He spent a week studying with George Cortis, a prominent iconographer, and travelled to Cyprus to study iconography. He also learned about the craft during a week's stay at the Vatopedi Monastery at Mount Athos, where he began to be mentored by a monk who was the monastery's primary iconographer, according to Father Scharbach.
"He was invited to spend extended time there to share in the monastic life and study iconography," Father Scharbach said. "He had arranged to do that this summer, but couldn't because of the pandemic."
A double major in art and classical studies, Isaac was about to enter his senior year at Davidson College in North Carolina. He was involved in campus ministry there and was working to establish a eucharistic adoration chapel on the campus of the Presbyterian college. While in college, Isaac regularly rode his bike several miles to spend time in adoration at a church in a nearby town.
Clay Bonham, a religion teacher and director of campus ministry at Mount St. Joseph, said Isaac had also been involved in campus ministry in high school.
"He had a strong devotion to the Divine Mercy Chaplet and said we should do it on Fridays," Bonham said. "We did, and he brought other students in on that."
Bonham said Isaac, a member of the Class of 2017, displayed mature qualities at a young age and mentored his peers in their faith in an unassuming way.
"He was this sweet little cherub boy who had pretty strong convictions," Bonham said. "He was a quiet leader."
Jason Ader, one of Isaac's former science teachers at Mount St. Joseph, said he possessed rare humility and an immense intellect.
"As someone so intensely focused on the classics and the arts, you wouldn't think he would focus on high-level science," Ader said, "but Isaac jumped into AP chemistry and did incredibly well. He was an all-around world scholar. He could do it all – classics, math, the sciences. He was so talented, but never flashy. He was just quietly extraordinary."
Father Scharbach said his son had been considering a call to religious life and was looking at graduate schools and considering a career that would enable him to combine his interest in art and philosophy.
Isaac viewed the practice of writing icons as an intense experience that required much prayer, Father Scharbach said. In a recent journal entry, Isaac wrote that "you have to read the life of the saint you are painting and live it yourself."
His son, who had been active in cross country and track, was inspired by beautiful landscapes and would go out of his way to take in a sunrise or sunset, Father Scharbach said.
Father Scharbach noted that he and his wife, Abby, named their son after the biblical Isaac, the promised son of Abraham. The day Isaac died, his mother was participating in a leader's training session for the Catechesis of the Good Shepherd program. The day's study focused on the biblical story of how Abraham offered his son, Isaac, as a sacrifice. The group also examined the biblical meaning of the name, translated as "he laughs."
"The biblical Isaac was named after Abraham's capacity to wonder about the stars and laugh in joyful surprise at God's providence," Father Scharbach said. "That describes the personality of our Isaac."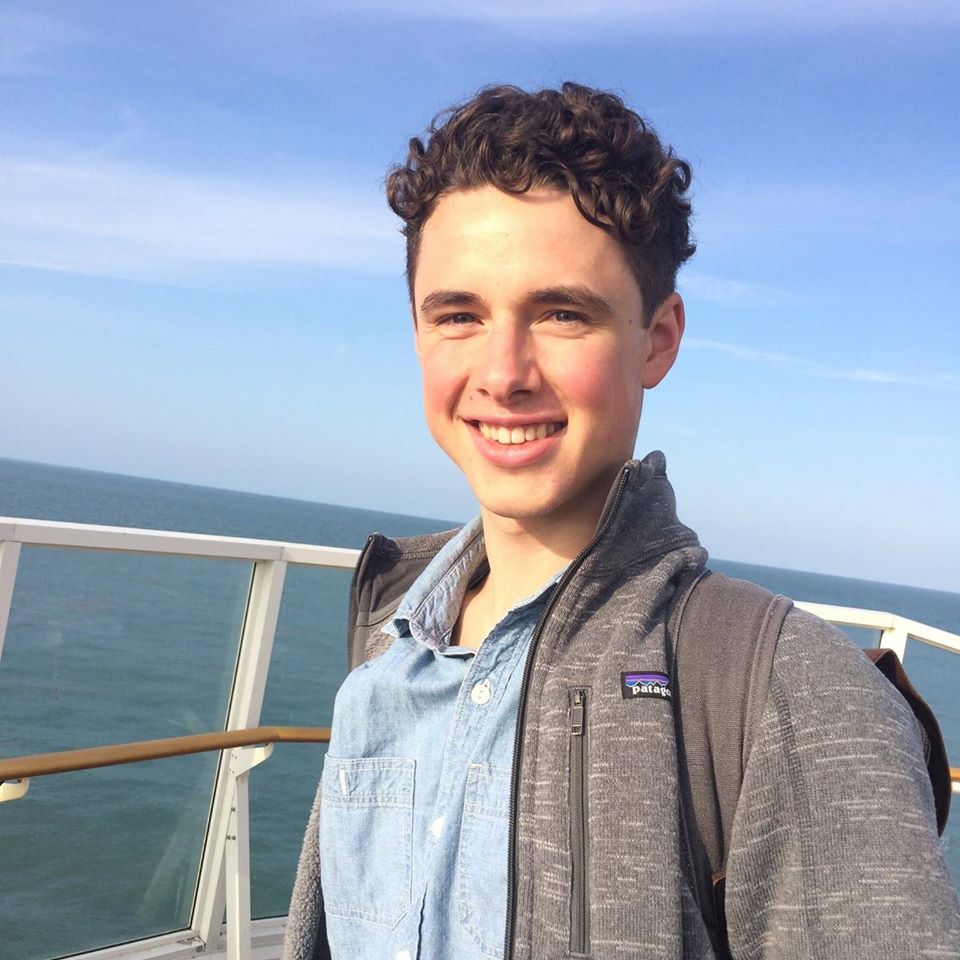 Father Scharbach said his family appreciates the outpouring of support received from the faith community in the wake of Isaac's death. All the bishops of the Archdiocese of Baltimore have contacted him and Masses are being offered around the world. Friends have also set up a page to raise money to help with funeral expenses.
"I grieve when I think of the lost potential for Isaac's earthly life, in his desire to pursue art, philosophy and theology, but above all in his potential to serve others," Father Scharbach said, adding that Isaac also had a "seemingly irreplaceable role in our family, where he served as the primary balm who could soften, inspire and encourage each of us."
"But I know God wouldn't take someone so devoted to him unless there is a great blessing intended," Father Scharbach said. "Beginning with our family, we will grow to better reflect Isaac's purity to fill the void that he left."
A viewing will be held Aug. 5 from 2 to 4 p.m. and 6 to 8 p.m. at Ruck Towson Funeral Home. A funeral Mass will be offered Aug. 6 at 11 a.m. at St. Bartholomew in Manchester. It will be livestreamed here. Social distancing measures will be required.
Memorial contributions to build an adoration chapel at Davidson College may be made here.
Email George Matysek at gmatysek@CatholicReview.org.
One year after his son's death, Father Scharbach reflected on Isaac's impact in the following Catholic Review Radio interview:
Copyright © 2020 Catholic Review Media

Print