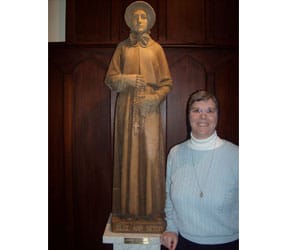 Sister Mary Catherine Warehime, a Baltimore native who served as a teacher and administrator in Catholic schools, died Dec. 17 at St. Agnes Sisters' Residence in Baltimore. She was 65, and had been a Daughter of Charity for 46 years.
Born Ginger Lee Warehime, Sister Mary Catherine wasn't yet Catholic when she first felt called to consecrated life, according to a 2009 article in the Catholic Review.
When she decided to attend Seton High School with her best friend, she was simultaneously drawn to the real presence of the Eucharist and the Daughters of Charity at the Baltimore school. Soon, she began to wonder what it would be like to be a religious sister, the Catholic Review reported.
"Of course I dismissed it because I thought, that's crazy, you're not even a Catholic – but I couldn't stop thinking about it," she said.
She took religious instruction and joined the Catholic Church June 3, 1971, when she was 16. Although she soon began attending vocation retreats, the Catholic Review reported, she grappled with the idea of joining consecrated life because she wanted to "get married and have 10 children."
"Finally one day, I was just struggling and I said, 'OK, God, whatever you want, I'll do,'" Sister Mary Catherine said. "I just felt a peace, and I knew that I was being called."
The 19-year-old entered the Daughters of Charity in 1975.
After her postulancy and formation, Sister Mary Catherine assisted at Mother Seton School in Emmitsburg and was missioned to St. Michael's House in Baltimore. After earning a bachelor's degree in elementary education from what is now Notre Dame of Maryland University, she served as teacher in Virginia and West Virginia. She returned to Mother Seton School in Emmitsburg as a teacher for three years, before assuming the role of principal, 1991-95. She served as local community superior, 1989-1993.
Sister Mary Catherine then organized and led an early childhood educational program at St. Ann Parish in Hyattsville; served in North Carolina; and in June 2005 began to serve in vocation ministry for the Emmitsburg Province. In July 2007, she was appointed to the Provincial Council of the same Province, and in 2011, after the Emmitsburg Province joined three other provinces of the Daughters of Charity in the United States to form the Province of St. Louise, she was appointed to the Provincial Council, and also served as provincial secretary and councillor.
In the 2009 interview with the Catholic Review, Sister Mary Catherine recalled her vocations work, noting that women considering consecrated life sometimes asked her: how do you know for sure?
"I don't know that you know anything for sure," Sister Mary Catherine said. "When you meet a young man and you fall in love, are you sure this is going to last forever? You know you want it to, but are you sure? No. None of us – we can't be absolutely positive. We have to take a day at a time. It's a leap of faith."
After her term of office with the province was completed, Sister Mary Catherine returned to Baltimore and joined the newly established Office of Migration and Modern Slavery. During that time, she also cared for her father, mother and a brother as they became seriously ill and died within 22 months of each other. In March 2020, Sister Mary Catherine was diagnosed with liver cancer. According to an obituary prepared by her religious community, after treatment proved ineffective, "she peacefully chose to discontinue treatment and embraced her final journey here on earth."
Sister Mary Catherine had been a member of the board of Mother Seton Academy in Baltimore and Marian Middle School in St. Louis. She told the Catholic Review she enjoyed all aspects of her ministry.
"I do believe God calls us to be where we are," she said. "If we're faithful to that calling, we get the graces we need to get through the difficult times."
A private wake service was held Dec. 21 in the Villa Chapel in Emmitsburg, followed by the Mass of Christian burial in the Mary Chapel. Burial followed at Sacred Heart Cemetery in Emmitsburg. 
Copyright © 2021 Catholic Review Media

Print