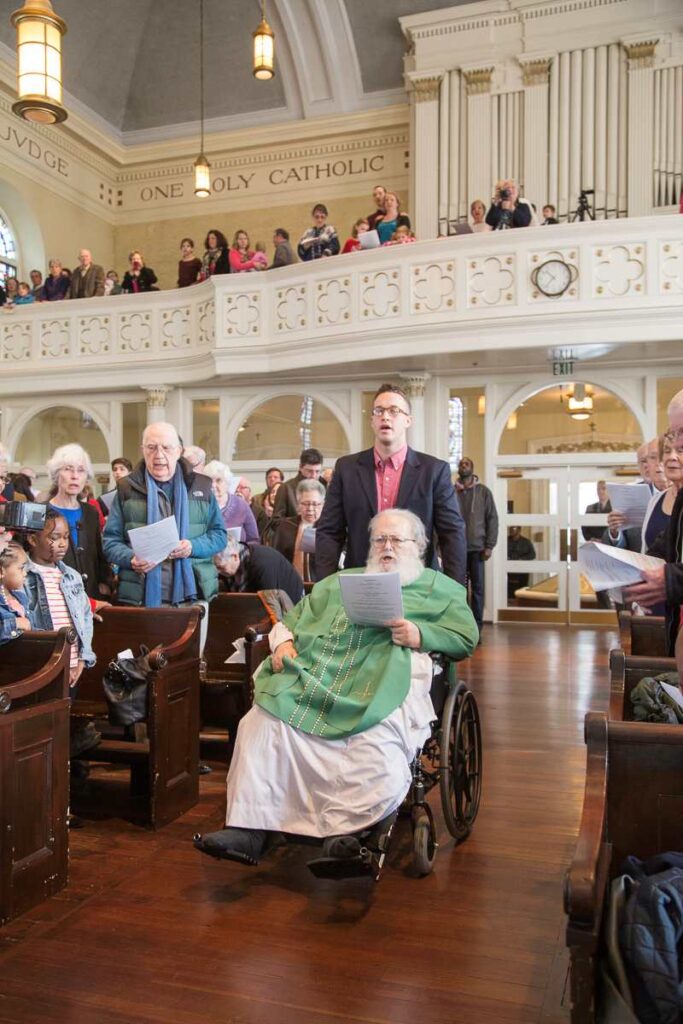 Father Richard T. Lawrence, who over more than four decades as pastor of St. Vincent de Paul Parish in Baltimore's Jonestown added to its distinctive history, and made it a haven both for those experiencing homelessness and the kindred faithful who serve them, died Thanksgiving Day, at age 77.
His passing occurred Nov. 26 at Stella Maris, as the parish, according to its Facebook page, was offering a Thanksgiving liturgy that was being prayed for him. That juxtaposition was not lost on leaders and laypeople in the Archdiocese of Baltimore who knew the priest, an erudite scholar, entertaining storyteller and force for change.
"Throughout the archdiocese and the City of Baltimore there are so many who mourn the passing of Father Dick Lawrence," Archbishop William E. Lori said in a statement. "From our neighbors who are homeless to those who enjoy positions of the highest prominence, he was known for his fierce commitment to living out the Gospel call to love the least among us.
"May his legacy long be a reminder of the priorities we must keep before us as we strive to bring peace and healing to our city," the archbishop said.
Influenced by a firebrand parish priest known for protesting racism and educated in high school and college by Jesuits, Father Lawrence became a fierce opponent of the death penalty and an equally strong proponent of Catholic education, all with a sense of humor that included self-deprecation.
He had been an imposing presence at the church at the foot of the Fallsway from 1973 until October 2016, when he was hospitalized after a fall at his nearby residence.
"He was a great man, a giant," said Monsignor Richard J. Bozzelli, who in the 1990s assisted with Beyond the Boundaries, an initiative that included Father Lawrence. "He was smart, brilliant really, but with a practical nature. He knew how to make things happen. He was a brave, stand-up guy, tenacious, who would never let go if something felt right to him."
Pikesville roots
Father Lawrence grew up in St. Charles Borromeo Parish in Pikesville, where he was an altar boy, and attended its parish school. In 2008, he told the Review that his social conscience could be traced to the dinner table, where his mother Irene's response to anything troubling voiced by him or his late brother, Gene, was, "If that were true, what kind of person would God be?"
In 2017, Father Lawrence elaborated on his parents' example in another interview with the Review.
"My father would be in his big old chair, reading his paper," he said. "My mother would be on the couch, reading a mystery story. Even at our age, we could sense they were not alone – they were profoundly aware of the other's presence, and it would have been profoundly different if one of them had not been there."
At St. Charles Borromeo, the priests included Monsignor Martin J. Gamber and Father Joseph M. Connolly, who would become a familiar figure at protests of racial segregation.
"They were profound thinkers and hard-driving doers, legends of the archdiocese," Father Lawrence told the Review. "He (Father Connolly) was a leader in the civil rights movement, the liturgical movement and the ecumenical movement, before any of them were popular."
He was a 1960 graduate of what is now Loyola Blakefield, where he developed his oratory skills on its debate team. He entered what is now Loyola University Maryland. In August 1963, he attended the March for Jobs in Washington, D.C., that included a famous address by Rev. Dr. Martin Luther King Jr. on the steps of the Lincoln Memorial.
As an undergraduate, Father Lawrence frequented St. Vincent de Paul Parish, during the heyday of its "Printers' Mass," a 2:30 a.m. Sunday liturgy that drew pressmen from the Baltimore Sun and News Post-American, as well as hospital and other shift workers.
"The Printers' Mass saved my life more than once," he told the Review in 2013. "As a freshman, sophomore at Loyola College, you'd go to a dance that ended at 1, buy a lady a drink and take her to 2:30 Mass. You'd fold the bulletin into your jacket, and get her home at dawn to a father demanding to know, 'Where have you been with my daughter?'
"With the bulletin, you went from being the scoundrel of the world to a prospective son-in-law."
Early priesthood
He entered St. Mary's Seminary on Paca Street. In addition to Father Connolly and Monsignor Gamber, he counted as influences Sulpician Father Eugene A. Walsh and Father Henry Alpert.
"They were a generation of giants," Father Lawrence told the Review in 2008. "They were setting a credible example of a good way to invest a life. I told myself, 'If I can do that with my my life, that would be cool.'"
Father Lawrence was one of eight men ordained in 1968 for the archdiocese. By 2016 he was the only one still in the priesthood, as several left for the lay life.
Father Lawrence was a large man, and a fellow seminarian described him as having courage "as big as his belly." He was ordained a month after the assasination of Dr. King, which occurred as he was spent his transitional diaconate at St. Gregory the Great in West Baltimore. He was known to leave the rectory and calm tensions among citizens and those policing them.
"I had to learn to work both sides, to keep people from getting hurt," he told the Review in 2008.
Father Lawrence's early assignments included Blessed Sacrament in North Baltimore.
He earned a master's degree in sacred theology from St. Mary's Seminary, a doctorate in spirituality from The Catholic University of America, and a second master's degree, in business administration from Loyola, which came in handy during his time as finance director for the archdiocese.
"(Monsignor) Porter White told me, 'If you're going to have the ship at sea, you had better go to navigation school,'" Father Lawrence told the Review in 2017.
Life on Fallsway
Father Lawrence became pastor of St. Vincent de Paul in 1973. The parish describes its worship space as the "oldest Catholic parish church" in the city. A parish guide notes that in the 1880s it was home to two parish schools and "boasted more organizations … than any other parish in the archdiocese."
"When I got there, I found St. Vincent to be small and poor, but with a great spirit and a great liturgy and a tradition of involvement in social action," Father Lawrence said in the 2017 interview. "I looked at it and said, 'These are my kinds of people.'"
Under Father Lawrence, St. Vincent de Paul's parish roll included many who drove in from the suburbs. In addition to heading the Jonestown Planning Council, his activism included developing lay leaders.
"There is an expectation that all of us are to participate in the life of the parish," Colleen McCahill, told the Review in 2017, when the parish celebrated its 175th jubilee.
"If you had an idea or initiative for the parish or the city that was right and just and good, he (Father Lawrence) had your back," McCahill said. "As somebody who has worked for him, when we didn't have perfect agreement on everything going on, he was still very respectful and willing to engage, and he had my back."
The St. Vincent de Paul rectory became a gathering place for eclectic people and ideas, as Daniel Medinger discovered in 1986, when he became editor of the Catholic Review. Looking for a place to live, he placed a classified ad in the Review, and Father Lawrence responded.
"We had a three-room suite in the rectory," said Medinger, who would be joined by his wife, Patti, and their two school-age children. "There were a lot of doors in that rectory, and he loved to play hide and seek with the kids.
"For a while, it was just the two of us, me and Father Dick. We would spend the evenings working, but then around 10 p.m., we would sit down to talk. He would light up his pipe, and tell me the history of the archdiocese, or at least his version. Later, I went to him several times for advice. His (advice) always worked."
Along with Monsignor William F. Burke of St. Francis of Assisi and retired Monsignor Richard H. Tillman, Father Lawrence was among the priests instrumental in Beyond the Boundaries, its goals including fair housing.
Monsignor Bozzelli, pastor of St. Bernardine in Baltimore, was ordained in 1994 and assigned to help then-auxiliary Bishop John Ricard, a Josephite priest, in various urban ministries.
"The model for Beyond the Boundaries was working together, as a region," Monsignor Bozzelli said. "It was responsible for the first affordable housing bill in the city. Dick (Father Lawrence) had great vision, and was very creative. He told us, 'Politicians are never going to initiate this. We have to create the parade, so that we can invite them to stand at the head of it.' That was a typical Dick move."
The parish's embrace of the issue was most visible in the park on the south side of the church. When Baltimore City leaders threatened arrest of the homeless for sleeping there in 2008, Father Lawrence defiantly vowed to be the second person arrested.
Our Lady of the Fields in Millersville was among the parishes that came to the church at the foot of the Jones Falls Expressway to provide meals.
Less known is the parish's Resource Exchange, which partnered with Health Care for the Homeless to furnish apartments for clients, two or three households a week, before the pandemic set in.
Distinctive liturgy
Father Josh Laws, pastor of the Catholic Community of South Baltimore, across the Inner Harbor from St. Vincent de Paul, first encountered Father Lawrence during Justice Action Week, an archdiocesan immersion program for high-schoolers.
Father Laws was then an undergraduate at Loyola University, and among the program's counselors. It included young people visiting St. Vincent de Paul, a practice Father Laws continued when he taught at The John Carroll School in Bel Air.
"Father Lawrence gave tours of the church, which was fascinating," Father Laws said. "Its restoration included markers on the side balconies. He let us know, that designates where the people who came to pray who were black were relegated to. That was a reminder of where our church had been, and our sins."
Those visits were followed by discussions, led by Father Lawrence, in the rectory.
"He opened the eyes of my students to a world they didn't know existed," Father Laws said. "My students would always leave on fire, asking themselves, how can they make the world better. He was, and still is, a prophetic voice."
Father Lawrence's vision for the parish included a "Book Altar," volumes for each of the books in the Old and New Testaments, which were taken to the ambo.
"He had a view of the Reformation, that Protestants took the Bible, and Catholics, the Eucharist, and he wanted Catholics to reclaim the book," said Medinger, among those who will miss Father Lawrence's preaching. "He was the best homilist one could imagine. He engaged all of us. Whatever level you were on, you thought he was talking to you."
Father Lawrence's late brother, Gene, served the city as principal of Merganthaler Vocational-Technical High School. The priest's affinity for education included personal support of Ss. James and John School, which later this year will become part of Mother Lange Catholic School.
Father Lawrence had moved from the parish rectory to an apartment on the Inner Harbor by October 2016, when injuries sustained in a fall required a stay in a rehabilitation facility. He celebrated a farewell Mass at St. Vincent de Paul in February 2017.
"What I've seen over the past five months has been very encouraging. We've reached the point where I'm not needed anymore," he said in his homily, offered as he sat in a wheelchair. "These past 40 years have been great fun; I've enjoyed them immensely. I thank you from the bottom of my heart for all you've done for me and with me over that time period."
That homily was followed by a lengthy standing ovation.
Arrangements are as follows:
Thursday, December 3
Reception of the body at church
7:00 PM
Live-Stream only
Friday, December 4
Visitation throughout the day
In four time-slots (up to 10 persons each)
Registration required: www.stvchurch.org
Friday, December 4
Wake Service
7:00 PM
Father Joe Muth Presiding
Attend via Live-stream or in person.
Registration required for in-person attendees: www.stvchurch.org
Followed by an hour of visitation by live-stream only
Saturday, December 5
Funeral Mass
11:00 AM
Archbishop William E. Lori Presiding
Sulpician Father Robert Leavitt preaching
Attend via Live-stream or in person.
Registration required for in-person attendees: www.stvchurch.org
Due to coronavirus pandemic restrictions, interment is private.
This article includes material from correspondents Dean Smith and Erik Zygmont that previously appeared in the Review. 
Editor's Note: This article was updated at 12:58 p.m. on Dec. 1 to include the arrangements.
Email Paul McMullen at pmcmullen@CatholicReview.org
Also see:
Word, sacrament, service: St. Vincent de Paul celebrates beloved pastor's retirement
Legendary city pastor, caretaker of 'homeless park,' reflects after 48 years as active priest
Copyright © 2020 Catholic Review Media

Print