Third in a series about married couples who met through the Catholic Church or one of its institutions.
It was at the Mother Mary Lange Awards in 2015 when Aziza Cooper, the administrative assistant for the Office of Black Catholic Ministries, was approached by Ava Brown about "a good man, a man of God" at her church, St. Edward in Baltimore.
"She said 'I have a nice young man I'd like you to meet,' " she recalled. "At first I was apprehensive, but then I was like, 'Yeah, sure.' "
Siani Kayani was on the other end of that matchmaking.
"Ms. Ava gave me a similar introduction to Aziza, that she was a very faithful person, very kind and sweet, and friendly," Kayani said. "I thought it would be nice to have a friend within the church, at least in the Baltimore community, around my age."
The two emailed, talked on the phone and finally met in person April 2, 2015, Holy Thursday, their first date.
"Things took off from there," she said, in a bit of an understatement.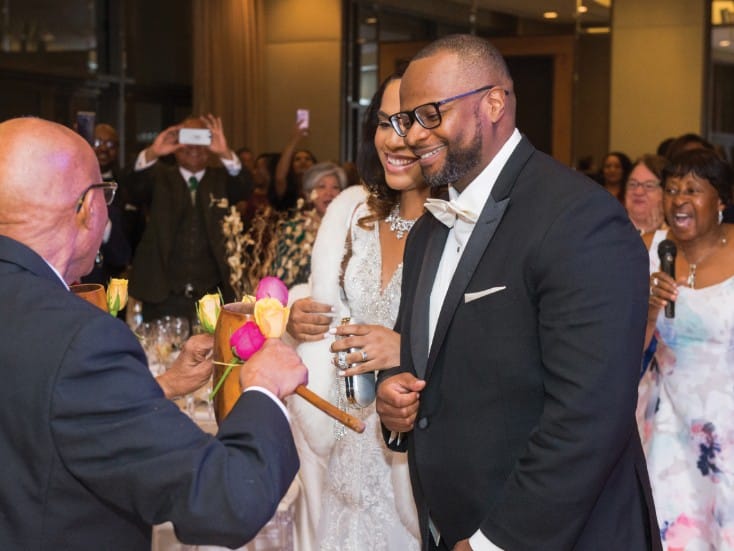 They were married at the Basilica of the National Shrine of the Assumption of the Blessed Virgin Mary in Baltimore Nov. 24, 2018. Bishop Denis J. Madden presided. Spiritan Father Honest Munishi was the main celebrant, and Spiritan Father Evod Shao and Vincentian Father Eugene Sheridan were concelebrants.
The marriage blended two cultures and continents.
Born and raised in West Baltimore, Aziza Kayani attended St. Cecilia and Seton Keough High School. Her husband was born in Dar es Salaam, Tanzania, and moved to the United States when he was 5. He grew up in Montgomery County, got a degree from Washington and Lee University in Lexington, Va., and then a master's in Health Management Systems from Duquesne University in Pittsburgh.
His career brought him to Baltimore; Siani works for the U.S. Department of Health and Human Services.
They share common interests and a dedication to the church. After getting to know Aziza, Siani said he was smitten by how different she was from other women. It didn't hurt that her name was a popular one in Tanzania.
"One of the things that attracted me to her is that she's different from what I've been used to, in a very beautiful way," he said. "It was enjoyable to introduce my background to her, especially when I took her to Tanzania."
That 2017 trip was a milestone for Aziza.
"I know it sounds cliché, but something comes over you and you feel like 'Wow, I'm back home – I'm in the Motherland,' " she said.
She noticed that the cultural differences extended to worship and faith.
"The Tanzanians were very spiritual, more so than people here," she said. "I think sometimes people here forget the sacredness of certain aspects of the church. I'd say it was a stronger sense of spirituality. There was cultural infusion in the Mass."
At their wedding reception, she was welcomed into the Kayani family with mbege, a traditional brew from Tanzania's Chagga tribe, served in a wooden calabash to both bride and groom. She was presented with kangas, a colorful garment, in a ceremony that welcomed her to the family and Tanzanian community.
They reside in Catonsville and worship at St. Edward. They credit their faith as the pillar that has kept their marriage strong.
"It's what guides us through our challenges," he said. "It's what we cling to in desperate times, it's what we rejoice with when we begin our celebrations. It's our foundation."
Copyright © 2020 Catholic Review Media

Print