As early voting begins in some states for the coming presidential election, Baltimore Archbishop William E. Lori is urging his parishioners to be guided by the principles of Catholic social teaching as they complete their ballots.
"Casting our votes is not only a privilege but also a solemn duty and responsibility," Archbishop Lori wrote in a column for the Catholic Review.
Stressing the principles of human dignity, the common good, subsidiarity and solidarity, Archbishop Lori acknowledged that today's politics has become increasingly partisan and contentious. He challenged parishioners to look beyond party labels and consider the "real-life consequences" of each candidate's positions.
Both presidential campaigns have made efforts to woo Catholics voters, seen by political analysts as one of the few voting blocs with a sizeable number of undecided voters.
President Donald Trump has promoted his efforts to restrict access to abortion, the preeminent issue for some Catholics. Former Vice President Joe Biden, a Catholic who attends Mass regularly, has stressed other issues important to Catholics, including greater access to health care and a more welcoming stance toward immigrants and refugees.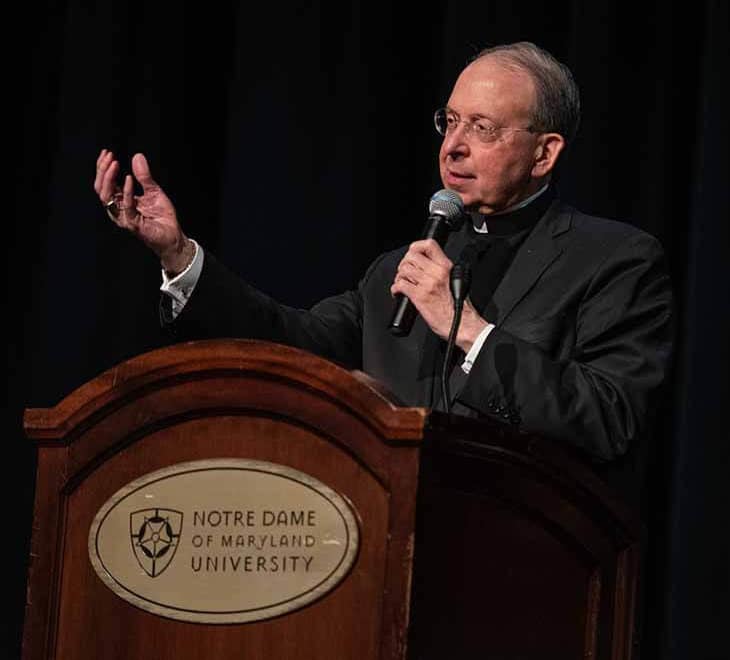 Archbishop Lori highlighted those very issues in his column.
He wrote that we are called to have "a special love for the unborn as well as for those who are poor, vulnerable or oppressed, and those who are victims of racism, prejudice, brutality or deprivation of life's necessities, both at home and abroad."
"This includes those who have arrived recently on our shores and who are trying to create a better life for themselves and their families," Archbishop Lori wrote.
While the archbishop, like most clergy, refrained from making an endorsement, he had advice for voters.
"As Catholics, we can look to our faith for guidance," Archbishop Lori wrote.
He recommended Catholics look to Jesus' teachings, specifically the Beatitudes' message of peace.
"These traits, which Jesus personified and which we can only approximate, do not constitute a voter's guide, but they should prompt us to do everything possible to ameliorate our bitterly divisive political environment – or at the very least, not to contribute to the rancor," Archbishop Lori wrote.
Jenny Kraska, executive director of the Maryland Catholic Conference, said she couldn't agree more with the archbishop's call for more civility and understanding in our political dialog.
"We just live in a very contentious and very polarizing world right now, and the more we can come to these issues about politics in a more civil fashion, the more we will get out of it and the more we'll be able to do in the public square," Kraska said.
Kraska said the Maryland Catholic Conference, which promotes Catholic issues at the statehouse on behalf of Maryland-serving bishops, has been hard at work to ensure Catholics cast their ballot come November.
The conference has sent kits to pastors across the archdiocese to help local parishes promote voting, including ideas for features in church bulletins and social media posts. The conference has also produced a voter's guide for the state's congressional races.
Kraska said giving people all the information that they need to vote is even more critical this year.
"It's especially important this year – with all of the craziness around voting and COVID and how voting is going to look – that voters understand what the process is," Kraska said. "They should be prepared for that and make accommodations to make sure that they can vote."
In addition to the presidential and congressional races, Baltimore City voters will elect a new mayor, comptroller and city council members. Voters in Anne Arundel, Carroll and Howard counties will elect school board members.
In Maryland, people can vote in person on Election Day, Nov. 3. Early in-person voting will also be held from Oct. 26 to Nov. 2.
Because of the coronavirus pandemic, all voters are also eligible to vote by mail-in absentee ballot. The last day to request a ballot by mail is Oct. 13. People who have already requested a mail-in ballot should start receiving them by the week of Sept. 28. Voted ballots must be received or postmarked by 8 p.m. on Election Day to be counted. State officials encourage people who vote by mail to return their ballots as soon as possible.
Voters can also drop off their ballots at select locations.
For more information about how to register to vote or check your registration, visit https://elections.maryland.gov/elections/2020/index.html
For Maryland congressional candidates' responses to a survey by the Maryland Catholic Conference, visit mdcathcon.org/elections.
Email Tim Swift at tswift@CatholicReview.org
Read more election news & commentary
Copyright © 2020 Catholic Review Media

Print