Omosigho Osian was baptized in the Catholic Church in her native Nigeria. She received her first holy Communion in Los Angeles, shortly after her family arrived as refugees to the United States, but "lost her way" toward confirmation.
It was during college, as a pharmacy student, when Osian found the Basilica of the National Shrine of the Assumption of the Blessed Virgin Mary in Baltimore, where she got married and got back on track in her faith.
She said raising her children in the Catholic faith motivated her finally to pursue the sacrament of confirmation.
"As a mother, I set the example for my children," she said. "When they see me, I want them to say, 'Mom has true faith and with the strength of God she does whatever she can for us.'"
Osian hopes her children realize they are not alone in their faith, but that God is with them in a community, supporting them in their life with Christ.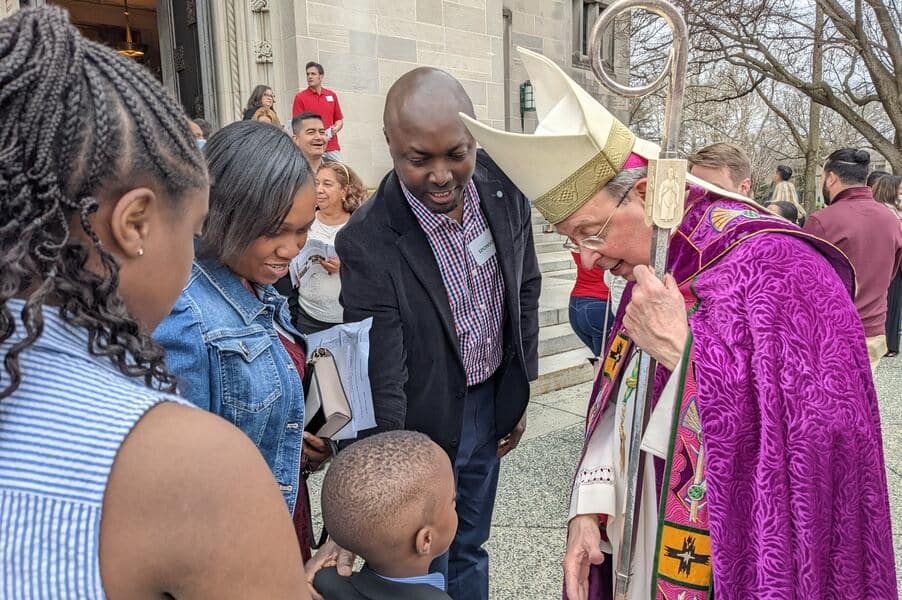 Osian was among more than 1,000 people from 55 parishes throughout the Archdiocese of Baltimore who gathered for the Rite of Election and the Call to Continuing Conversion March 6 at the Cathedral of Mary Our Queen in Homeland.
They included "candidates" such as Osian, who were baptized, but who have not received one or more of the sacraments of initiation. Others included "catechumens," men and women who have not been baptized.
After parish representatives called the catechumens by name to come forth to the altar and the archbishop signed the Book of the Elect, 166 catechumens officially became "the elect." Similarly, as parish representatives called forth candidates to the sanctuary, 309 candidates were presented in the cathedral.
Their respective godparents and sponsors accompanied both groups as they were all asked by Archbishop William E. Lori to affirm the preparation and faith of the ones presented. The candidates and catechumens proclaimed to the archbishop their intent on pursuing full communion with the Catholic Church.
At the April 16 Easter vigil at their respective parishes, the elect will receive the sacraments of baptism, first Communion and confirmation, while candidates will receive the sacraments of holy Communion and/or confirmation.
In previous years, Rite of Election and Call to Continuing Conversion has taken place simultaneously at different sites in the archdiocese with different bishops, but this year was consolidated at the Cathedral of Mary Our Queen. It was the first Rite of Election and the Call to Continuing Conversion celebrated at the archdiocesan level since the start of the coronavirus pandemic.
Archbishop Lori presided at the rite, assisted by Auxiliary Bishop Bruce A. Lewandowski, C.Ss.R., urban vicar and episcopal vicar for Hispanic Catholics.
In his bilingual homily, the archbishop invited catechumens and candidates to reflect gratefully on all circumstances, including the challenging ones, which have led them to this point in their lives.
"The Lord, in his endless love for you, has allowed his grace to work through all these to lead you into the new and abundant life he has promised you beginning now and blossoming into eternal life in heaven," he said. "How beautiful and yet how hidden is the providence of God."
Nine years ago, Nelson Ordones was sitting in the pews of the cathedral determined to move forward in his faith and to be in full communion with the Church.
After receiving the three sacraments of initiation, particularly the Eucharist, he felt a calling from God to serve as Spanish RCIA catechist at his parish, St. Mary in Annapolis.
A native of Jutiapa Department, Guatemala, Ordones said he has adopted his catechist role as his "vocation."
In the March 6 rite, Ordones accompanied 13 catechumens from St. Mary, including Andrés Guzmán Cruz.
"There was one time during Mass in which I wanted to receive the Eucharist and jump into the Communion line, but I knew it was not right without having received the sacraments," Guzmán recalled of a time attending Mass at St. Mary with his family.
Guzmán said his parents raised him Catholic and frequently attended Mass in his native Oaxaca, Mexico, but due to economic challenges, his family was not able to baptize him.
In 2021, he felt the calling and need from God to pursue receiving the initiation sacraments as an adult.
"I feel great peace in my heart and a unique connection with God that I have never felt before," he said as he sat at the cathedral for the first time. "I think being here is the best decision I've ever made in my life."
After 32 years of marriage with his beloved "cradle-Catholic" wife, Paul Schafer decided to join the Catholic faith when he heard Father Pete D. Literal, pastor of St. John the Evangelist in Hydes, say "all are welcome."
The candidate asked his wife, Maddalena Schafer, to become his sponsor.
Although Paul Schafer was Protestant, the couple raised their children in the Catholic faith. Their children attended St. Margaret School in Bel Air, Mercy High School in Baltimore, Notre Dame Preparatory School in Towson, Notre Dame of Maryland University in Baltimore and La Salle University in Philadelphia.
"We're all in one faith now," he said, referring to his family.
His parish coordinator, Barbara Anderson, said St. John the Evangelist Parish community will nourish the spirituality of its catechumens and candidates during Lent with a day-retreat, parish social events including fish fries, Stations of the Cross and reflections on conversion and immersion in the community.
"As he (the Lord) calls you, his voice penetrates to the deepest part of you that was made for him," Archbishop Lori said. "Today we rejoice for what has been hidden in your hearts has now come to light."
Email Priscila González de Doran at pdoran@CatholicReview.org
Read More Crisis in Ukraine
Copyright © 2022 Catholic Review Media

Print