Note: This is part of a package of editorial content celebrating the 10th anniversary of Archbishop William. E. Lori's installation as archbishop of Baltimore and the 45th anniversary of his priestly ordination. Read all the stories here.
Of all the many priests who serve in the Archdiocese of Baltimore, Father Louis Bianco is among those who know Archbishop William E. Lori the best.
For seven years, Father Bianco served as the archbishop's priest-secretary – living and working with Baltimore's spiritual shepherd on a daily basis and accompanying him on visits to parishes, schools and Catholic institutions throughout the archdiocese, around the country and across the globe.
Father Bianco, now rector of the Cathedral of Mary Our Queen in Homeland, said he observed firsthand how Archbishop Lori made his priests a priority no matter what was on his agenda.
"He prays for them every day, calls them on their birthdays and offers them an encouraging word when he knows they are facing any type of challenge in their assignments," Father Bianco said.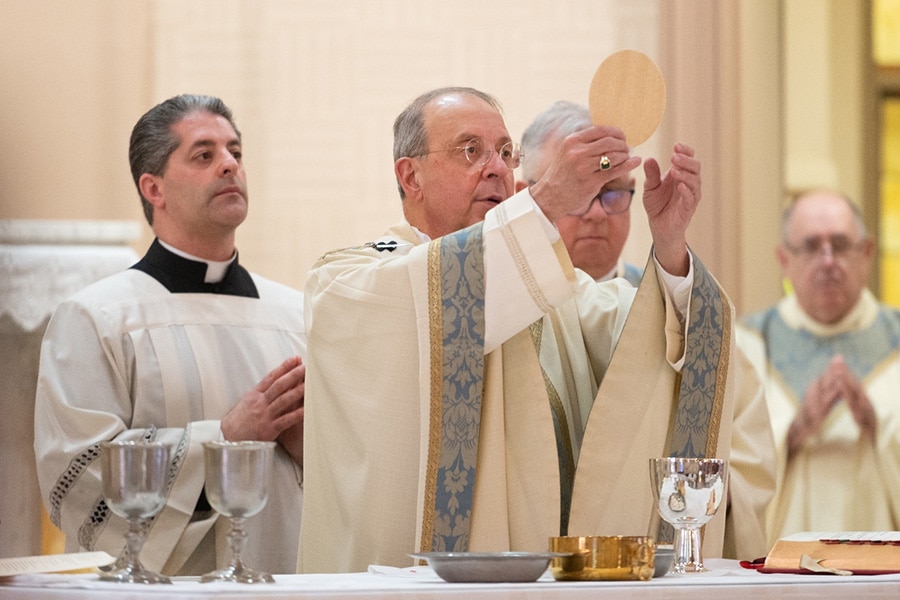 Archbishop Lori is particularly mindful of any priest who is ill, Father Bianco said.
"There were many days when the archbishop's schedule was completely full, yet he asked me to rearrange the schedule and make the time to visit a priest in the hospital or in hospice," Father Bianco remembered. "He would always tell me afterward that it was the right thing to do."
Priests who have ministered with Archbishop Lori over his 10-year ­tenure in Baltimore expressed appreciation for the care and concern the archbishop shows his clergy.
Father Ernest Cibelli, pastor of St. Mary in Hagerstown, said he felt supported when the archbishop attempted to visit his dying father in February. Gennaro Cibelli died while the archbishop was en route to spend time with him, Father Cibelli said.
"The archbishop obviously has a lot of people to take care of," Father Cibelli said, "so the fact that he was willing to take time to drive to Columbia to visit my dad meant a lot. It was very good of him that he also went to my father's viewing."
When Pope Francis placed some restrictions on the celebration of what is commonly known as the Traditional Latin Mass, Father Cibelli said the archbishop called to reassure him about how the "extraordinary form" of the Mass was being offered at the priest's Washington County parish.
"He felt like we were doing things well here in observing both forms of the Roman Rite," Father Cibelli said, "and I've been very grateful."
On a practical level, the priest said he often relies on the many books on Bible study the archbishop often gives his priests as Christmas presents.
"I've got a good collection of them now," the pastor said, "and I frequently use them in preparing homilies."
During the coronavirus pandemic, Archbishop Lori made a point of calling priests to check on their physical and mental wellness, according to Father T. Austin Murphy Jr., pastor of Christ the King in Glen Burnie and St. Bernadette in Severn.
"He's been very gracious in recognizing the stress that we're under," Father Murphy said. "Even when he gets complaints, he defends the priests – but not in a defensive way. He'll hear what people have to say, but he's also sensitive to the challenges our priests are going through."
Father Murphy said he appreciates that all the priests are on equal footing in the eyes of the archbishop.
"I don't think he plays favorites," Father Murphy said.
Describing his boss as "a good listener," Father Murphy added that when the archbishop is with someone, he's fully present. "He's not moving on to the next person."
Father Steven Roth, vocations director for the Archdiocese of Baltimore, said the archbishop cultivates positive relationships with clergy from the time they first enter seminary. He visits and speaks with seminarians frequently and invests "hours upon hours" getting to know each man, Father Roth said.
"It creates a culture of confidence in the archbishop so that once they're ordained, they have a trust in him as our chief shepherd," he said. "The archbishop's commitment in love continues throughout all their priesthood."
Archbishop Lori said he has a "huge passion" for priestly vocations and is encouraged that there are now more than 50 men in formation to become priests for the archdiocese.
"I'm most grateful to the Lord for sending us these fine young candidates for the priesthood," he said, praising Father Roth and Father Matthew Himes, associate vocations director, for being "wise and discerning" in their vocations work.
"I'm grateful to my brother priests who encourage vocations in their parishes (and) grateful to families who are generous in supporting vocations," the archbishop said.
Father Bianco said his mentor has been a model of what a priest should be. Working as priest-secretary to Archbishop Lori, he learned daily by watching how the archbishop was always the last to leave after greeting as many people as he could.
"A priest should be as available to his people as he possibly can be," Father Bianco said. "A priest is called to give completely of himself, which is what Archbishop Lori does."
Email George P. Matysek Jr. at gmatysek@CatholicReview.org
Christopher Gunty contributed to this story.
Read More Archbishop Lori's Milestones
Copyright © 2022 Catholic Review Media

Print