At every Loyola University Maryland commencement ceremony of recent years, there are usually a few graduating seniors who bound across the stage with a sponge in hand.
Inevitably, they proudly show the objects to Jesuit Father Brian Linnane in a "mission-accomplished" nod to the college president's frequent appeal for students to "squeeze the sponge dry" of every opportunity at the school.
As Father Linnane completes 16 years leading Baltimore's Jesuit university June 30, it's fair to say the 65-year-old priest has taken his own advice in how he's approached his presidency.
The Massachusetts native oversaw a capital campaign that exceeded its $100 million goal. He managed significant physical expansion on campus, helped double the endowment and shepherded the school's 2013 transition from the Metro Atlantic Athletic Conference to the Patriot League.
Looking back over his tenure, Father Linnane said he was glad to get to know students and offer support in difficult times such as during the coronavirus pandemic. What makes him especially proud is playing a role in increasing what he calls the "academic rigor" at Loyola and in dramatically increasing diversity on what had historically been a predominantly white campus.
Welcoming environment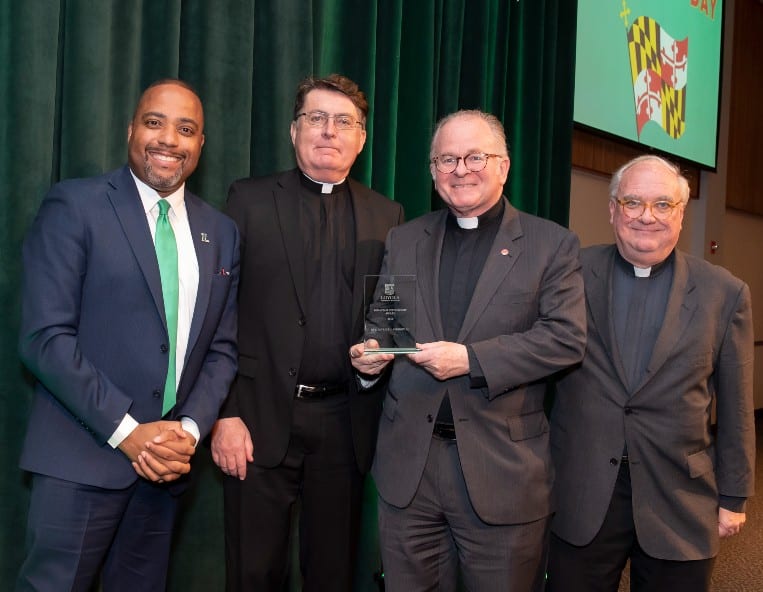 When Father Linnane first arrived in 2005, only 8 percent of the university's enrollment included students of color. Today, about a third of the undergraduate population is made up of minorities.
"I feel that every cultural perspective and tradition is welcome at the table of conversation and that we learn from that," Father Linnane said. "We can't be a viable university unless we attract a very diverse student population, both in terms of ethnic and racial backgrounds, but also socioeconomic backgrounds and in geographic diversity."
Father Linnane, who established a leadership position at Loyola for equity and inclusion, cautioned that minority students should not be seen as "representatives" of their culture.
"But they should be able to speak on their cultural and ethnic backgrounds in a way that enhances the discussion and the pursuit of truth, which is at the heart of university education," he said.
Father Linnane noted that minorities at Loyola graduate at the same or better rates as majority students. They also tend to take more leadership positions in organizations such as student government, he said.
The priest insisted that it's not enough just to have more numbers of minorities on campus or see them successfully graduate. They must also be included in every aspect of college life, he said.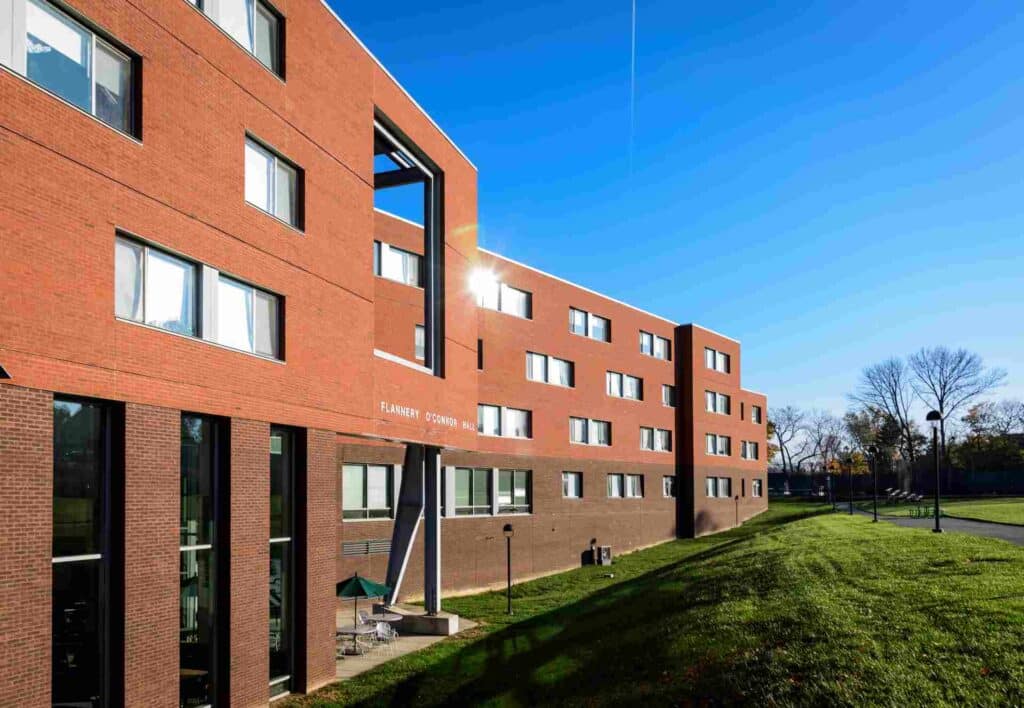 "We need to be sure that those students of color feel they are equally welcome in the university – that their traditions, their stories and their perspectives matter," he said.
Last year, some Loyola students objected to the name of a campus building that honored Flannery O'Connor, an important 20th century Catholic writer. Some students were concerned that the novelist had used racist language in her youth.
Even though Father Linnane selected the original name for the building and believes O'Connor has valuable insights on topics including race and reconciliation, he agreed to remove the name because of the hurt he said it caused. The building is now named in honor of Sister Thea Bowman, the first African-American member of the Franciscan Sisters of Perpetual Adoration.
Together with his outreach to new student populations, Father Linnane also has taken special care to be more intentional about Loyola's connection with its predominantly African-American neighbors and the wider city.
Seeing the university as part of the community, he helped launch the York Road Initiative, which partners Loyola with its neighbors to improve life along the York Road corridor. He also declared a Year of the City in 2006, which spotlighted Baltimore and looked for ways for Loyola to become more active in supporting the city.
'Academic rigor'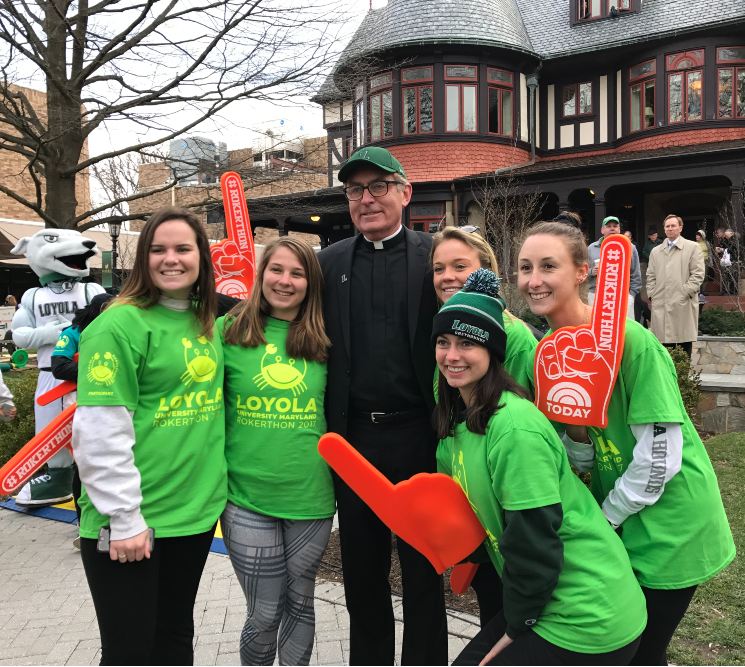 One of Father Linnane's earliest efforts as university president was Messina, an interdisciplinary living and learning program for first-year students. Designed to acclimate new students to Baltimore, Loyola and the academic life, the program requires every first-year student to take two linked seminar courses that are connected by a theme such as "leading a good life." Interdisciplinary in approach, the program also provides out-of-class experiences and extended meetings with professors. The seminars are capped at 16 students to encourage participation.
"They're really getting to know their professors," Father Linnane said, "and they're able to understand why someone could be passionate about rhetoric or the American Civil War or the Middle Ages. They can see the life of the scholar up close from the beginning. That has been a huge contribution."
Under Father Linnane's leadership, Loyola expanded and renovated the Loyola/Notre Dame Library and the Donnelly Science Center. The Ridley Athletic Complex and the McClure Tennis Center also opened during his tenure.
In the fall, the university is expected to open the Miguel B. Fernandez Family Center for Innovation and Collaborative Learning.
Back to his roots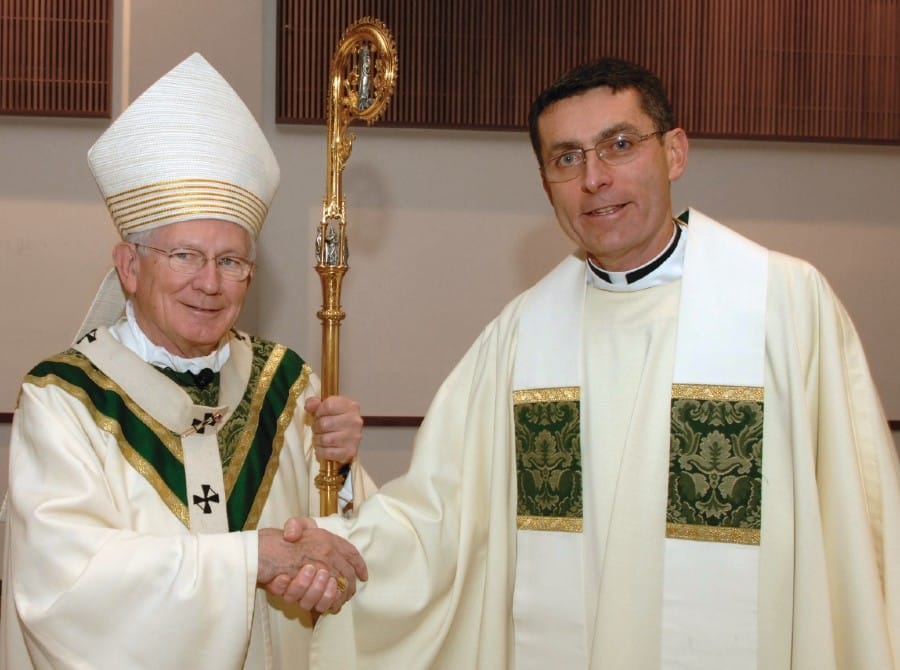 Prior to coming to Loyola as president, Father Linnane served on the university's board of trustees beginning in 2000. He was assistant dean and associate professor of religious studies at the College of the Holy Cross in Worcester, Mass.
Father Linnane, who entered the Society of Jesus in 1977 and was ordained a priest in 1986, graduated magna cum laude from Boston College in 1977. He holds a master's degree from Georgetown University's department of government and a master's degree in divinity studies from the Jesuit School of Theology. He also has two master's degrees and a doctorate from Yale University's department of religious studies.
In the fall, Father Linnane will return to his academic work when he becomes a visiting scholar at the Pellegrino Center for Clinical Bioethics at Georgetown University Medical Center in Washington, D.C. He said he is excited to return to his roots of studying moral theology and health ethics.
Asked how the church can stay true to its teachings on controversial topics such as abortion, assisted suicide and stem cell research while also engaging the culture, Father Linnane said dialogue is essential. As an example, he noted that some young, highly educated professors sometimes challenge Catholic colleges for not giving out condoms to students.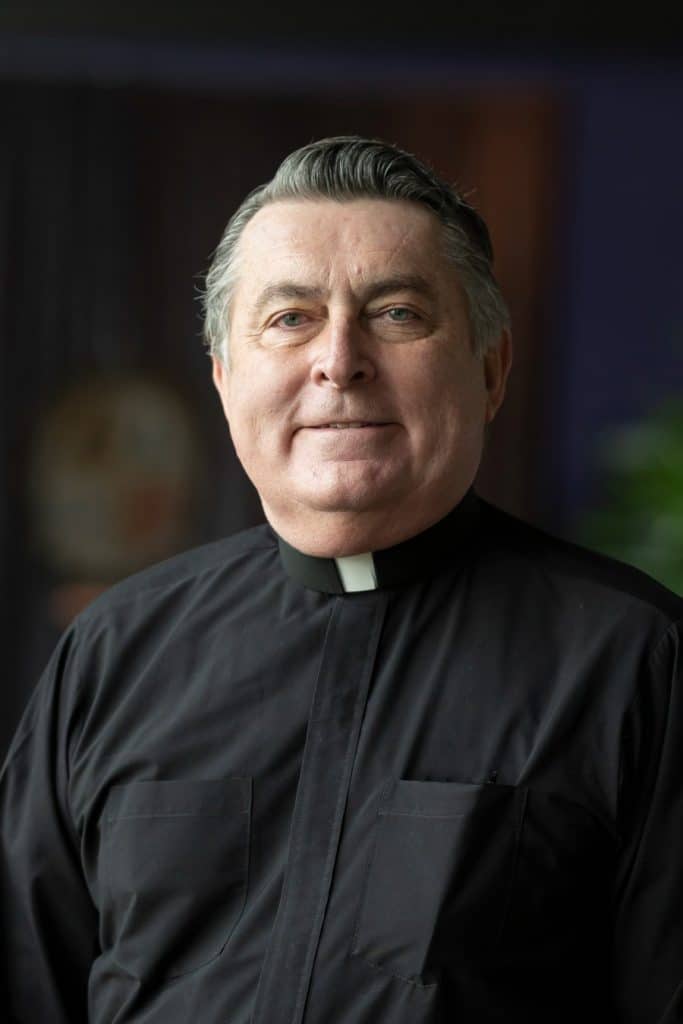 "I know exactly the moral theology behind it," he said, "but, you know, they are not going to get it on a one-off thing. We have to be prepared to take their questions seriously – to provide them with the information and the way that the church thinks. I really think that at its best, the Catholic moral tradition reflects a desire for human flourishing."
Father Linnane said the church needs to do a better job communicating that its pro-life message isn't just about abortion.
"We don't really share the wonderful work we do in human development or the work of extraordinary Catholics – religious and lay – who are at the border with people who are despised and threatened," he said, also citing Catholic healthcare and education outreach across the country. "In our cities – you drive by Our Daily Bread on (Interstate) 83 and you know the workings of the church at the margins of society."
As a tenured professor in Loyola's theology department and "president emeritus," Father Linnane said there's a possibility he might someday return to the classroom at Loyola if his Jesuit superiors assign him there.
"I have had a really great run here," he said. "I love this place. I love the city. I love the church in Baltimore. I've had a wonderful time and, of course, the wellbeing of all those institutions and communities will be in my mind for the rest of my life."
Email George Matysek at gmatysek@CatholicReview.org.
Copyright © 2021 Catholic Review Media

Print