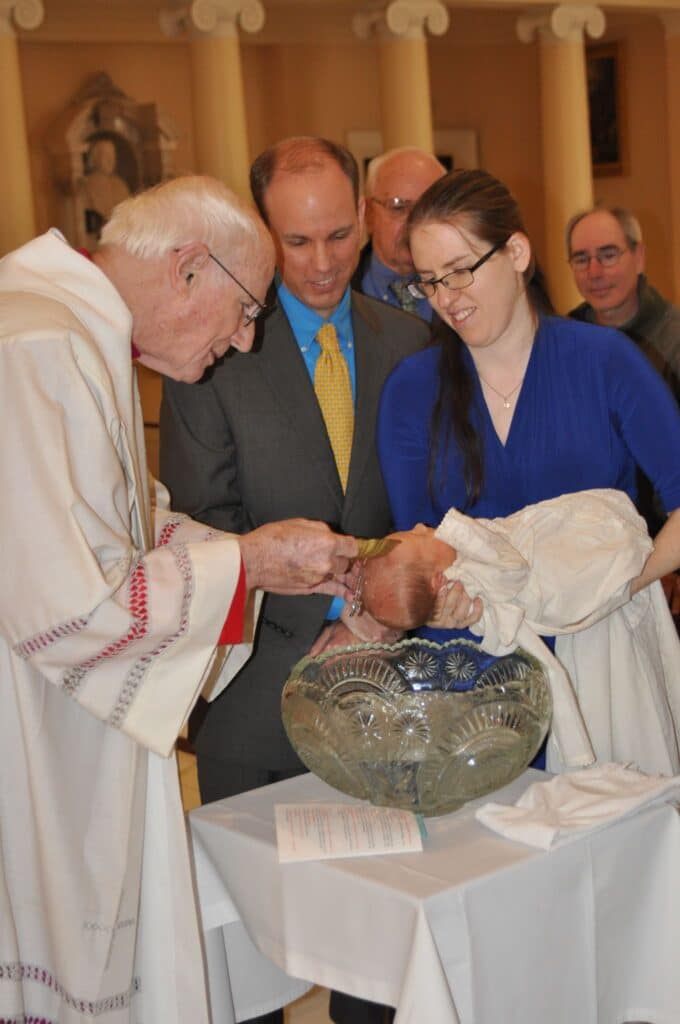 When Bishop Adam J. Parker was at the very beginning of his formation to become a priest for the Archdiocese of Baltimore, Monsignor Thomas Tewes gave him a virtual masterclass in how to be an effective pastoral leader.
Assigned to Our Lady of Hope in Dundalk for the summer of 1993, the then-21-year-old seminarian observed Monsignor Tewes drop what he was doing to make emergency pastoral visits to parishioners. He saw how the pastor insisted on being present before and after all Masses – even those he wasn't celebrating – so he could greet people and let them know he cared for them. The future bishop also watched as Monsignor Tewes took palpable joy in celebrating Mass.
"He had a great love for the people and he was extremely generous in his pastoral availability to the people," said Bishop Parker, the first of several seminarians assigned to Our Lady of Hope under Monsignor Tewes' mentorship. "One of the most important lessons he taught me was to respond whenever there was a need and to do so immediately – especially if it was an emergency."
Monsignor Tewes died April 30 after years of declining health. He was 87.
A much-loved priest of the Archdiocese of Baltimore, Monsignor Tewes was ordained in 1963 after studying at Mount St. Mary's Seminary in Emmitsburg. He served as an associate pastor and then pastor of what is now New All Saints in Liberty Heights from 1963 to 1974. He was then pastor of St. Mary of the Assumption in Govans from 1974 to 1984, St. Michael in Overlea from 1984 to 1992 and Our Lady of Hope from 1992 to 2000.
Monsignor Tewes retired in 2000 while in his early 60s because of health problems, but went on to assist at numerous parishes throughout the Baltimore metropolitan area and the Eastern Shore for more than two decades.
Father Samuel V. Young, associate pastor of Our Lady of Mount Carmel in Essex and chaplain at Franklin Square Hospital in Rosedale, knew Monsignor Tewes when he was pastor of his home parish of St. Michael in Overlea. Father Young's mother worked in the rectory while Monsignor Tewes was assigned there and his father would later become a handyman at Our Lady of Hope when Monsignor Tewes served there.
As a young priest, Father Young was assigned to Our Lady of Hope at the same time Monsignor Tewes became pastor.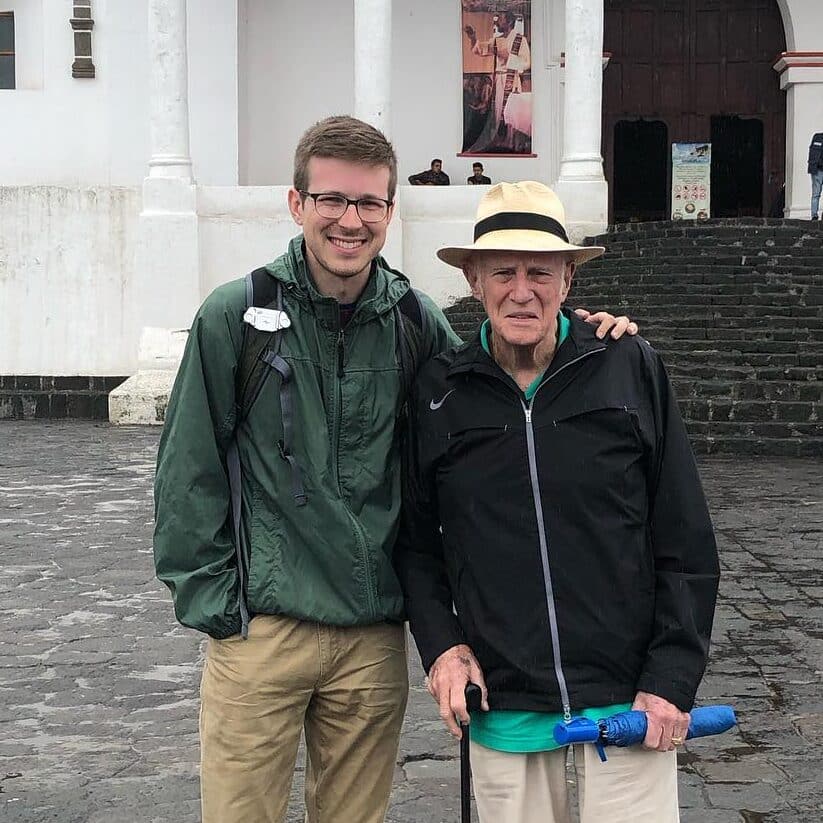 "I can say without a doubt that he was a priest 24/7," Father Young said. "He absolutely loved everything about the priesthood. He loved being around people and he loved celebrating the sacraments."
While at Our Lady of Hope, Monsignor Tewes had hoped to lead a major renovation of the Baltimore County parish's contemporary church building – reconfiguring the sloped seating and reorienting the pews so they all faced the same direction instead of having half the congregation opposite the other half.
After it became clear during a town hall meeting that parishioners preferred to keep the existing church configuration, Monsignor Tewes abandoned his plan, opting instead for a smaller-scale project to beautify the church with the addition of sanctuary statues, refinished pews, fresh paint and new carpeting.
"He said, 'This is your parish,'" Father Young remembered, "Priests will come and go, but the parishioners will remain. That was a very powerful statement. He had great respect for the laity."
Raised in St. Dominic Parish in Baltimore, Monsignor Tewes graduated from Calvert Hall College High School. He knew from a young age he wanted to become a priest and was one of several young men from his community to enter the seminary.
While at Mount St. Mary's Seminary, he befriended Stanley Rother, a seminarian from Oklahoma who was later martyred while serving the poor as a priest in Guatemala and was beatified in 2017. Monsignor Tewes and Blessed Rother had been involved in maintaining the National Shrine Grotto of Lourdes in Emmitsburg – clearing the brush, cutting grass, cleaning a stream and assisting in beautification efforts.
Father Matthew Himes, associate pastor of Our Lady of the Fields in Millersville and assistant vocations director for the Archdiocese of Baltimore, made a pilgrimage with Monsignor Tewes in 2019 to visit the site where Blessed Rother was murdered. It is now a chapel and still has bullet marks and blood stains.
When Monsignor Tewes walked into the room where his friend was killed, Father Himes remembered, Monsignor Tewes wept uncontrollably.
"After Mass, he got on the ground and kissed the place where Blessed Rother had died," Father Himes said. "It was one of the most powerful experiences of my life. I experienced a depth of humanity in his priesthood in that moment that really inspired me."
Father Himes said Blessed Rother had given Monsignor Tewes two of his stoles, one of which Monsignor Tewes passed along as a gift to Father Himes at his ordination to the priesthood.
Monsignor Tewes' other great priest friend was the late Monsignor Arthur Valenzano. The two served together at St. Mary in Govans when Monsignor Tewes was pastor and Monsignor Valenzano was an associate pastor. They struck up a deep friendship, and Monsignor Tewes helped care for Monsignor Valenzano as he struggled with cancer in his later years.
When Monsignor Tewes finished delivering the homily at Monsignor Valenzano's 2015 funeral Mass at the Basilica of the National Shrine of the Assumption of the Blessed Virgin Mary in Baltimore, he approached his friend's casket and embraced it as tears flowed down his cheeks.
"The care he showed for Monsignor Valenzano during his illness was exemplary," said Bishop Parker, who will preach the homily at Monsignor Tewes' May 6 funeral Mass at St. Mary in Govans. "He went over to Rome after Art was diagnosed with blood cancer and spent weeks in Rome while Art was in the hospital and before he was well enough to return to the United States. He really showed what a good priestly friendship example ought to look like."
Father Young recalled that he often joined Monsignor Tewes and Monsignor Valenzano on golf outings. Monsignor Tewes had a habit of jingling his keys and pocket change, even as he was on the golf course, he said.
"One time we were at Pebble Beach," Father Young recalled with a laugh. "Monsignor Valenzano looked at him and said, 'Can you just stop it?'"
Father Young noted that Monsignor Tewes shared the same birthday as Sophia Loren.
"Every year, I would call him and say, 'Thomas, you look better than Sophia Loren.' He would say, 'I don't know about that, young man.'"
Thomas Fullem, Monsignor Tewes' nephew, said his uncle celebrated all the sacraments with his family. At a Delaware vacation home, Monsignor Tewes took Fullem and other family and friends boating and water skiing. His uncle was a skilled "Mr. Fix It," Fullem said, and shared his carpentry skills with the family.
"He was a good example of how to live the faith," said Fullem, who worships at St. Francis de Sales in Abingdon and St. Luke in Ocean City. "You would see what he did and you wanted to emulate that – the kindness and the faith in God that he instilled in you."
Dianne McHale, a longtime parishioner of St. Mary in Govans and a former member of the pastoral council, described Monsignor Tewes as a hard worker. She remembered that when the church and parish hall needed to be retiled, he was on his hands and knees laboring with other volunteers to get the job done.
"He would ask for volunteers," she said, "but then work right along with you."
Therese Schiefer, a parish secretary at Our Lady of Hope for more than six decades, said that for much of his time at Our Lady of Hope, Monsignor Tewes recited each week's Gospel passage from memory – not reading from the text. His homilies were always heart-felt, Schiefer said.
"He never considered himself better than anyone else," she said. "Anything you went to him for, he was there. To be truthful with you, he was one of the best priests there ever was."
Monsignor Tewes will lie in state at St. Mary of the Assumption May 5 from 3 to 8 p.m., where a Christian wake service will be held at 7 p.m.. The funeral Mass will be celebrated by Archbishop William E. Lori at St. Mary May 6 at 10 a.m.
Email George Matysek at gmatysek@CatholicReview.org
Also see:
RADIO INTERVIEW: Blessed Stanley Rother
Family ties: Priest, parishioners share special bond
'Art in Heaven:' Archdiocese bids farewell to Monsignor Valenzano
Copyright © 2022 Catholic Review Media

Print